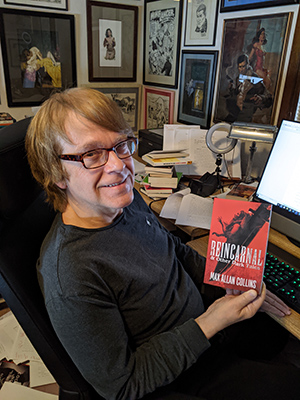 This week we have fifteen copies of the beautiful Wolfpack trade paperback edition of Reincarnal & Other Dark Tales to give away. I've written about this book here before, but I only now have physical copies in hand.
[All copies have been claimed. Thank you for your support! New updates are posted every Tuesday at 9 Central. — Nate]
If you miss out on the giveaway, I hope you'll order it anyway, either on Kindle or this very cool trade paperback, which is a rather massive 330-some pages. It collects virtually all of my horror short stories, including two radio plays written for Fangoria's Dreadtime Stories.
Be forewarned (or enticed, as the case may be) that many of the stories in Reincarnal (as the title may indicate) have a strong sexual element. This has to do with many of them originally having been published in erotic horror anthologies, back in the day when such stalwarts as Marty Greenberg, Jeff Gelb and Ed Gorman were turning out wonderful "theme" anthologies of original stories.
As I said here before, horror is a strong element of my fiction – you can see it in the Mommy novels (available from Wolfpack), many of the Quarry novels (The Wrong Quarry), a number of Hellers (Angel in Black), Eliot Ness (Butcher's Dozen) and novels by Barb and me (Regeneration). Even the recent non-fiction work, Eliot Ness and the Mad Butcher (by A. Brad Schwartz and myself) qualifies as horror-tinged. The only horror tales not collected in Reincarnal can be found in the Wolfpack collections Murderlized (gathering collaborative stories by Matt Clemens and me), Blue Christmas (holiday horror and dark suspense), and Murder – His and Hers (stories by Barb and me).
While I am first and foremost a novelist, I do enjoy writing short stories and it's long been an ambition to see collections of my shorter fiction, like Reincarnal, give those stories a certain permanence.
* * *
If you missed my second guest shot with Eddie Muller on Noir Alley, here is the intro and the outro for Born to Kill, a great crime movie you should see (the TCM streaming service has it right now).
* * *
Publisher's Weekly has a great article by Lenny Picker about Hard Case Crime. I can't share it with you, because PW requires you to subscribe for the link to go through.
I was interviewed for the PW article on HCC, and a grand total of one paragraph was used (in part) in that article. So, since that interview is very up-to-date as to what I'm up to, I'll share it here:
What led you to have some of your books published by Hard Case Crime? In other words, what makes a Collins book a better fit for HCC?
When editor/publisher Charles Ardai began Hard Case Crime, he featured a number of reprints among the originals, from the classic likes of Erle Stanley Gardner and Lawrence Block. He approached me about reprinting the second Nolan novel, Blood Money, and I suggested he reprint both it and the first in the series, Bait Money, under one cover, which he did, as Two for the Money. Later he approached me about doing another reprint and I offered instead to write an original. It was obvious to me Charles and his partner Max Phillips had a love and feel for classic hardboiled fiction and represented a home for what I most like to write in a market not terribly conducive to that.
Another fact was the retro packaging, the covers that were not only fully illustrative in the fashion of '50s and '60s paperback suspense novels, but depicted beautiful femme fatales and handsome tough guys, in a fashion that had become essentially forbidden due to politically correct restraints at other publishers. HCC has a way of saying, "We're retro, not Neanderthals. We have our tongue slightly in cheek as we celebrate a form of American mystery fiction pioneered by such greats as Raymond Chandler and Dashiell Hammett."
What makes them different from other publishers/imprints?
They go their own way and are motivated by a love for the noir genre, taking risks with new talent and respect older talent. Charles Ardai encourages me to write what I want to write. I'm at a point in my career and, frankly, at an age where being able to write what I want means more than financial considerations, an approach that can pay off better than a more market-driven, cynical one.
For example, the first original I did for HCC was a return to my Quarry series, which had become a cult favorite after its initial four-book run in the mid-'70s and a one-shot comeback ten years later. I'd always wanted to complete the series and The Last Quarry was intended to be the final book about my hitman character…the first contract killer to "star" in a book series. The Last Quarry was popular and widely well-reviewed. Charles said, "Too bad you've written the last book in the series." And I said, "How about I write, The First Quarry?" Since then another dozen or so have followed. An award-winning short film I wrote led to a Quarry feature film (The Last Lullaby), and a few years ago HBO/Cinemax did a Quarry TV series.
What led you to revive Nolan last month?
Charles has been after me to do that dating back to Two for the Money. I resisted, feeling my novel Spree was the proper ending to the series. But he said he'd bring the early books back out if I did a coda to the series, which I have — the current Skim Deep. Now I'm writing a coda to The Last Quarry called Quarry's Blood. My hitman is 68 years old in the novel, which is younger than me.
How hard was it to return to the character after so many years?
Not at all. I spent almost two years, when I was at the University of Iowa Writers Workshop in the late '60s, writing that novel. My instructor was Richard Yates, the great mainstream novelist. I also studied with Walter Tevis, whose reputation is getting a boost from The Queen's Gambit mini-series. So I spent a lot of time with Nolan and his young sidekick Jon, and then there were the other six novels and several versions of a Nolan screenplay I wrote a while back…unproduced as yet, but it got optioned. A movie is brewing now combining elements of several of the novels.
How was writing him different?
He was an old man of 48 when I conceived him at age 20. Now he's 55 and really something of an old man, so my perspective on him has shifted.
Are there other characters that you're planning on reviving?
I get requests to do another Mallory, but that character was based on me, which doesn't interest me. My recent Krista Larson series I hope to keep going, and when the political world settles down, if it ever does, I might do another Reeder & Rogers novel with Matt Clemens, who I'm writing the James Bond-ish "John Sand" novels with now for Wolfpack. My wife Barb and I are continuing the long-running Antiques series we write together as Barbara Allan, with Severn now.
The biggest thing will be taking Nathan Heller to HCC. I consider the Heller novels – which as you know are traditional tough private eye novels dealing with major crimes of the Twentieth Century – my best work, my signature work. But I don't spend all my time looking backward. I'm working on two projects for Neo-Text, one a '40s female private eye, Fancy Anders, who solves mysteries involving an aircraft plant, a movie studio, and the Hollywood Canteen. The other is a science-fiction-tinged noir collaborating with SCTV star Dave Thomas, who was a writer/producer on Blacklist and Bones, for which I wrote a tie-in novel.
I should note that HCC has been a supporter of my work building up the legacy of my friend and mentor, Mickey Spillane. We've done several books at HCC, and something like fourteen Mike Hammer novels at HCC's parent company, Titan. These all reflect my completing unfinished manuscripts from Mickey's files, something he asked me to do shortly before his passing in 2006. Next year is the 75th anniversary of Mike Hammer, and I'll be doing a biography of him with James Traylor for Otto Penzler at Mysterious Press. It's people like Charles and Otto who nurture and keep the hardboiled genre alive in the face of changing times.
What would you most want article readers to know about HCC?
HCC is a boutique publisher that cares about books, readers, and authors. I am extremely grateful to them for letting pursue my work my way.
* * *
A reader in this You Tube piece recommends five HCC titles to represent that publisher's output, and The First Quarry is one of them!
And, finally, this fantastic review from the UK of the current Mike Hammer, Masquerade for Murder.
M.A.C.