On the occasion of my starting a new Quarry novel, Quarry's Return, let's look at Quarry on audio and screen.
Let's start with this excellent overview, which properly gives Hard Case Crime some praise for bringing the series back to life, and lavishes praise on the film The Last Lullaby (more about that below).
I have been very lucky with the readers of my audio books. Dan John Miller is, hands down, the voice of Nate Heller. For a long run, I had Stacy Keach himself reading the Spillane/Collins novels. When Stacy stepped down, Stefan Rudnicki stepped up and has done a fabulous job – no small job filling those Keach shoes (and trenchcoat). Several readers have done right by Quarry, but Stefan is the definitive Quarry.
Check out this sample and see. And hear.
If you've never seen The Last Lullaby, the Quarry movie starring Tom Sizemore, co-written by me (and derived from my novel The Last Quarry), it's available on Amazon Prime.
It's also available on YouTube. Looks good there.
Here is the trailer.
While I like the Quarry Cinemax series, I think The Last Lullaby – even though Quarry is called "Price" there in – is the more accurate rendition of the character.
I required the production not to call the lead character Quarry because I didn't want to give up sequel rights. This is the same reason Parker is called "Walker" in the film Point Blank, based on Richard Stark's The Hunter.
Unfortunately, the short (and award-winning) film, "A Matter of Principal," which I wrote for the same director (Jeffrey Goodman) who put together The Last Lullaby, does not seem to be available anywhere but on the somewhat out-of-print Black Box that collects a number of my films.
It's available at Amazon for (gasp!) $68, but secondary sellers there have it for much less.
Troma Direct has it for a much more reasonable $29.71.
I won't provide a link, but e-bay has it for $40 and up.
Wherever you get it, The Black Box includes: Real Time: Siege at Lucas Street Market; Mommy; Mommy's Day; and Shades of Noir, which has several of my shorts, including "A Matter of Principal." Be forewarned that better versions of the two Mommy movies are coming.
There are a few copies of just the Shades of Noir DVD (never sold separately from the Black Box boxed set) at e-bay in the $25 range. The Troma option seems the best.
Now if only they'd send me some royalties!
* * *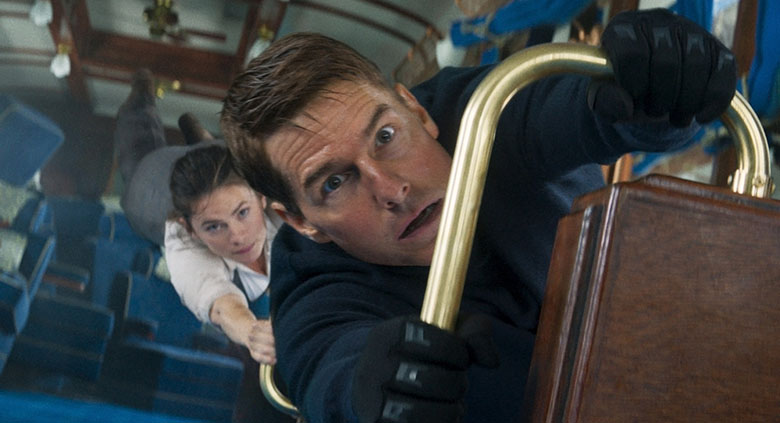 A quick appraisal of Mission Impossible: Dead Reckoning Part One.
Well, it's a terrific action movie. Beautifully shot, with Tom Cruise going for broke in what is likely to be the conclusion of the series with Part Two. It's a thrill ride and often surprisingly witty. Not without heart, it shows a human side of the Cruise character and his supporting cast.
On the downside, the A.I. aspect is not explored as anything but another Blue Meanie. A Big Blue Meanie, the Ultimate Blue Meanie; but little is done with it. The biggest deal is probably screwing up the Internet and forcing our agents to (arrghhh!!!) go analog to use the Net.
The horror.
I am also not crazy about the Part One/Part Two thing, because a two-and-a-half hour movie ought to give you some resolution.
Terrific and fun, Mission Impossible: Dead Reckoning etc. is not, to me, as satisfying as Indiana Jones and the Dial of Destiny (reviled by some, particularly those who decided to hate it before seeing it). Here's the difference: MI is an action movie and a satisfying one, a wild ride. Indiana Jones is an adventure movie. It's about, among other things, archeology. Which is to say it's about something, and not just a vague, scary Big Blue Meanie.
That does not mean you should skip MI, because it's a terrific example of an action movie. Its action scenes outdo the Indiana Jones movie by half; the final scene on a train in MI is one of the best action scenes (and funniest) I've ever seen, if not the best). But Indy is adventure and speaks to the inner child in a very different way.
Not a popular view perhaps, but there you have it.
* * *
Here is a positive review of Spillane – King of Pulp Fiction that is nicely illustrated and worth a look.
And here's yet another "Movies You Didn't Know Came from Comic Book" articles. Guess what's included. (And no, I didn't "base" Road to Perdition on Lone Wolf and Cub – the latter was an influence among a number of other influences. A key influence, like John Woo HK cinema and the real life of John and Connor Looney and Richard Stark's Parker and various movies about Bonnie and Clyde and more.
M.A.C.