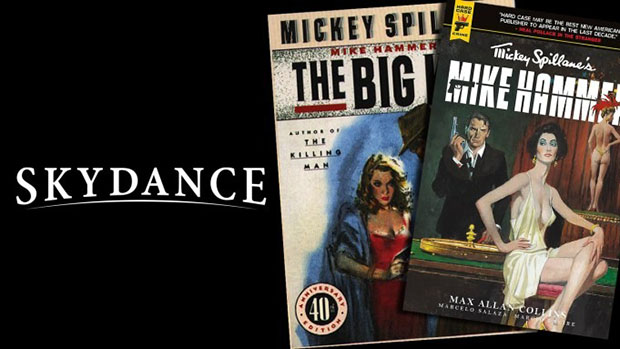 The big news this week should be that the long impending Mike Hammer movie deal with Skydance has solidified, and been announced in all the trades. The upside is that Skydance has purchased the film rights for the entire franchise, which includes the books I've co-authored. The downside is…things like this, announced or not, often do not come to pass.
Yes, I am an executive producer. That often simply means that when you come to make your set visits, a director's chair with your name on the back is waiting. On the Cinemax Quarry set (where I was suffering, unknowingly, congestive heart failure) they didn't let me near the director and other mucky-mucks till they needed me for photos. And I was, again, an executive producer.
I often have mentioned that I did not tell my parents about the Road to Perdition movie sale till Barb and I were on set watching Tom Hanks and Paul Newman shooting scenes under the direction of Sam Mendes.
The news this week that impacted me more, personally, was the loss of Paul Reubens, who had been privately battling cancer for half a dozen years.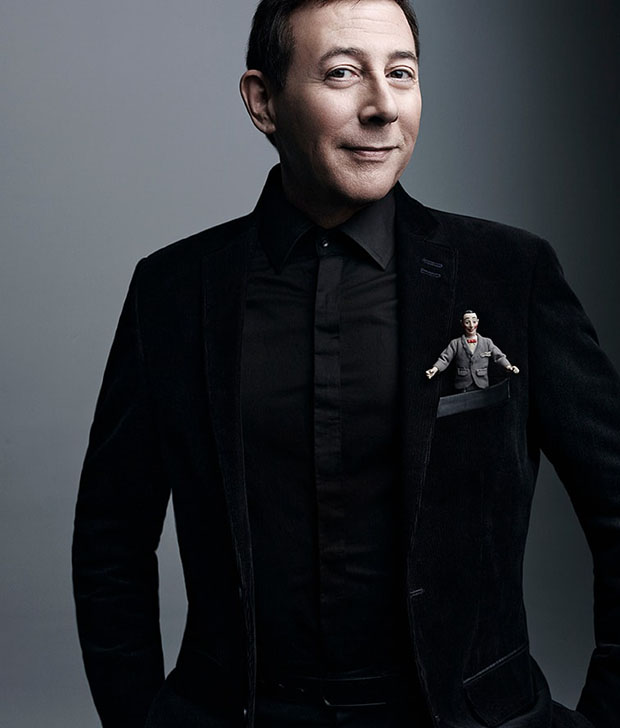 I have frequently commented here about the annual Christmas cards that Barb and I have received from Paul Reubens over many decades. To me it has not officially been Christmas until the Pee Wee card arrives from Paul.
Here's what I wrote in December 2013:
For me, Christmas begins when I receive my yearly Christmas card from Paul Reubens. Sometimes Paul writes a personal note. The cards are always charming and even hilarious, and we have easily two dozen of them. This year Barb made a wreath out of some our favorites.

I went crazy over Pee-Wee with his HBO Special,
The Pee-Wee Herman Show
in 1981. I was doing the
Dick Tracy
strip at the time, and I put Pee-Wee in the strip – he was on television saying, "My name's Pee-Wee – what's yours?" And a TV-obsessed villain of mine replied, "Splitscreen!"

Paul Reubens phoned me shortly after that, delighted by the
Tracy
appearance, and we chatted. Shortly after that, taking time out from a San Diego con, Terry Beatty and I visited Paul in LA – he was in a small one-story brick house filled with funky toys and oddball memorabilia. We watched a version of
The Pee-Wee Herman
Show that the cast had looped with blue improv material. The Pee-Wee Herman suit was on a coat tree. I asked Paul how many of those suits he had, and he said, "Just the one." Then, noting my surprised reaction, he added, "Sometimes Pee-Wee doesn't smell so good up close."

Paul knew that I was a movie buff, and he was working on getting a Pee-Wee film going. Late at night, we would talk on the phone and (at his request) I would send him Betamax copies of offbeat films like Eddie Cantor's
Roman Scandals
and Russ Meyer's
Faster Pussycat, Kill! Kill!
He called once every month or two for a couple of years, sometimes when he was off shooting a movie. (One was a
Meatballs
sequel, and I asked him what it was about. He said, "A virgin sees her first dick." I thought he was kidding till I saw the movie.) Barb and I (and sometimes Terry) would go to live shows of Paul's, and we'd see him after – we did this in New York and Chicago.

When the Pee-Wee movies and TV show kicked in, Paul changed his phone number and I haven't heard from him since…except at Christmas. Always a wonderful card, and sometimes a warm personal note. I still love Pee-Wee Herman, and it's been a nice perk of my minor celebrity that I got to know Paul Reubens a little. It's very thoughtful and generous of him to send me these fantastic cards every year.
Shortly after the above piece appeared, Paul got back in touch with me – someone had forwarded the posting about him – and we began occasionally exchanging e-mails. Knowing Paul, and having a small impact on his work (Faster Pussycat, Kill! Kill! had an obvious influence on a sequence in Pee Wee's Big Holiday), is one of the most amazing things that has happened to me in an amazing life, despite never having moved from the small Iowa town where I was born.
This is my reflection on the passing of John Paragon, Paul's partner in comedy – the great, much lamented Jambi.
Paul wrote me thanking me when he saw this tribute to his friend and collaborator.
I don't know what else to say about Paul and Pee Wee. We weren't close friends exactly, but we were real friends and the sadness I feel is hard to communicate. But he contributed a character, a concept, and point of view that I truly think will last until (as Paul Williams wrote) "the sun is just a bright spot in the nighttime."
* * *
A flurry of M.A.C. e-books sales at Amazon have hit and I will share them with you now.
First, True Crime will be $1.99 on August 8 only, the day this update/blog appears.
From now till August 31, Girl Can't Help It will be on sale for $2.49. If you haven't read this one yet, please pick it up – this is one of only two titles (the other being Girl Most Likely) that have not "earned out" at Amazon and have apparently impacted their decision not to publish anything else new by me.
From now till August 31, Million Dollar Wound (Nate Heller), What Doesn't Kill Her (Matt Clemens and me doing our American riff on Girl With the Dragon Tattoo), and Midnight Haul (my Mallory-ish eco-thriller) will all be available at $1.99 at Amazon on e-book.
Also wading in to the e-book wars is Wolfpack, who are doing e-book boxed sets that are an opportunity to pick up a lot of my backlist (some of which is out of print) at a low price.
The Max Allan Collins Collection Volume Three collects all three Jack and Maggie Starr mysteries as well as the Westlake-ish Shoot the Moon for under four bucks (okay, a penny under…).
The Max Allan Collins Collection Volume Four collects Mommy, Mommy's Day, No One Will Hear You (co-authored by Matt Clemens), and Reincarnal and Other Dark Tales. Get it here.
Reincarnal, by the way, is one of several indie movie projects we were developing ("we" being my pal Phil Dingeldein and I). Chad Bishop are starting pre-productions on Blue Christmas.
Again, these are e-book "box sets" that are at a $3.99 price point. Such a deal! (The Max Allan Collins Collection Volume One is the four Eliot Ness books, and The Max Allan Collins Collection Volume Two is the John Sand collection (the trilogy plus a short story, by Matt Clemens and me).
Now, some of you are not into e-books. You like physical media. Me, too.
Buy the hardcover Eliot Ness and the Mad Butcher by M.A.C. and Brad Schwartz here (from Daedalus Books) at a mere $6.95 (originally $29.99).
Daedalus also has the previous Nathan Heller hardcover novel, which thus far does not have a paperback reprint, Do No Harm, with Nate tackling the Sam Sheppard murder case.
* * *
Early tomorrow morning [Monday, 8/7–Nate], I am going into the hospital for a procedure that, with any luck, will get me back home the same day. So by the time this appears, I should be able to post something about how it went.
This is what's called an ablation, which is done to deal with a-fib, which has been slowing me down since before my heart surgery in 2016.
[Update: The procedure went smoothly, and Max is back home recovering.–Nate]
* * *
Here's an interesting Tom Hanks article, suggesting he's the reason the violence in the film version of Road to Perdition was dialed back some.
* * *
The exciting Skydance announcement about Mike Hammer is all over the Net. Here's an example from Deadline.
A few more (of many):
https://www.flickeringmyth.com/2023/08/skydance-bringing-mickey-spillanes-mike-hammer-back-to-the-big-screen/
https://www.thewrap.com/skydance-mike-hammer-franchise-ip-rights/
https://www.darkhorizons.com/skydance-planning-a-mike-hammer-film/
https://www.joblo.com/mike-hammer-movie-mickey-spillane/
M.A.C.