Despite some further health-related adventures (more about that below), Barb and I are embarking on our final book tour – which is one stop at our favorite Chicago-area bookstore, Centuries and Sleuths, in Forest Park, Illinois.
The appearance is next Sunday, November 19, 2023, from 2 PM to 4 PM. It's the only scheduled signing to support our new novels Too Many Bullets and Antiques Foe.
Again, I am hoping you will (if you haven't already) review Too Many Bullets, the new Nate Heller novel, at Amazon and/or Goodreads, Barnes & Noble, etc. We had something of a disaster (reported here in recent weeks) that led to all of the trades (Publisher's Weekly, Kirkus, Library Journal, Booklist) failing to review the book. This costs us bookstore sales and library sales and could be the death knell for Nate Heller.
Hard Case Crime is doing its best to get the word out, tying the hardcover Too Many Bullets to the soon-to-be-published trade paperback of The Big Bundle. They have done a great job on a press release that I will share with you here.
* * *
BEST-SELLING TRUE-CRIME DETECTIVE NATHAN HELLER CELEBRATES 40 YEARS
GRAND MASTER MAX ALLAN COLLINS' SIGNATURE PRIVATE EYE RETURNS IN TWO NEW BOOKS:
THE BIG BUNDLE and TOO MANY BULLETS
Best-selling and award-winning novelist Max Allan Collins, author of Road to Perdition (which inspired the Oscar-winning movie starring Tom Hanks, Paul Newman, Jude Law and Daniel Craig), is celebrating the 40th anniversary of his groundbreaking, million-copy-selling historical detective series about private eye Nathan Heller with the release of two new books: THE BIG BUNDLE (coming in paperback on December 12) and TOO MANY BULLETS (new in hardcover, available in stores now).
The Nathan Heller novels have sold more than 1 million copies since debuting 40 years ago with True Detective in 1983, and the series has won the Shamus Award twice, as well as the Private Eye Writers of America's "Hammer" Award for lifetime contribution to the genre. In 2017, Collins was named a Grand Master by the Mystery Writers of America, the organization's highest honor, one he shares with John Le Carre, Alfred Hitchcock, and Agatha Christie.
Each of the Heller novels investigates a headline-making true crime, with all the authenticity and detail of a definitive non-fiction account – but seen through the eyes of fictional private eye Nathan Heller. In THE BIG BUNDLE, Heller is brought in to help solve the notorious Greenlease kidnapping, involving the highest ransom ever paid in U.S. history. In TOO MANY BULLETS, Heller seeks the truth behind the assassination of presidential candidate Robert F. Kennedy.
Featuring appearances by real-world figures ranging from Kennedy and the reclusive Howard Hughes to sports celebrities and filmmakers of the 1960s, these novels immerse the reader in the last century with a powerful sense that you are there, witnessing the events that seized the world's attention.
"The Heller novels tell the story of the 20th century through the eyes of a cynical, tough-minded detective who takes you on a tour of America's darker side," said Hard Case Crime editor Charles Ardai. "The series is a tremendous accomplishment, and we are thrilled to publish these new cases to celebrate its 40th anniversary."
Both books' covers feature new painted art by celebrated artist Paul Mann, whose work was recently seen on Quentin Tarantino's Once Upon a Time in Hollywood.
About Max Allan Collins
Celebrating his 50th year as a mystery novelist, Max Allan Collins has reached the pinnacle of his field, receiving the highest lifetime-achievement honors from both the Mystery Writers of America and the Private Eye Writers of America. His books have been New York Times and USA Today bestsellers and adapted both to television (a Cinemax series based on his Quarry novels) and feature films (including the Academy Award-winning movie based on Collins' graphic novel Road to Perdition). Collins is also a star in the field of comic books, having penned the adventures of Batman and Dick Tracy and created the longest-running private eye comic in history (Ms. Tree), and he was hand-picked by his friend and fellow MWA Grand Master Mickey Spillane to continue the legendary Mike Hammer novels after Spillane's death. A native of Iowa (and a graduate of the prestigious Iowa Writers' Workshop), Collins is also a screenwriter, a film director, and for more than five decades a professional touring rock-and-roll musician.
About Hard Case Crime
Called "the best new American publisher to appear in the last decade" by Neal Pollack in The Stranger, Hard Case Crime has been nominated for and/or won numerous honors since its inception including the Edgar, the Shamus, the Anthony, the Barry, the Ellery Queen, and the Spinetingler Award. The series' books have been adapted for television and film, with a series based on Max Allan Collins' Quarry novels airing on Cinemax and Haven, based on Stephen King's novel The Colorado Kid, running for six seasons on SyFy. Hard Case Crime titles also include Stephen King's #1 New York Times bestsellers Joyland and Later; James M. Cain's lost final novel, The Cocktail Waitress; lost early novels by Michael Crichton (writing under the name "John Lange") and Gore Vidal (writing as "Cameron Kay"); Are Snakes Necessary? by filmmaker Brian de Palma and former New York Times editor Susan Lehman; and Brainquake, the final work of writer/filmmaker Samuel Fuller. Hard Case Crime is published through a collaboration between Winterfall LLC and Titan Publishing Group. www.hardcasecrime.com
About Titan Publishing Group
Titan Publishing Group is an independently owned publishing company, established in 1981, comprising three divisions: Titan Books, Titan Magazines/Comics and Titan Merchandise. Titan Books is an established publisher of exceptional genre fiction in the Science Fiction, Fantasy, Horror and Mystery fields. Recent authors of Titan Books include Kareem Abdul Jabbar, V.E. Schwab, Mickey Spillane, Max Allan Collins, Alice Blanchard, Tim Lebbon, Sarah Pinborough, Andrew Cartmel, Chris Ould and many more. Titan Books also has an extensive line of media- and pop culture-related non-fiction, graphic novels, and art and music books. The company is based at offices in London, but operates worldwide, with sales and distribution in the U.S. and Canada being handled by Random House. www.titanbooks.com
THE BIG BUNDLE | Max Allan Collins | December 12, 2023 | Trade Paperback | 304 pp
ISBN: 978-1-78909-948-5; e-ISBN 978-1-78909-853-2
US $15.95; CAN $19.99; UK £8.99
TOO MANY BULLETS | Max Allan Collins | October 10, 2023 | Hardcover | 304 pp
ISBN: 978-1-78909-946-1; e-ISBN 978-1-78909-947-8
US $22.99; CAN $29.99; UK £16.99
* * *
For all the attention I've paid to Mickey Spillane's anniversaries, I neglected to notice that Nate Heller's 40th anniversary is…right now! True Detective was published in 1983, after all. I owe thanks to J. Kingston Pierce of the outstanding blog The Rap Sheet who pointed out Heller's birthday to his clueless creator.
In fairness, I have been busy. In addition to directing my first indie movie since 2006 – the forthcoming Blue Christmas, currently being edited by Chad Bishop and me – I somehow managed to get myself back into a-fib despite having an ablation procedure. The doctor in charge of that got me back almost immediately in for a cardioversion (that's when they jump-start you like an old Buick) and I am currently taking it easy, post-procedure, to be ready for next week's Sunday signing in Forest Park.
This is liable to be our final signing in the Chicago area, so we hope readers/fans in that part of the world will come around to see us.
Here is a nifty pic from the set of Blue Christmas that has both me and my son Nate in it (he's the one working the boom pole).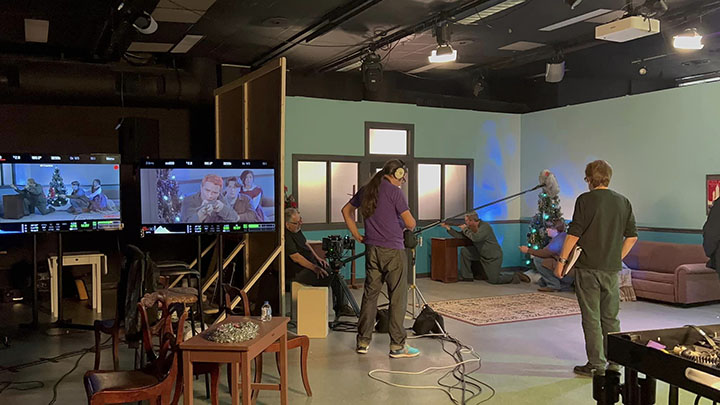 * * *
The great private eye site Thrilling Detective singles out Stolen Away as one of the Big Reads in the field.
Here's a terrific Too Many Bullets review from Craig Zablo.
If you scroll down, you'll see Ms. Tree get some love at the 13th Dimension site.
Also, Kino Lorber has a DVD and Blu-ray sale on noir titles that features the Assante I, the Jury and My Gun Is Quick for chump change. Check it out!
And watch Robert Meyer Burnett's various YouTube shows for info about the Nate Heller dramatic podcasts that you can help get produced.
M.A.C.