Coming in August, by Mickey Spillane and Max Allan Collins, is Kill Me If You Can, the 75th anniversary Mike Hammer novel (Hammer debuted in I, the Jury in 1947). It includes five Spillane/Collins short stories, two of which are Mike Hammer, both significant additions to the canon.
Kill Me If You Can will also appear on audio, read by the great Stefan Rudnicki, who for the past several Hammer novels has performed the impossible task of stepping in after Stacy Keach. The five short stories are included.
I have now done the commentary for the ClassicFlix Blu-ray 4K/3-D release of the 1953 I, the Jury. I think it went well, although I can't compete with the likes of Tim Lucas and Tom Weaver (much less Eddie Muller) in their Blu-ray commentaries. Lucas and Weaver and Muller are always extremely well-prepared and organized, while I just watch what's on the screen and blather on about all the useless information I've gathered and opinions I've formed over the years. I worked with my pal and partner Phil Dingeldein on this one – he shares credit but no blame. The Blu-ray comes out in early December.
Phil and I are preparing to shoot new material for an expanded Mike Hammer's Mickey Spillane (1999) documentary as well as introductory material for the Brian Keith/Blake Edwards written-directed 1954 Mike Hammer pilot, which will be a bonus feature on the I, the Jury disc.
We are in the early stages of mounting an amateur stage production of Encore for Murder and are hoping to entice Gary Sandy to come to Muscatine, Iowa, to again play Mike Hammer. A few years ago, Gary starred as Mike in pro productions of Encore in Owensboro, Kentucky, and Clearwater, Florida. The play is performed in the style of a '40s radio show. Much more to follow, but the date to save is September 17.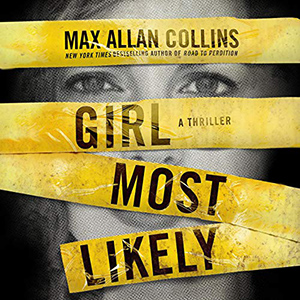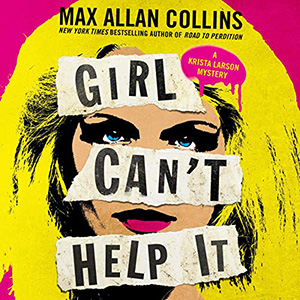 A reminder – the Kindle editions of the two books in my Krista and Keith Larson series, Girl Most Likely and Girl Can't Help It, are on sale this month – right now through July 31. You can buy them as a pair for $1.98, or 99-cents each.
They are not on sale, but both Girl novels are also available on audio, read by my other favorite Collins narrator, Dan John Miller. [The Girl audiobooks are only $1.99 each if you own the eBooks. –Nate]
* * *
If you swing by here now and then – or, God help you, on a regular basis – you will have noticed I seldom review books but frequently talk about movies and TV – of late, streaming mini-series more than anything. This week is no exception.
But first let me explain that I am indeed still reading books. Right now I am swimming in them, preparing to write Too Many Bullets, the RFK Heller novel that will cover both Jimmy Hoffa and Sirhan Sirhan. I am dizzy from it and driving Barb nuts with my ever-shifting notions about how I will approach this thing.
The degree of difficulty may make this the final Nate Heller novel, or at least one of such size and sweep. I can imagine doing shorter ones, more the length of a Quarry or Caleb York, which if Heller's home remains Hard Case Crime makes sense. But the upcoming The Big Bundle was meant to be a "short" Heller and it ran over 400 pages in manuscript. As we say in the funnies, Sigh.
During intense research phases, little recreational reading happens. My brain wants something less proactive than reading, hence film and TV. I do read before bed and chip away at books. And my ambition is to read the entire Tarzan series by Burroughs and dig seriously into the complete Race Williams stories by Carroll John Daly and also the Zorro stories by Johnston McCulley. I read most of Burroughs' Tarzan novels as a kid, but only recently have the complete Race Williams and Zorro stories been collected in book form.
Also on my reading list are books on Anthony Mann's crime films, the handful of Willam March-penned novels I haven't got to, a few remaining items by F. Hugh Herbert (creator of Corliss Archer), and autobiographies of Mel Brooks, Chuck Berry and Brian Cox. I'm also salivating to read Hell's Half Acre about Kate Bender, one of my favorite true crimes of the Lizzie Borden era.
Am I alone in noticing that time is the enemy?
On the streaming front, Barb and I greatly enjoyed The Dropout, the jaw-dropping story of Elizabeth Holmes and her blood-exam scam. Stranger Things wrapped up in excruciatingly self-indulgent over-stuffed style – the Duffer brothers have got to stop writing teen romance! – but the horror aspects remained strong. And Star Trek: Stranger Worlds ended its season boldly going, and we continue to consider it the best post-Shatner/Nimoy/Kelley iteration.
Of course I am a hopeless addict of physical media, and snapped up two great Criterion 4K Blu-rays on their current Barnes & Noble 50% off sale – Shaft (1971) and Double Indemnity (1944).
Shaft is one of my favorite private eye films and it shows what might have been done with a Mike Hammer film had it been shot on gritty NYC locations (the 1982 I, the Jury remake comes close). Richard Roundtree is the most charismatic screen private eye since Bogart, and the Issac Hayes score ties with Mancini's Peter Gunn for best P.I. theme. It's really a pretty standard private eye yarn and very much on the Mike Hammer template – Shaft has a Homicide detective pal who scolds and yet uses him, and there's a regular girl friend who the detective cheats on without a twinge, the violence is shocking and the P.I. is almost supernaturally tough, though he gets beat up before the end. Standard. But the Black twist on everything, those stark NYC locations, the pulsing soul score, the magnetic Roundtree…changes everything.
The movie looks great, sounds better, and the bonus features go on forever, though none of the experts mention Mike Hammer (the original hardcover novel had presented Shaft as the Black Mike Hammer) with no sense of the debt to Spillane on display here. There's lots of feminist blather from a Black perspective, apologizing and rationalizing for what if this were a Hammer film would be labeled misogyny. But there's a lot of good bonus material just the same, with Roundtree and Gordon Parks interviewed and much more. That includes the snappy quick sequel, Shaft's Big Score (1972), on Blu-ray; it lacks the grit of the first film but has an incredible if absurd climax. Sadly M.I.A. is the underrated Shaft in Africa (1973). And if I'd have been in charge I'd have cherry-picked an example of the short-lived Shaft TV series, the episodes of which were movie length.
James M. Cain was one of the four writers who (sixty years ago) inspired me to go down the hardboiled path (the others being Hammett, Chandler and Spillane). Double Indemnity is generally considered the best of the screen versions, and was Cain's own favorite. I could build a case for The Postman Always Rings Twice (1946) because it really does have a love story at its twisted heart. Double Indemnity, wonderful though it is, is cold at the center. Ironically (intentionally), the real love story is between Fred MacMurray's Walter Neff and Edgar G. Robinson's Barton Keyes, the insurance investigator who leads Neff and Barbara Stanwyck's Phyllis Dietrich to their well-deserved fates.
It's a great film, with Raymond Chandler's crackling dialogue staying just to one side of self-parody; then there's the prison-stripe window-blinds cinematography of John Sietz and march-to-doom direction of Billy Wilder. As Hammett's The Maltese Falcon did with the private eye novel, Double Indemnity seems to invent, define and perfect the post-war film noir. Eddie Muller and Imogen Sara Smith do right by the film in their terrific bonus-feature discussion (accomplished by editing together craftily two sides of a chat shot in separate locations).
I disagree with them on only one thing: they describe both Neff and Phyllis as sociopaths. I think Double Indemnity is a dance between a guy who's been getting away with things and a woman who's been getting away with murder. There's a throwaway line very early on where MacMurray mentions having sold vacuum cleaners door-to-door; this is code for the traveling salesman who is on the make for available housewives. He sizes Stanwyck up as one of those, with no idea how in over his head he is. He's a regular guy with a sleazy streak who gets pulled into a murder plot because (a) he's hot for the dame, and (b) he's always dreamed of putting one over on the insurance company he works for. Stanwyck, on the other hand, has immediately sized him up as a horndog who is a perfect candidate for the inside-man accomplice she needs.
Muller and Smith discuss the difference between Cain's novel dialogue and Chandler's film dialogue, and are again on the money; but they don't share the key anecdote in full.
Here's what Cain himself said in that regard: "When they were making Double Indemnity in Hollywood, Billy Wilder complained that Raymond Chandler was throwing away my nice, terse dialogue; he got some student actors in from the Paramount school, coached them up, to let Chandler hear what it would be like if he would only put exactly what was in the book in his screenplay. To Wilder's utter astonishment, it sounded like holy hell. Chandler explained to Wilder what the trouble was that Cain's dialogue is written to the eye. That ragged right-hand margin that is so exciting and wonderful to look at can't be recited by actors. Chandler said, 'Now that we've got that out of the way, let's dialogue it with the same spirit Cain has in the book but not the identical words.' Wilder still didn't believe him. They got me over there, purportedly to discuss something else, but the real reason was that Wilder hoped I would contradict Chandler, and somehow explain what had evaporated. But, of course, I bore Chandler out…."
* * *
Lots of lists of the best Film Noirs have popped up lately, but this one is solid, and does a fine job discussing Kiss Me Deadly. And, of course, Double Indemnity is on it.
M.A.C.