Yes, it's another book giveaway!
This time it's Spillane – King of Pulp Fiction by James Traylor and me (published by Mysterious Press). I have ten copies available – eight hardcovers and two trade paperback-style Advance Reading Copies. [All copies have been claimed. Thank you!–Nate]
Is it worth reading?
Here's what the Wall Street Journal thinks: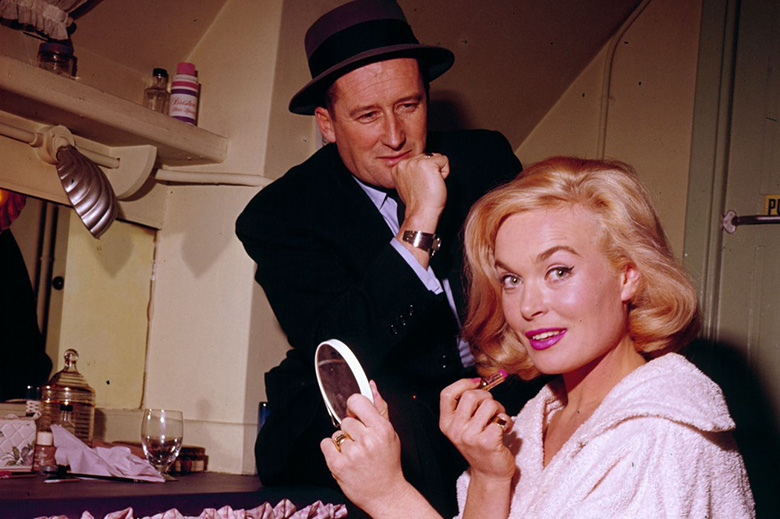 Mickey Spillane, in the role of his creation Mike Hammer, on the set of "The Girl Hunters" (1963) with co-star Shirley Eaton.
PHOTO: POPPERFOTO VIA GETTY IMAGES
'Spillane' Review: He Nailed Mike Hammer
By Michael Saler
Mickey Spillane knew how to make crime pay, and he transformed the American publishing industry in the process. Between 1947 and 1952, his first six novels featuring private investigator Mike Hammer, a sadist with a heart of gold, sold millions of copies in paperback—bringing legitimacy to the fledgling format. Spillane's global sales now exceed 200 million.
His recipe for success appeared simple. Mix racy innuendo ("She was oozing out of a bikini suit like toothpaste out of a tube") with graphic violence ("I snapped the side of the rod across his jaw and laid the flesh open to the bone"); season with stereotypes and vivid prose; knead these raw materials into a propulsive plot pitting good versus evil. Et voilà: "The chewing gum of American literature," as Spillane cheerfully admitted. Many critics of the time, repelled by his vigilantism and sensationalism, condemned his books as nasty, poor, brutish and not short enough. Others found that Hammer's sincere conviction exerted a powerful spell.
Noir fans know a lot about Mike Hammer, but who was Mickey Spillane? Max Allan Collins and James L. Traylor are Spillane experts who have championed the author's works since the early 1980s. Mr. Collins, a noted crime writer, also collaborated with Spillane and has been completing drafts left by Spillane upon his death in 2006. The biographers concede their partisanship but avow they have been "hard-nosed" about their hard-boiled subject. "Spillane" is an engaging, capacious and largely celebratory account, presenting the writer, his works and their multimedia adaptations as worthy of serious consideration.
Spillane was born in 1918, the only child of a Catholic father and Protestant mother. Religion would play a significant role in his life: He became a Baptist, like his first wife Mary Ann, whom he married in 1945; in 1951 he converted to the Jehovah's Witnesses. His biographers suggest that Hammer's Old Testament, "eye-for-an-eye" justice is partly beholden to Spillane's religious outlook. As a youth, however, Spillane may not have been devout; he loved adventure and crime fiction and claimed to have published short stories under pseudonyms soon after graduating high school. He left college after two years to join the nascent comic-book industry in New York City, honing his skills by scripting early adventures of Captain America and other crime fighters.
Spillane spent World War II stateside as a flight instructor. His biographers believe he suffered "survivor's guilt," which may have contributed to the macho postures he shared with Hammer. After the war he also came to loathe cities and their immoral, high-rise-residing "cliff-dwellers." Needing money to build a house in the country, Spillane transformed an unsold comic story about "Mike Danger" into "I, the Jury" (1947), which introduced Mike Hammer as a traumatized combat veteran who relishes dispatching killers by employing their own methods. The book sold modestly in hardcover but proved a sensation in paperback, appealing especially to veterans accustomed to reading comics and "Armed Services" softcover editions during the war. Paperbacks had hitherto consisted of reprints; Spillane's sales convinced publishers to issue original works—a sea change in the industry.
The authors find that the early Hammer novels portray a conflicted protagonist remaking his moral compass. In "One Lonely Night" (1951), Hammer searches for his own identity alongside that of the murderer. He concludes that God has fashioned him as a monster for the greater good: "I was the evil that opposed other evil, leaving the good and the meek . . . to live and inherit the earth!"
After reaching unprecedented popularity by 1952, Spillane ceased writing novels for a decade. Previous commentators assumed he was occupied with, and perhaps inhibited by, his new religion. But the authors suggest that his silence owed as much to his wealth and the distracting hobbies it permitted; he had also sold the film rights to his hero and was biding his time, waiting to reclaim them.
When Spillane returned to writing novels in 1962, with "The Girl Hunters," his narratives were more polished but lacked the manic energy of earlier works. By this time, both Spillane and Hammer had become pop-culture touchstones. The author would portray Hammer in the 1963 film version of "The Girl Hunters," and subsequently blurred the line between himself and his hero. Spillane divorced in 1962, marrying again in 1964. His second wife, Sherri, was half his age, a model who played the "doll" alongside Spillane's public appearances as "the living embodiment" of Hammer. Spillane even assumed the Hammer persona for Miller Lite Beer commercials, a campaign that continued from the 1970s through the 1990s. The genial Spillane and the grim Hammer became coterminous in the public mind, leaching certain dark undercurrents from the fictional character.
"Spillane" emphasizes the gentler side of its subject, only fleetingly considering the charming writer's crueller opinions and actions. Yet Mr. Collins does recall a frightening instance he witnessed in 1992. Spillane's home had been burgled and the author, gesticulating with his fists, "told me vividly what he'd like to do to the thieves." Then the squall subsided. "But I'm not like that anymore. I don't do that now."
The biography concludes on such grace notes. After an acrimonious divorce from Sherri, Spillane married for a final time, doting on his wife Jane and her two daughters. He continued to write bestsellers in multiple genres and attained literary honors, including a belated "Grand Master" award from the Mystery Writers of America in 1995. In language consonant with Spillane's themes, author Donald E. Westlake saw this as "redemption" for a writer long considered a "pariah" among his peers.
Mr. Saler is a professor at the University of California, Davis.
* * *
Here is a lovely and insightful Big Bundle review from borg's C.J. Bunce (that doesn't mean I don't have a few quibbles).
Author Max Allan Collins doesn't let up and neither does his A-1 Private Detective Agency hero Nathan Heller. His client list is one-of-a-kind, including the likes of Clarence Darrow, Amelia Earhart, and Dashiell Hammett. After 17 novels and three collections of short stories, Heller, the "P.I. to the stars" is back in
The Big Bundle
, an all-new 1950s crime story from Hard Case Crime, available for pre-order now here at Amazon. The first of two historical crime novels from Collins tying in a fictionalized version of Robert F. Kennedy, the story brings together again that classic 1950s triangle: RFK's Congressional racketeering committee efforts, Jimmy Hoffa's role in the labor movement and his questionable cohorts, and the antics of low-and mid-level members of the Mafia. But that's really only the background for a real-life kidnapping that took place in Kansas City in 1953, and Heller, once handpicked by Lindbergh to find the villains in the case of his own missing son, is brought into another similar, gut-wrenching case. His first client was Al Capone. Frank Nitti was his father figure. His best friend was Eliot Ness. But that's in the past when Nate Heller's next story begins.

Collins and his well-dressed hero are in prime form–this is one of those Collins novels that one-ups his own famous
Road to Perdition
, blending in some nasty villains straight out of Quentin Tarantino's
From Dusk Till Dawn.
His expert storytelling investigates whether or not bad guys have a code, and how much they'll stick to that code when big money is at stake. Heller comes across bad cops, cops that are just bad at being cops, street thugs, minor and major mobsters, organized labor leaders, politicians, and just plain evil people with no soul. They all say the same thing: "I'd never touch that kind of blood money." So who is lying and who is telling the truth?

The real-life facts are on the record, but if you believe an event 70 years ago can remotely be a spoiler to talk about, move along and come back after you've read the novel, but just note that the story isn't the reason to read the novel–it's Collins' storytelling.

Keeping with his four-decade-long series, Heller sounds like a real person, but he's not. Heller is Collins' fictional private detective who has clients of every ilk, but notably each novel features Heller's exploits with a famous celebrity or historical event–Heller this time has many clients, often with conflicting agendas. In
The Big Bundle
that includes RFK, Hoffa, and Kansas City multi-millionaire Robert Greenlease, Sr. It's Greenlease whose six-year-old son Bobby was walked out of a Catholic school by a woman pretending to be his aunt, never to be seen again, as part of an infamous, nationally-reported kidnapping in 1953. A drug-addicted and alcoholic couple from St. Joseph, Missouri–a "Bonnie and Carl," Bonnie Heady and Carl Hall–were sent to the gas chamber for their crimes, Heady notably as only the third woman ever killed by the federal government, following Lincoln assassination conspirator Mary Surratt and the convicted spy Ethel Rosenberg.

Greenlease, a wealthy Cadillac dealer, paid $600,000 to the kidnappers, the largest ransom ever paid at the time. Only $288,000 of the ransom was recovered by authorities. Collins breaks the story into what reads like two separate books. The first covers Heller as one of the shadowy figures that was brought in (as happened in real life) to help sleuth out the kidnappers and hopefully save the boy in time. The second follows Heller as he's tapped by multiple factions to leverage his underworld relationships–many via characters introduced by Collins in his previous twenty-plus stories.

Collins makes a good effort upfront and in an afterword to make it clear how the events have been altered for storytelling purposes. Heller is an interesting storytelling device, a bit of a time traveler that didn't exist that is thrust into these historical events as our tour guide. It works, but Heller's voice may strike fans of Collins' other voices, like Mike Hammer (who he shares with Mickey Spillane), Quarry, and Nolan, as the furthest away in style and manner. Without reading his past exploits it's not clear why Heller can afford to be so confident. He strides into situations where others are getting killed for doing much less, and yet he walks out clean–like a protagonist in a slasher film.
The Big Bundle
is a noir crime novel, so Collins splices in his dark hero getting a piece of the physical action, like getting beat-up by thugs, and also with the femme fatale/good-bad girl types, including a few sex scenes that seem a little too steamy for a plot about a real-life child kidnapping. But that may just be a matter of personal taste.

Collins' use of real people gives this novel a cinematic feel in the vein of Oliver Stone, especially his
JFK,
and David Mamet's
Hoffa.
The story shuffles back and forth from the real and fictional somewhat better than in the recent movie based on real facts,
Amsterdam.
Readers who are fans of
The Untouchables
will find the setting familiar, and St. Louis and Kansas City is a great undertapped (and the real-life) 1950s venue for a major work like this. Collins' exhaustive research into the nooks and crannies of every bar, diner, and seedy hotel is evident. The approach reminded me at times of former Kansas City Star reporter Giles Fowler's non-fiction work
Deaths on Pleasant Street
. It also plays out like another D.B. Cooper rabbit hole for federal investigators.

Paul Mann creates a very good spin on Heller as he might have been portrayed by Robert Lansing for his painted cover art.
The Big Bundle
should land as a major work for Collins, and that's saying a lot for someone who is so prolific. It's prime for a movie, complete with a dozen odd characters to be filled by your favorite character actors. This is a must for all noir crime readers, fans of Collins and his detective Heller (especially his 1991 novel
Stolen Away
), 20th century crime stories found in the movie
The Changeling
and in the books
In Cold Blood, Union Station,
and
A Bloody Business
. Pre-order
The Big Bundle
in hardcover now in its first-ever publication here at Amazon, scheduled for arrival next Tuesday, January 24, 2023.
You could hardly dream of a better review than this, and seldom have I seen Heller analyzed better. Here's where I take slight issue. (In addition to disliking David Mamet's work and walking out of Amsterdam.)
This very generous reviewer expresses that now standard modern-day complaint about "steamy sex scenes." The current attitude toward sexual content in tough mysteries is something I understand but don't tolerate. I grew up reading books that were supposed to be racy and then the sex scenes always petered out (excuse the expression). During my college years, when I developed as a writer, the creative atmosphere was impacted by the sexual revolution – pubic hair in Playboy, Deep Throat playing at respectable theaters, soft-core sex scenes in mainstream movies. The idea of heterosexual men objecting to sexual content still bewilders me. When Heller and Hammer and Quarry (who are men of their time) notice the physicality of a woman, they are admiring them, not objectifying them, though admittedly sizing them up; and if men today tell you they do not notice a woman's pretty face or shapely form, they are either lying or nuts.
In The Big Bundle, a real-life prostitute figures. In part one she tries to seduce Heller, who sends her packing, as he is depressed as hell about this kidnapping (he has a six-year-old son himself). Five years later, he does succumb in a very character-driven sex scene that to me isn't terribly sexy.
There was very little sexual fun-and-games-type content in the previous Heller, Do No Harm, because neither Heller nor I were comfortable, due to the sex-crime aspect of the murder.
This reviewer rightly says, "It's a matter of taste," and I agree. But what in art isn't?
Heller is indeed a device, a window through which to look at these crimes and mysteries. I try to make Heller as real as I can, and frankly think he's far more real than most fictional private eyes, despite the historical baggage I make him lug around. When he gets the shit beat out of him, he bleeds and has to recover. He's been known to fart. One well-known private eye writer criticized me for having Heller take a bribe; another for Heller using a condom. Part of what I was up to with Nate Heller was to make him, on some level, a real guy – which is why he starts out sleeping in his office and works his way up to a coast-to-coast operation. Which is why he marries (more than once) and has a son he loves very much.
In the first Heller, True Detective (1983), I set out to have my detective break every one of Raymond Chandler's "Down These Mean Streets" rules. And Heller did that very thing, including deflowering a virgin.
I in no way mean to beat up on this reviewer, who did a splendid job; he actually understands what I'm up against, and I am very grateful for a writer this perceptive taking a look at my work. And a good critic, like this one, can see things, perceive things, in fiction writers' work that the they might well miss, being too close to the material to detect the not necessarily obvious.
I have been accused, properly I think, accurately I'm afraid, of being thin-skinned. Just this week a longtime Heller reader, and a former bookshop proprietor, wrote a lengthy e-mail and sent it to me and to my editor/publisher about some errors in The Big Bundle.
Now, if you're a regular reader of mine you may recall that in my bibliographic afterword I always state: "Despite its extensive basis in history, this is a work of fiction, some liberties have been taken with the facts, and any blame for historical inaccuracies is my own, mitigated by the limitations of conflicting source material."
I responded to this reader in a manner that I think was polite and even friendly, answering each of the reader's points individually. About half of them had to do with a small town that is mentioned but does not figure in the narrative in a major way. Another cited error was a possible numerical typo, but the rest I just didn't agree with – for example, the FBI couldn't know a state line had been crossed until they captured the perps and knew that those perps had in fact crossed a state line.
This reader grew up in the area where the book is set, and of course I did not grow up in the twenty-plus areas where Heller's novels and short stories take place. From my point of view, this individual was lording it over me for not knowing things he did, as a local resident (as opposed to my book and Internet research).
I don't think my irritation was obvious in my response, although I would have preferred he would have written me and not ratted me out to my editor/publisher. His response was lengthy and indignant, letting me know he was no longer a fan and would get rid of all my books in his collection, now that he had discovered that he couldn't trust the details in my books.
As it happens, I dug deeper into the "errors" – about half of them I still do not consider errors. But I learned, after some effort, that there were two small towns, in Missouri and Kansas respectively, that shared the same name. That's where the confusion came from, and my letter-writer didn't seem to know that, either…or at least didn't make that clear. The numerical address that he pointed out to me turned up in two ways in my research, and I have corrected that – and the small-town confusion – for the paperback edition. It shouldn't cause you any problems reading the hardcover edition. This is minor stuff, but I still like to have it correct.
Look. I know readers just want to be helpful, in pointing our errors, and they are in fact being helpful when they do. I have made corrections in subsequent editions any number of times. But acting like you found a prize in the Cracker Jacks or being gleefully superior about it does not make you popular with the writer. In this case, the writer of the e-mail probably spent at most an hour on his missive, and likely much less. I spent six months writing The Big Bundle. It's only natural I am irritated when someone seems to play "Gotcha" with me.
One of the reviewers I respected most, and who was a big supporter of mine – Jon Breen, for years the regular reviewer at EQMM – always gave Heller great reviews, if necessarily brief because he was writing a column, not a single review. Yet he always found time and space to list one or two things I got wrong.
Like I said, I am probably overly guilty of being thin-skinned. In reality, I try not to believe reviews – whether good, bad or in between – and only look at them from the aspect of whether they will help sell books or not (obviously, the bad reviews are not helpful sales tools!). I wish I had a better attitude about this, but it's doubtful I will change.
The critic who is toughest on me is me. That's why if you point out an error in a book of mine, I react negatively, even emotionally. Because I am mad at myself for making a mistake. I hate getting the history wrong (unknowingly – sometimes, of course, I "adjust" it for the sake of a story).
Two things I would ask the likes of my ex-reader/former bookseller error spotter: try to remember that my books are fiction; and that I am human.
* * *
Here's a You Tube video about one reader's Top Ten books written by me.
The Big Bundle is one of ten new books Crime Reads recommends.
CBR says Road to Perdition is one of the most faithful comic book movies.
Here's a terrific review of Spillane – King of Pulp Fiction from the great Ron Fortier.
Finally, this excellent video review of the graphic novel, Road to Perdition.
M.A.C.