There is another John Sand bargain this week – I believe it goes to the 15th of next month (July) – for the audio of To Live and Spy in Berlin. For only 99 cents! Brian J. Gill reads this (and the other two Sand novels) in a nice English accent that suits the material; really a great job.
* * *
Several friends and fans wrote me about a Daily Atlantic newsletter essay that selected Road to Perdition as an ideal Father's Day movie. I liked the piece, even though it neglected to mention me, and was touched that the photo running with the article was from the sequence directly based on my first driving lesson with my late father. No bank robberies were involved in real life, however. I also like John Rooney being based on John Looney got a mention.
Here it is:
'He Was My Father'
Sometimes at the Daily we step back at the end of the week's blizzard of news and current events and suggest something for your leisure time. It's Father's Day weekend, and so I want to recommend to you one of my favorite movies, a meditation on generations and fatherhood and loyalty and duty, a warm, nostalgic look at families during a simpler time, starring two of America's most beloved actors.
I am talking, of course, about Road to Perdition.
If you have not seen it, Road to Perdition (based on the graphic novel of the same name, and widely available to stream) is a 2002 film about Irish gangsters in the 1930s. But it's really about fathers and sons. A mob leg-breaker named Mike Sullivan, played by a bulked-up Tom Hanks, is fiercely loyal to his boss, John Rooney (played, in his last role, against type and with regal Hibernian menace by Paul Newman); indeed, Sullivan and Rooney have a father-son relationship.
But Rooney already has a son, played by Daniel Craig, and that son is a murderous psychopath. (People wonder why I had a hard time accepting Craig as James Bond. It's because I saw Road to Perdition first.) Without giving away too much, Sullivan and his own young son, Michael, have to go on the lam. It's a father-son road-trip movie, except with tommy guns and stone killers.
You may find this an unusual recommendation. Bear with me.
When Father's Day rolls around, I naturally think of my own father. I have never been able to relate to all those Hallmark-card, Ward Cleaver images. My dad was a complicated man, which is what sons say when we mean "He was terribly flawed in a lot of ways, but he loved me." He bore a lot of sins and had a lot of shortcomings, but he had a consistent code of ethics in dealing with others and he was known for it. He kept his word, paid his debts, and treated others with respect. He was the kind of man who would walk into a local bar and his peers would call him Nick but younger men would unfailingly refer to him as "Mr. Nichols." Even our younger neighbors called him "Mr. Nichols," with great affection. (When he died, I sold his house to one of the children who'd grown up next door to him.)
I think most of us had fathers who weren't perfect. Mine wasn't, and yet he taught me important things: Do an honest day's work. Love your country. Do things you have to do even if they're unpleasant. Never back down if you know you're right. Be courteous in public.
He also taught me how to gamble and showed me how to spot someone dealing off the bottom of a deck of cards.
He wasn't the blueprint for a good husband or father, and he knew it. When I was in my 30s, he admitted to my mother that he thought I'd grown up to be a better man than he was. This is a hard thing to learn about your father, a source of both pride and sadness. (I will have more to say about fathers, and the men I knew growing up, over on my Peacefield newsletter this weekend.)
Which brings me back to Road to Perdition. When Sullivan has to go on the run with Michael (played by a young Tyler Hoechlin), the son finally learns what the father he idolizes actually does for a living. He also learns that Rooney—based on the real-life Irish godfather John Patrick Looney—is not a kindly grandfather but a cold-blooded killer. These men (and this is very much a man's movie) are scoundrels, but they have a code, and their obedience to that code leads them to tragic choices.
The last line of the movie (again, without spoiling anything) is what ties it all to my memories of my own boyhood. Young Michael reminisces, and says: "When people ask me if Michael Sullivan was a good man, or if there was just no good in him at all, I always give the same answer. I just tell them: He was my father."
That is the most honest thing most of us can say about our fathers. We love them, and they love us, and that's enough.
* * *
My Brit pal Andrew Sumner, who edits my Mike Hammer novels at Titan (including the upcoming Kill Me If You Can), sent this great video.
He explains: "Due to my regular attendance at London's finest jazz clubs, I've become friendly with a well-known UK swing/jazz R&B performer called Ray Gelato. Ray leads a band called Ray Gelato and the Giants and they essentially channel the energy of Louis Prima & Louis Jordan – they played Paul McCartney's wedding, they've supported Queen, etc. They're in a similar wheelhouse to Brian Setzer and Big Bad Voodoo Daddy."
Andrew was nice enough to request that they play "Harlem Nocturne," Mike Hammer's theme in the Keach era, and dedicate it to me. Have a listen and look (or is that a butcher's hook?).
* * *
If you're a huge Spillane fan or huge Collins fan or just huge masochist, you may wish to watch this entire ninety-minute interview of me (on the subject of Mickey) by Dan Scheider (he's very's good) featuring the great Kevin Burton Smith of Thrilling Detective fame and accomplishment.
* * *
On another musical note (or two or three or four), my band Crusin', 2018 inductees in the Iowa Rock 'n' Roll Hall of Fame, will be playing four dates in Eastern Iowa this summer and early fall.
First up, on Friday June 24 from 6 to 9 p.m., is the Ardon Creek Vineyard in the gently rolling farmland of "76 Township" in Eastern Iowa, approximately 30 minutes southeast of Iowa City, Iowa, 15 minutes southwest of Muscatine, Iowa and 5 miles north of Letts. Here's the address: 2391 Independence Avenue, Letts, IA 52754. Their phone is (563) 272-0028 and more info's available here, including a map.
On Saturday July 2 we'll be at Proof Social in Muscatine, from 5 to 8 pm. We'll be on the patio unless there's rain, in which case we'll be inside. This is a lovely venue, and the patio overlooks the Mississippi.
On Sunday August 14 we'll again be appearing as part of the Second Sunday Concert Series at Musser Public Library, 408 E. 2nd Street in Muscatine, IA. Sometimes it's held indoors and other times, weather allowing, with an outdoor stage in the parking lot. Hours are 6 to 8 p.m.
Finally, we'll be appearing at the Muscatine Art Center's yearly Ice Cream Social, which runs from 1 till 4 p.m. (Our times are 1:15 to 2:10 and 3 to 3:45.) 1314 Mulberry Ave, Muscatine.
Yes, our "season" is short, which is on purpose. Again I wonder if this will be the last year for Crusin' appearances. And my memory fills with my departed bandmates, including the most recent and cutting loss, bass player Brian Van Winkle. I hope he's somewhere arguing with Paul Thomas, Chuck Bunn, Bruce Peters, and Terry Beckey who among them gets to play bass if that Rock 'n' Roll Heaven gig comes through. But knowing Brian, he'd just smile and wait his turn.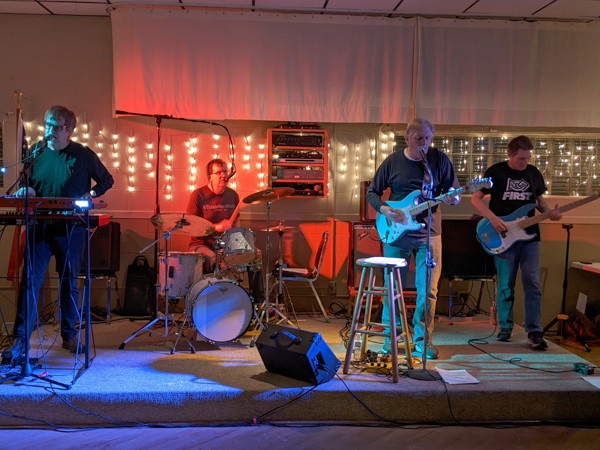 Crusin' at the Moose in January 2022
* * *
Check out this wonderful Quarry's Blood review at the web's definitive genre book review site, Bookgasm.
Here's a nice Goodreads review of the graphic novel, Road to Perdition.
And finally here is The Big Bundle at the Hard Case Crime web site.
M.A.C.