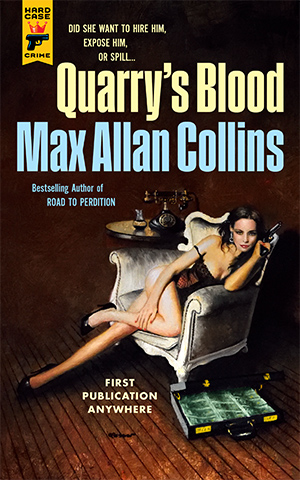 I am pleased to be nominated in two categories in this year's PWA Shamus Awards – The Big Bundle in Best Hardcover and Quarry's Blood in Best Paperback. I don't remember ever being nominated twice in one awards competition before, and am not sure this has ever happened to anybody in the Shamuses prior to this…though I'm not sure.
Here's the full list of nominees.
I'm also not sure Barb and I'll be attending the Private Eye Writers of America awards ceremony banquet, much as we'd like to. Some things look likely to be colliding with any trip to San Diego, including a couple of upcoming medical procedures. In addition, we may be gearing up for the Blue Christmas project, possibly in rehearsal or even shooting.
It is very gratifying to have both of my signature series – Heller and Quarry – honored in this way. Quarry began around 1971 at the University of Iowa Writers Workshop, and Heller started as a busted comic strip project in 1976. So both go back to the beginnings of my professional career. (I got the Dick Tracy strip in 1977, in part due to my rejected Heller proposal, which demonstrated I could write comics.) True Detective, the first Heller, winning the Best Novel Shamus in 1984 gave my career a much-needed boost.
Barb and I will make the decision about attending at the last minute. It's not often I get to lose twice in one awards competition.
* * *
My eternally lovely bride Barbara Collins had a birthday on June 18 (as I write this). She has caught up with me in years, and I will do her the favor of not saying how many years that is. I will say having in my life a woman as smart, funny, giving and beautiful as this is the joy of my existence, the real blessing. Yes, I am a shallow son of a bitch who is pleased to be married to a woman who is still great-looking 55 years after I married her. Feel free to hate me on this score – I definitely do not deserve her or the good fortune that brought us together.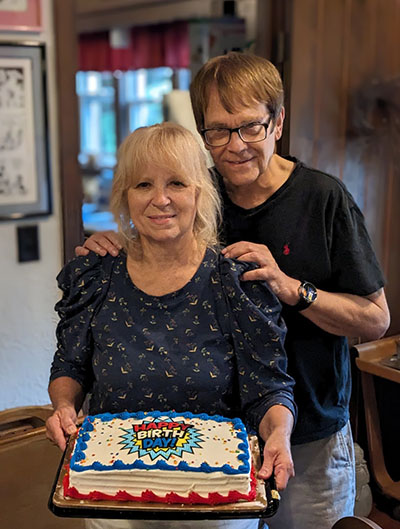 * * *
For those of you in or near eastern Iowa, my band Crusin' is making two of (so far) only three appearances this summer season.
The first is at Ardon Creek Vineyard and Winery, a lovely outdoor event that is always well attended. We'll be playing three hours and debuting some new original material for what will likely be our final CD. This is coming up Friday evening, June 23, at six o'clock. Info is here.
Then on Sunday June 25, we'll be appearing at the Muscatine Art Center Ice Cream Social, a great family event.
Crusin' is the featured live music, and will perform from 1:15 to 3:45 p.m. Here's the full info.
We have been prepping an album (remember those?) to appear on CD (remember those?) that will include eight or nine new songs (including "Christmas Blues" written for Blue Christmas) plus four with the Paul Thomas/Andy Landers/Steve Kundel/M.A.C. version of the band recorded for, and used in, Real Time: Siege at Lucas Street Market. Of the new material, I have written about half the songs, and other half are by guitarist Bill Anson, who is a terrific songwriter (and guitarist). The Real Time songs are either by me or the late, great Paul Thomas.
The current version of the band includes longtime drummer Steve Kundel, Bill's son Scott on bass, Bill on guitar and lead vocals, and me on keyboards and lead vocals.
* * *
I'll make a few comments about TV and movies, as some of you seem to get a kick out of my views in that regard.
I loved Dungeons and Dragons: Honor Among Thieves and, frankly, did not expect to. But it has a nice ability to be both comedic and frightening – action-packed, too – bringing a vibe that has hints of Princess Bride and even Monty Python and the Holy Grail. It also finally finds a good property post-Star Trek for Chris Pine, excellent here. It's streaming now.
Speaking of Star Trek, you may recall I was very complimentary about the first season of Star Trek: Strange New Worlds, but the second season opener (though the Internet seems to love it) was a big disappointment and could bode ill for longtime fans of the original Trek and its able follow-up, The Next Generation. The lead, Captain Pike (so effectively portrayed by Anson Mount), is shuffled off-stage immediately to give the opening episode to the secondary lead (and fan fave), Mr. Spock (Ethan Peck). Spock uncharacteristically hijacks the Enterprise and then weeps a couple of times…huh? The cultural-moment bug seems to have bit the series, as the bridge crew appears damn near entirely female in what is supposedly a prequel to the first series. The bridge is also way higher tech than what the classic series gave us. I realize they want to spiff it up, but this makes the original Enterprise look like a garbage scow.
At least one older person appears to be joining the cast – Carol Kane, her quirky speech patterns explained as "an accent" – and while it's nice to get somebody over thirty in the cast, it's a woman in a role that might be filled by a young actor played Scotty. In the meantime, the plot involves a character from the first season who I'd entirely forgotten and dissolves into interminable fisticuff action scenes that surely had Gene Roddenberry spinning in his grave.
There is a real problem with TV and movies that become successful – this has been going on for a long time. They treat their previous movie (or in this case, TV season) as if it's Holy Writ and we have all been studying it intently ever since. No catch-up is played, nor do the characters treated as beloved have any weight at all. Remember in Christmas Story when the Old Man is entering a contest about the Great Characters of Literature? And the answer to the question is, "Victor," the Lone Ranger's nephew's horse?
This episode of Star Trek was just one Victor after another, and showcased a weeping, impulsive Spock who may make some fans' little hearts go pitty pat, but I was blowing a raspberry.
Of course, my son Nate says I'm just a grumpy old man these days. (This was when he decided he liked John Wick: Chapter 4, though he grudgingly admits he didn't love it.) I have also been this grumpy for a long, long time – the Old Man part just emphasizes it.
Nate and I have been watching a lot of Asian stuff lately, from the '80s mostly, and I'll likely be talking about that soon.
I have had a surprising number of positive responses to my Perry Mason discussion and specifically my fannish inclusion of a hard-fought listing of the Raymond Burr episodes that are directly based on Erle Stanley Gardner novels. A few, I should mention, don't get the "Erle Stanley Gardner's" front-credits designation, because they are loose adaptions.
And, yes, the HBO Mason has been cancelled. I think that's a shame, because it was on its way to being a quality series. But its snooty attitude toward both Gardner and a politically incorrect past doomed it, I think. Here's the problem. This obsession with buying up famous I.P. (Intellectual Property) and making a new version out of it misses the point. Older people, like grumpy old me, want to see something at least vaguely resembling what is supposedly being adapted; and young people don't give a damn – they don't know Perry Mason from Mike Hammer. They should all be beaten with a stick, but that's another story. There is no audience for disrespectful new versions of classic material.
Make up your own shit, guys/gals. That's how that "I.P." happened in the first place.
* * *
Bobby Darin's record label Direction is being revived and will be releasing a lot of the great artist's stuff, including previously released material. Check it out.
Here's a nice rewrite of an article about me that was done in part because of my Muscatine Community College "Legends" honor.
For some reason the Cincinnati Enquirer picked this video up (a version of a Des Moines Register piece from a while back). It's not bad.
Here's the story of how the Mike Hammer comic strip got cancelled after an early success.
Lots of coverage about the Shamus nominations. Here's just one, from the great Rap Sheet.
M.A.C.