As our celebration of 75 years of Mike Hammer rolls on, the new Hammer novel, Kill Me If You Can, is about to be published by Titan today (September 20).
We have ten copies of the book for the first ten who write me in exchange for a review on Amazon and/or Barnes & Noble and other review-friendly sites. Kill Me If You Can comes chronologically after Velda's disappearance and charts (among much else) Hammer's descent into depression and the bottle…and yet it's a rousing good time! I promise. As a bonus I have included five short stories (two of them Hammer tales, significant additions to the canon) taking place in the "Hammer-verse."
[All copies have been claimed. Thank you for your support! –Nate]
* * *
I'm involved in many things to celebrate this 75th anniversary of the publication of the novel I, the Jury (1947), including this December the ClassicFlix release of the film I, the Jury (1953), with a 4K Disc as well as a regular and a 3-D Blu-ray. I've done a commentary for the film and also included a remaster of the Brian Keith/Blake Edwards 1954 Mike Hammer pilot film (with an on-camera wraparound). Wolfpack has already published The Menace by Mickey and me (a novelization of an unproduced horror screenplay), a collection of his three Young Adult adventure novels, including the previously unpublished title yarn, The Shrinking Island; and a terrific anthology of novelettes and short stories, Stand Up and Die!, which includes a Spillane/Collins "Hammer" story.
Still to come are an expanded, updated version of my 1999 documentary, Mike Hammer's Mickey Spillane and the definitive biography, Spillane – King of Pulp Fiction by Jim Traylor and me coming out from Mysterious Press in January 2023.
The most quirky and (for me at least) particularly fun iteration of the Hammer celebration has been the local (Muscatine, Iowa) presentation of my Hammer play (from a one-page Spillane synopsis), Encore for Murder. We presented the one-time only performance on Saturday, September 17.
A generous array of photos accompany this update, and I will share some thoughts and memories about it. However, first I'll mention that we recorded the production and will, at the least, be excerpting scenes (and a few cast interviews) from it in the expanded Spillane documentary.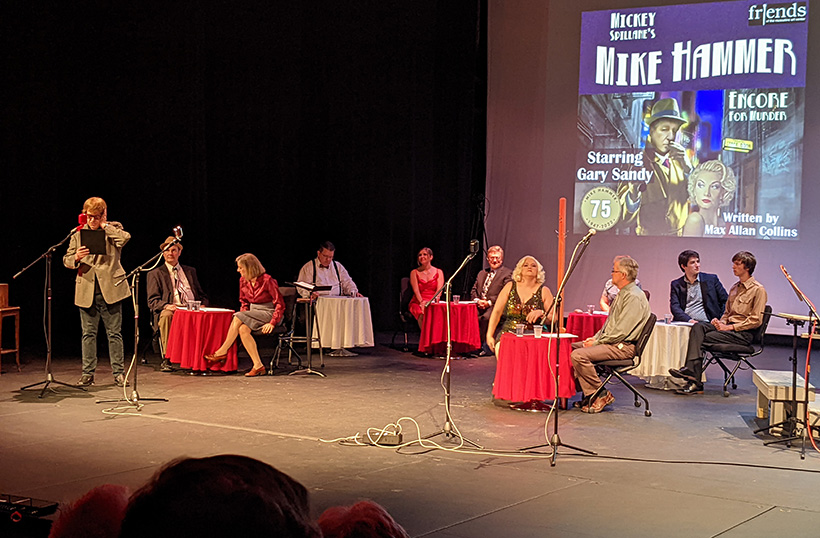 Noted radio announcer Max Allan Collins introduces the play.
It began with a phone call from local theater maven Karen Cooney, who wanted to mount a play in the style of an old radio show as a fund-raiser for the local Art Center. She thought doing a Dick Tracy radio show would be fun and I, of course, was the logical person to provide the script and participate generally. I turned her down flat, saying I had no interest in promoting Dick Tracy, a property I was fired off of in 1993.
A few days later I called Karen back and said, "However – I have an existing Mike Hammer script in the radio style that you could use." I explained that this was the 75th anniversary of Mike Hammer's debut and I was looking for ways to promote that – particularly fun ways.
I told her that Gary Sandy of WKRP in Cincinnati fame had played Hammer in this play, Encore for Murder, at a mystery festival in Owensboro, Kentucky, in 2012, and again in 2018 at the prestigious Ruth Ekherd Hall in Clearwater, Florida. Gary's involvement, and mine, grew out of his co-starring with Patty McCormack in my indie feature, Mommy's Day.
Encore for Murder was originally recorded in 2011 for Blackstone Audio (in a longer version) by the great Stacy Keach and a full cast including Mike Cornelison and Tim Kazurinsky.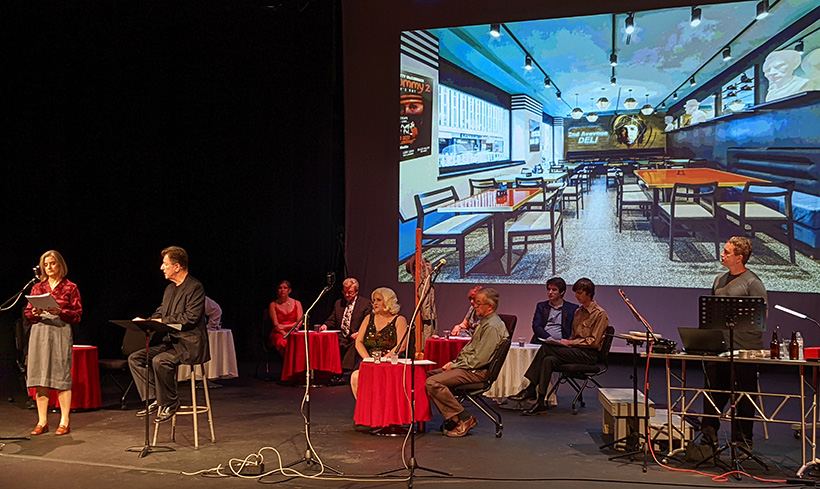 Rene Mauck as Velda with Gary Sandy as Mike.
Initially for this local presentation, I was going to read Hammer, and the production would be much like the Owensboro one, which was strictly actors at microphones with a sound-effects table in the orchestra pit. Karen wondered if Gary Sandy might consider coming to Muscatine to appear in our production. Somewhat reluctantly, not wanting to put a friend on the spot, I agreed to ask Gary and find out what it might cost to bring him in, because that would be a fund-raising effort unto itself.
I thought getting Gary to do this was a very long shot, but he not only immediately said yes, he refused any compensation (beyond expenses and lodging, which I insisted upon). This began to get me thinking about the more hybrid presentation we'd done in Clearwater, with costumes and more stage action, as well as a giant screen with scene-setting slides and musical cues, and a foley table right on stage to invoke the feel for a studio audience in the days of Golden Age radio.
Still, with a local amateur cast, I didn't want to get carried away.
My role was co-director, basically letting co-director Cooney cast it (she knew local dramatic talent and I didn't) and get the play on its feet. When Gary arrived, I would step in and fine-tune. When I went to the first table read of the script, I was pleasantly surprised by the level of the cast.
I went home and said to Barb, who was keeping her distance from this project, "Am I crazy, or could this cast actually be pretty good?" Her answers were "Yes…and maybe." I begged her to go the second table read and give me her opinion. I read Hammer myself. Afterward, Barb said, "Yes, they're good."
From then on I went to all the rehearsals and read the Hammer role, to give the cast a sense of pace and tone. Karen wanted a table read with Gary on the phone, a conference call. Again, somewhat reluctantly as I hated to impose on him, I asked….and Gary wound up doing two table reads.
Gary Sandy does not do anything half-way.
We rehearsed initially in a small black-box theater at Muscatine Community College (where Barb and I had gone in 1966 – 1968, and I taught from 1972 – 1977). We were not able to get into the rather impressive Muscatine High School auditorium until the Tuesday before the Saturday show. Five days to mount and perform it.
Oh…kay….
Gary was coming in Wednesday, traveling during that day, and might stop by and say hi to the cast (all our rehearsals began at 6 p.m. as the school was using the theater till then – we would have to strike the set every time). We'd only have him Thursday and Friday before the Saturday performance. Making this truly problematic was our foley artist, Chad Bishop – studio manager of Muscatine Access Channel Nine – would be controlling the live action sound effects and the prerecorded ones too, as well as the audio mix and musical cues…all from on stage!
(I provided the Stan Purdy music from Mickey's 1954 Mickey Spillane's Mike Hammer Story LP, and from Chris Christensen's score for the 1999 documentary.)
The pre-recorded sound-effect cues included things like tire squeals, crashing glass through a skylight, and a plethora of gun shots. Gary would have to conform to these prerecorded cues or unintentional hilarity would ensue.
Gary Sandy as Mike Hammer. Foley artist Chad Bishop at right, the full cast on stage throughout.
So I got very involved in the directing that first Tuesday night in the real theater space. I was on stage talking to Chad about his foley work and the difficulties they created, when I turned and found myself nose to nose with a grinning Gary Sandy.
After a six-hour drive, the unannounced Gary stepped right in and we ran the full first act, sound effects and music cues and all. The next night we ran the second act the same way. Much of this had to do with Gary coordinating with Chad. But it was thrilling, really was, to see this already very good cast get pulled up at least a notch by Gary's performance level. I was already impressed by the way every single cast member took direction – because my experience is in features, I work on tweaks not broad strokes, and you might think local talent would have difficulty with nuance. In this case, at least, you'd be wrong.
Gary was not happy with the fedoras we had for him, and neither was I. I decided to try something very special. I have one of Mickey's Miller Lite-era porkpie Stetsons that his wife Jane gave me – in a hat box with Mickey's own writing on it. Gary's mouth dropped open when I presented it to him in his dressing room and said, "If this fits, it's yours…until after the performance." Each time he wore it at rehearsal, he returned it to me in the hat box and I brought it again the next day. He only wears it at the open and close of the show…but for the play's final lines, when he steps out very close to the audience, he looked amazingly like Mickey.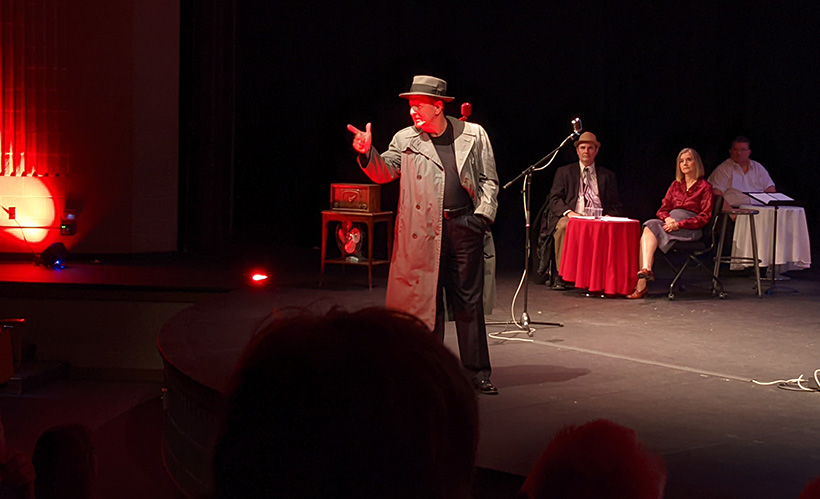 Mike Hammer (Gary Sandy) about to make his exit.
We had two dress rehearsals – Friday night and Saturday afternoon, with only a couple of hours between dress and the Saturday night performance. These were intense and I was tweaking the cast performances and my script throughout it all – some changes were made after the final dress rehearsal!
That dress rehearsal had gone well but not flawlessly, and I left wondering whether this was going to be a bullet train or just a train wreck. I was also concerned because we were up against a televised University of Iowa football game. I knew, from playing band jobs on such nights, audience size would be negatively impacted.
But the turnout was very good – three-hundred souls when we'd been under two hundred on advance sales. The silver lining was a V.I.P. After Party, meet-and-greet/Q and A at the great Merrill Hotel, which had sold out at fifty bucks a pop.
My longtime film/video collaborator Phil Dingeldein joined with Chad and his assistant Jeremy Ferguson in positioning stationary cameras around unobtrusively. Phil shot the dress rehearsals (often roving) and the live performance. He had not been to any of the other rehearsals and he, like Barb, was surprised by the cast and the level of this local production, done under tight, unforgiving circumstances, not to mention a nonexistent budget.
The audience loved it, laughing in the right places, drawing in breath at the tough action – our record was a standing ovation, or I should say Gary and the cast (including hilarious on-stage foley artist Chad Bishop) received a standing ovation.
Where do we go from here? I know we obtained footage that will give us some interesting new moments for the expanded documentary. Having Gary and his Velda (Rene Mauck) and Pat Chambers (Chris Causey) talking about playing these iconic roles alone is a big plus.
Phil, Chad and I will edit the performance together and then there will be hard thinking to do. On the positive side, we have a lot of footage, or "coverage" as we say in the feature film game. I would love to share Gary's charismatic performance as Hammer, as to date he's the only actor to perform as the character in a stage play; his take in Encore is amusing without being campy, able to spoof one moment and slide into genuine tough-guy menace the next. One thing I'm considering, if Gary gives his blessing, is including it as a bonus feature on the Blu-ray of the expanded Spillane documentary.
Obviously we have to see how well it comes together as a video presentation (it's high-def and I already know Phil shot it well). Perhaps if people understand the context, and the small miracle of this local production (Muscatine is a town of 24,000 after all), they will find the experience entertaining and even worthwhile…particularly with a pro like Gary Sandy at its center.
Phil Dingeledin on the camera at ENCORE FOR MURDER, with Max looking on.
But can we, as filmmakers, capture the excitement and enjoyment of those in the theater that night?
Stay, as they say, tuned.
M.A.C.
* * *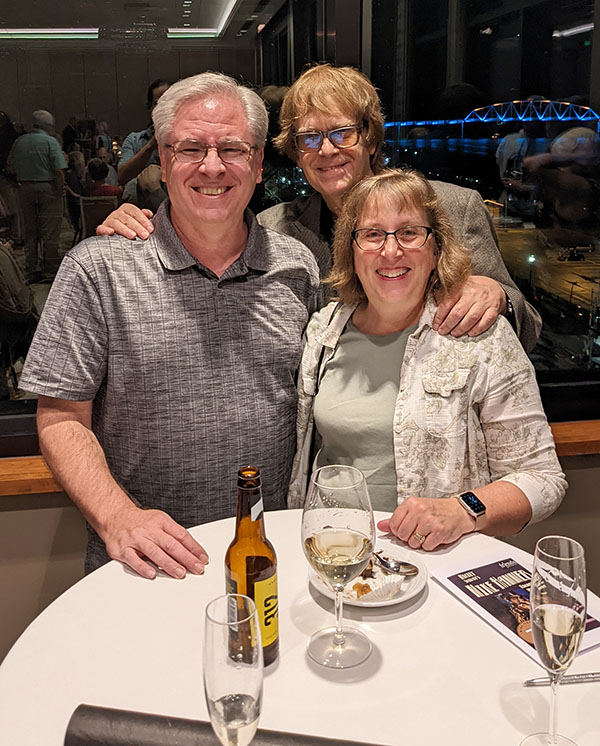 Fans who made the trip to Muscatine for ENCORE FOR MURDER: Mike and Jackie White.
Max, co-director Karen Cooney, and Gary Sandy at the V.I.P. after party.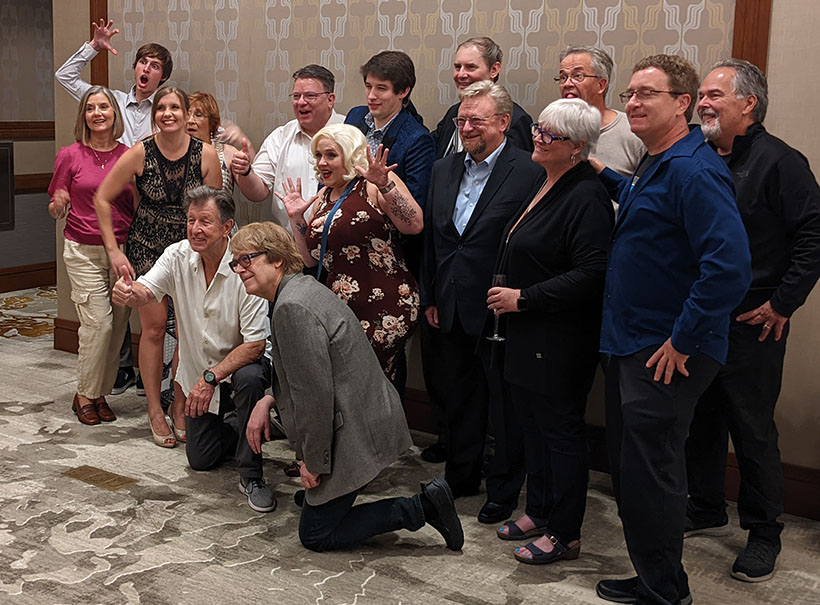 The cast of ENCORE FOR MURDER hams it up at the after party.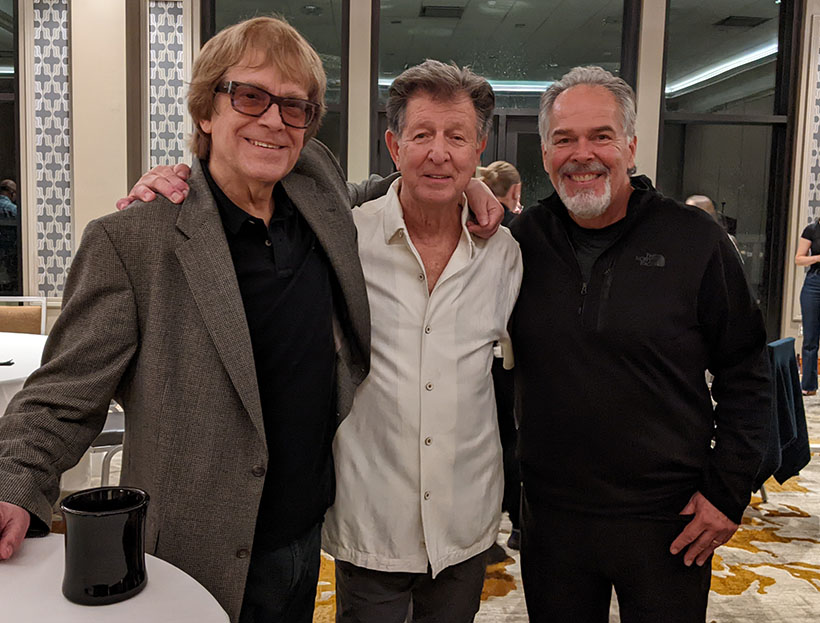 Max, Gary and filmmaker Phil Dingeldein at the after party.