News flashes hot off the wires….
If you have pre-ordered Quarry's Blood, be advised that due to printing, shipping and customs delays, the new Quarry novel from Hard Case Crime won't be arriving in stores until February 2022.
The publication of Fancy Anders Goes to War is imminent, and both the Kindle e-book and the physical book can be pre-ordered now. I will probably not see the latter until right around publication date, but I am very pleased (obviously) with Fay Dalton's great cover and the general layout of the book.
Again, the e-book of Fancy will have full color illos (a few are mostly black-and-white with dabs of color) while the "real" book will have the illos in black-and-white. The hope is that after the other two Fancy novellas appear (Fancy Anders For the Boys and Fancy Anders Goes Hollywood, which also feature Fay Dalton covers and illustrations), all three will be gathered in a single book with the illos in color and likely in a larger format.
You can order Fancy Anders Goes to War right here. (E-Book:
, Paperback:
) You can only find it on line, not in brick-and-mortar stores.
Also, over the weekend Dave Thomas, publisher John Schoenfelder and I decided that there would be two covers for NeoText's also fairly imminent The Many Lives of Jimmy Leighton. Fay Dalton has already completed her stunner, and another is being put together from roughs by Dave (with my input) for an alternate cover. You will be able to choose which cover will adorn your copy of the book. (Jimmy is not yet available for pre-order on Amazon, but its publication is soon – October 25).
All ten copies of the Wolfpack edition of Bombshell by Barb and me are now spoken for, so the book giveaway for that title is over. Books will go out within the week. Barb and I will sign them all.
Again, the meat of the sandwich this week is the next installment my ongoing memoir, A Life in Crime, at the great NeoText web site. This week it's the story of how Road to Perdition came to be and is again lavishly illustrated. I'd like to acknowledge Al Guthrie of NeoText who has been putting these together beautifully.
Next week will be part seven and focus on Fancy Anders on the very week of Fancy Anders Goes to War being published. Coincidence or evil plan? You tell me.
Initially, this was to end this run of A Life in Crime for now, with appropriate installments to be written and appearing in support of future books. But I decided to keep going with this essays right up to the publication of The Many Lives of Jimmy Leighton, so three more installments are (as they delicately say) in the can.
* * *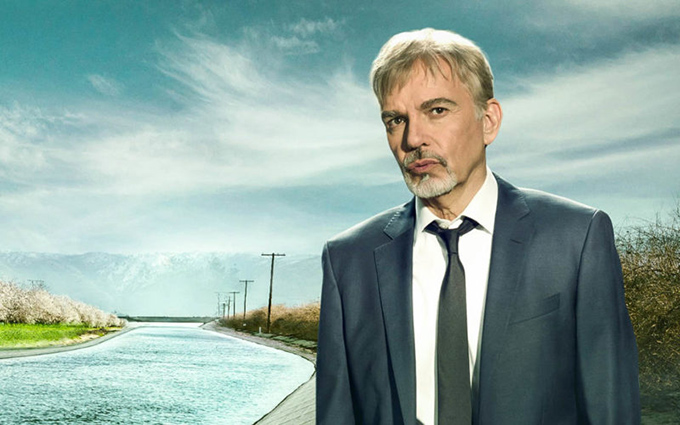 Billy Bob Thornton is one of my favorite actors – one of my favorite creative people, period.
Sling Blade (1996) is a masterpiece of indie filmmaking and proof that story and performance are more important than cinematic flash. Thornton's limited budget made it necessary to shoot his film almost entirely in master shots (wide shots). Despite its lack of moody lighting effects and camera angles, it's a solid example of film noir.
And I can never find Thornton in that performance. He has disappeared into Karl so thoroughly, the character seems to exist apart from the actor.
Like Orson Welles and John Cassavetes, Thornton has alternated parts in more commercial films with artier fare and the ability to record and perform with his rock band, Boxmasters. Along the way he has starred in some films I like very much – the two Bad Santa movies and the Coen Brothers' James M. Cain pastiche, The Man Who Wasn't There – and he knocked the ball out of the park in the first season of the FX miniseries Fargo as Lorne Malvo, a hitman who might be a physical manifestation of the devil.
I mention my like of Thornton primarily to recommend his series Goliath on Amazon Prime. Barb and I are half-way through the fourth and announced final season of this series about a once very successful attorney now an alcoholic shambles of his former self who nonetheless is able to pull himself together to play David against various corporate Goliaths. I'm not sure you need to watch the previous seasons to enjoy this final one. Each season has its own flavor and the second season, although I liked it, soured some viewers.
But overall it's a great series, in a streaming world where we are hit with so many choices it's easy to miss some of the really good things. And this fourth season, as far as I've seen at least, is outstanding. Thornton directs the first episode with the kind of noir-ish flare that is missing from Sling Blade (although frankly it might have ruined the effect of that low-key classic).
Much of the fourth season takes place in San Francisco's Chinatown, as if to dare you not to make the connections between it and the great film of that name. It also consciously invokes Vertigo, which takes guts. By which I mean balls.
And yet so far, they're pulling it off.
And it has Bruce Dern in it. If that doesn't make you smile, we have nothing in common.
Billy Bob has been married six or seven times, has phobias about antique furniture and silverware, is a huge fan of My Little Pony, and much other weirdness. And I don't care. He's a national treasure.
* * *
Fancy Anders Goes to War, while not a graphic novel, is attracting a lot of attention in the comics world, thanks largely to artist Fay Dalton's contribution and maybe a little bit because of my comics connections.
John Siuntres' Word Balloon podcast has an interview with me, and he's knowledgeable, which made it a pleasure.
This is an especially lively video podcast with Al Mega and C.V.R. the Bard. I had a great time with this one.
And J. Kingston Pierce at the definitive mystery/crime fiction blog, The Rap Sheet, has taken notice of what we've been up to here recently.
M.A.C.