In the writing game, you never know when – or even if – honors will come your way. I've been lucky, and I mark the first big non-Dick Tracy career breakthrough for me as winning the Best Novel "Shamus" from the Private Eye Writers of America for True Detective in 1984. That put me, and Nate Heller, on the map.
A second Heller win (Stolen Away), and numerous Heller nominations over the years, culminated with the PWA honoring the series itself with the Hammer Award for its contribution to the genre. Then, for the last several Heller novels, it's been quiet…too quiet.
Now, I am thrilled to say, the most current Nathan Heller novel, Do No Harm, has been nominated for the Best Novel "Shamus" by the PWA.
I spent several decades of my writing life supplementing my Heller and other novels with tie-in writing, doing novelizations of movies and original novels of popular TV series, the latter often with Matthew V. Clemens (we're doing our John Sand series together at Wolfpack currently). One of the frustrations about writing media tie-in novels had always been the lack of respect and attention they got, quite apart from their quality (or for that matter lack of it).
My fellow tie-in writer Lee Goldberg – an actual TV screenwriter in addition to author of novels tied-in with shows where he'd contributed scripts, Monk and Diagnosis: Murder among them – had been thinking about starting an organization like the MWA and PWA for tie-in writers. I was having the same thought at the same time, and both of us had a particular goal of having annual awards, including a grand master award.
We threw in together and founded the International Association of Media and Tie-in Writers in 2006, and created the Scribe Awards for various categories, with the Faust as a grand master award. Faust refers not only to the Faustian bargain tie-in writers agree to with the owners of the properties, but also to Frederick Faust, aka Max Brand, a prolific writer whose creations included Destry (of Destry Rides Again fame) and Dr. Kildare (for which he wrote his own novelizations).
Lee and I stepped down from leadership a few years ago, but the organization – now led by multiple Bram Stoker Award-winning suspense author Jonathan Maberry – is still going strong.
On the heels of the Shamus nomination, I received a second, rather overwhelming honor from the IAMTW, and have been chosen this year's Faust winner – my third lifetime achievement award (preceded by the Eye from the PWA and the Grand Master Edgar from MWA), which is either an incredible honor bestowed upon me by my peers, or an indication that they think I've lived long enough.
Maybe both.
At any rate, I am shocked and pleased by this honor. The previous Faust winners include some of the best writers in the business (not just the tie-in business). I was further honored by a Best Novel "Scribe" nomination for the newest Mike Hammer, Masquerade for Murder.
All of these honors are wonderful, but the greatest honor of all is being married to Barbara Collins for 53 years. We've been together 55 – starting to go together at Muscatine Community College in 1966 – and getting married on June 1, 1968.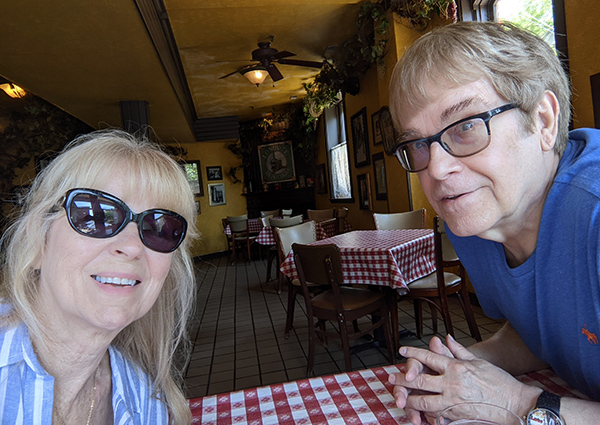 For our most ambitious post-lockdown day trip, Barb and I went to a favorite spot of ours, Galena, Illinois, to celebrate our anniversary. The accompanying picture is of us at Vinny Vanucchi's, our favorite Galena restaurant. We shopped and just enjoyed a lovely day, but also stopped by the police department to see Chief Lori Huntington.
Lori is retiring after nine years in that position, and almost thirty years in Galena law enforcement. She was my consultant on both The Girl Most Likely and The Girl Can't Help It. I could lie and say she was the inspiration for Chief Krista Larson in those novels, but I had conceived of that character before discovering that Galena indeed had a female chief of police.
But knowing Lori, and talking to her at length over the writing of the two novels, meant she had a huge impact on how the character was shaped, as well as keeping me honest about law enforcement in her little town – a tourist center that can see a million visitors, easily, in a year. She has generously agreed to let me stay in touch should I get around to writing a third Krista and Keith Larson novel, which I hope to do.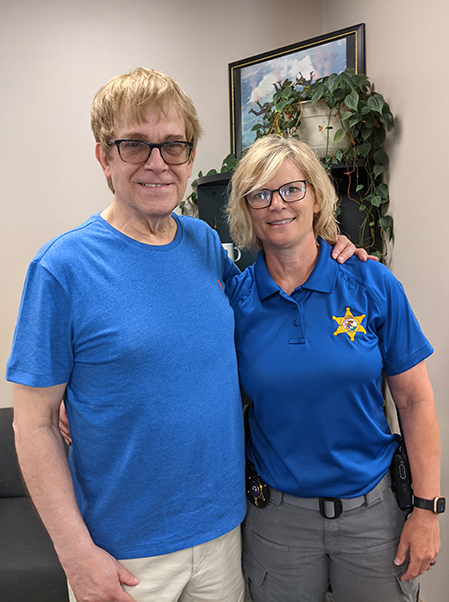 * * *
Barb and I finally finished listening to – thanks to the Galena drive – the audio book of Do No Harm. What a terrific job Dan John Miller did! He especially nails famous defense lawyer F. Lee Bailey (who passed away recently).
You may recall my continued praise for one of my favorite movies, Anatomy of a Murder. There's a terrific write-up about the film at AV Club here.
Kristen Lopez has a wonderful podcast called Ticklish Business on which I guested. We discussed the 1964 version of The Killers. I think you'll enjoy this. Kristen and her equally young female cohorts Drea Clark and Samantha Ellis talk pop culture in a way that gives me hope for the future (there's an emphasis on classic film).
Here's a wonderfully insightful review of the paperback of Mike Hammer in Kiss Her Goodbye (with my original uncensored ending)
A "great Tom Hanks gangster movie just hit Netflix" – wonder what it is?
Here's a terrific review of Two for the Money, the HCC two-fer of Bait Money and Blood Money.
M.A.C.