If you are attending Bouchercon this year, you probably have already received your ballot for the Anthony Awards nominations. This is your reminder that Scarface and the Untouchable: Al Capone, Eliot Ness and the Battle for Chicago by Max Allan Collins and A. Brad Schwartz is eligible in the non-fiction category. Your votes would be much appreciated, as it's an opportunity for us to strike back at the Edgar snub.
Other things of mine you might wish to consider are Killing Town by Spillane & Collins and Antiques Wanted by Barbara Allan in Best Novel. Also eligible are the two graphic novels, Mike Hammer: The Night I Died and Quarry's War in Best Paperback Original; and "The Big Run" by Spillane and Collins in Ellery Queen Mystery Magazine; and "The Punk" by Spillane and Collins in Mystery Tribune are eligible in Best Short Story.
Only Bouchercon attendees can vote, and the ballot that will emerge from these early nominations will be distributed at the convention itself in Dallas, Oct. 31 – Nov. 3.
Deadline for returning the ballot (which you can do via e-mail) is Tuesday, April 30.
* * *
Yes, as I write this on March 3, 2019, I have turned seventy-one years old. Considering where I was three years ago – just getting out of the hospital after open-heart surgery and a stroke – I am pleased to be that. I am pleased to be anything.
But I think about the difficulties Harlan Ellison had staying an angry young man after fifty, and realize my boy wonder days are over.
My beautiful wife Barb (my only wife – that kind of sounds like I also have a plain wife and a homely wife stashed away somewhere) showed me a wonderful time today, despite the freezing cold weather. We spent the day in the Quad Cities, having breakfast at the Machine Shed (the best breakfast around), shopped at Barnes & Noble and BAM!, saw a very good black comedy/horror movie (Greta), and had my annual lobster dinner (at Red Lobster). The evening was spent watching episodes of the classic UK crime show The Sweeney, taking time out to watch myself and A. Brad Schwartz on Backstory with Larry Potash on WGN-TV.
It was pretty good. Brad and I come off well, although I am not thrilled that we were left out of a segment about the Eliot Ness scrapbooks at Case Western Reserve in Cleveland. I mean, I discovered those scrapbooks and their value and pointed them out to Case Western, decades ago, and to Larry Potash, a few months ago.
On the other hand, there was footage of Brad shooting a machine gun. He is clearly having too much fun doing so, which is a joy to see.
Oddly, I've been on national TV several times lately. Muscatine and I are featured on Fireball Run, a gumball rally type show whose premise I do not understand – I was interviewed at the Musser Museum and displayed (brought from home) original Chester Gould art and Mickey Spillane manuscript pages, among other precious artifacts. [The series is available on Amazon Prime Video at this link; Season 11, Episode 12: "Max and Me" –Nate]
I was also interviewed for a full half hour show on Fox Nation streaming service. Below is the preview of the episode, but be forewarned that the suggestion – at times the statement – that the episode is based on the Collins/Schwartz book is not the case. And Fox has been so informed, and corrections have been made, but not everywhere. It's an interview about the book, interspersed with vintage footage and, oddly, a photo identified as Ness and used throughout the episode that isn't Ness at all.
Such are the vicissitudes of media coverage when you're out promoting a book or film.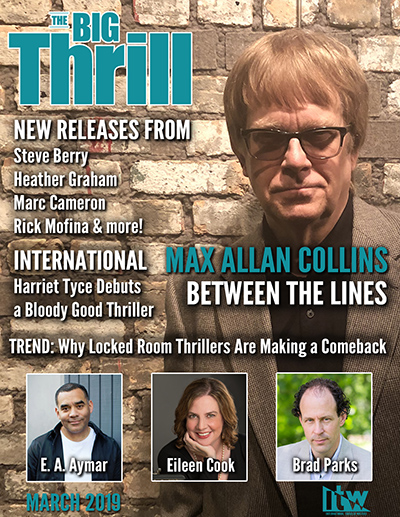 Among the best birthday gifts I received this year was an unintentional one – The Big Thrill e-magazine from the International Thriller Writers put me on their cover and have given me (thanks to writer Alex Segura) a fantastic review of The Girl Most Likely and an article about me drawing upon an interview I gave Alex. The pic shows me in front of the actual St. Valentine's Day Massacre wall, as preserved at the Mob Museum in Las Vegas. And this review/article is required reading.
M.A.C.