Girl Can't Help It will be promoted via Mystery, Thriller & Suspense Kindle book deals in the US marketplace, now through 3/31/2023. It's $2.49 during the promotion period. Executive Order will be available during the same promotional period for $2.99.
If you haven't read Girl Can't Help It yet, please consider taking advantage of this offer. It's the only novel of mine at Amazon's Thomas & Mercer that hasn't "earned out," which stalled any further entries in the series (and they haven't wanted anything from me since, despite my selling something like a million books!).
Executive Order is the third novel in the Reeder and Rogers Trilogy by Matt Clemens and me, and like the other books in the series it was spookily prescient. You don't have to have read the first two to jump onboard.
* * *
I have been chosen as a Muscatine Community College "Legend," which involves an event that includes a dinner and various things and stuff, coming up on March 30 (a Thursday evening).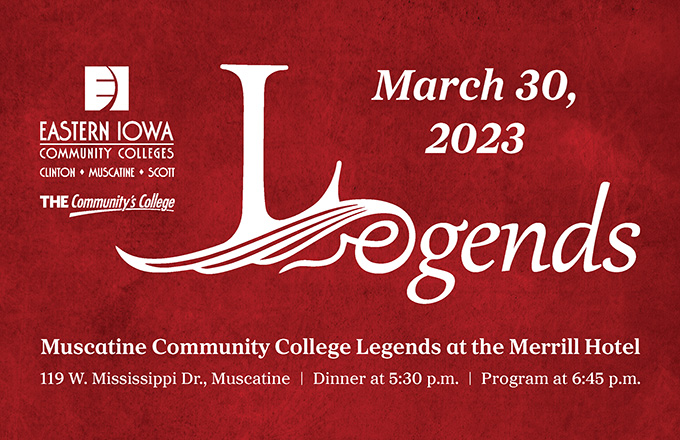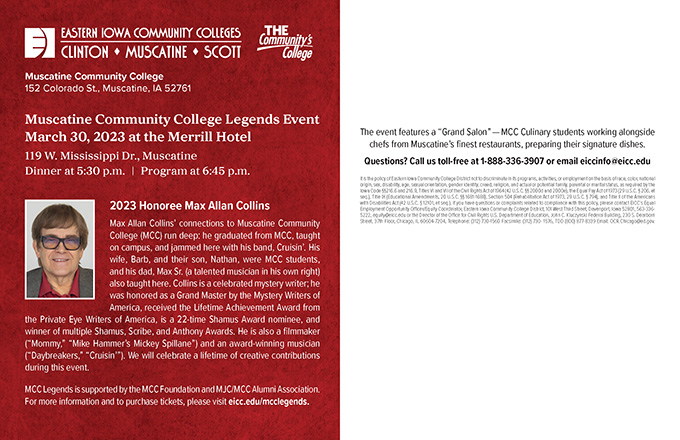 This information rather pointedly doesn't mention the price – a hefty $75 – but that's because it's a fundraiser for the college. It's another of these really nice honors – like the MWA Grandmaster – that has a bittersweet tinge, because it implies to the recipient that maybe you've been at this long enough and should look for a porch with a rocking chair.
More info on the event is here.
And on the following evening, March 31, we will be presenting the "movie" version of Mickey Spillane's Encore for Murder at Muscatine Community College's black box theater (this will definitely not cost seventy-five bucks). "Movie" is in quotes because it was edited together from multiple camera footage of last September's live presentation of the Golden Age Radio-style play starring Gary Sandy. More on this on next week's update!
Muscatine Community College played a big role in my life. My father taught music there (and at the high school) and one of my key mentors, Keith Larson, taught at MCC for many years. Keith was a farmer and a poet and a dryly funny man with a gift for language – I've written about him here and elsewhere before.
In attending Muscatine Community College, I made the decision to turn down a couple of football scholarships (I've have been killed) and a Creative Writing scholarship at Iowa Wesleyan (where I'd won several high-school writing awards), and also not to follow many of my fellow high school classmates to the University of Iowa. I had my band the Daybreakers going and wanted to stick with that, so I chose MCC instead. Also, I wasn't really ready to leave home yet. As an only child, I had a good gig going with my parents. I just wasn't ready for a future away from what I knew, having no idea that I would in two years be getting married to the lovely Barbara Mull.
Muscatine Community College turned out to be both an excellent school – another mentor came into my life, Jack Lockridge, a tough ex-Marine with a warm heart – and the place where Barb and I sickened our fellow classmates with our obvious hallway affection for each other. Barb and I had been friends for years, but it blossomed into something that has lasted since the Fall of 1966. Seems to have taken.
I taught Freshman English and Literature at MCC for the first five years after graduating from the University of Iowa (and the Writers Workshop). Actually, there was overlap – my last semester at the Workshop coincided with my first semester of teaching at MCC.
So this honor is particularly sweet, and apt.
Speaking of Barb, she and I celebrated my 75th birthday (March 3rd) with an overnight stay in Galena, Illinois, a favorite getaway spot of ours, and the site of my novels Girl Most Likely and Girl Can't Help It.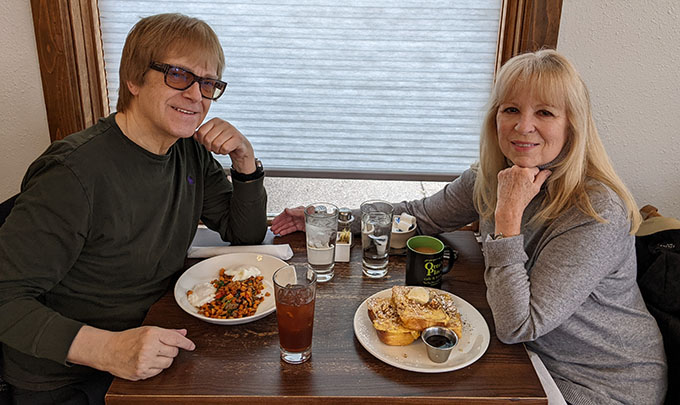 We ate at several of our favorite restaurants, including Vinnie Vanucchi's on my birthday and, the next morning, the best breakfast restaurant in the Midwest, Otto's Place. That's the pic I've included here.
The trip was about 75% great, and Barb was 100% wonderful throughout. But 25% of it reminded me why nowadays we seldom go anywhere that requires an overnight stay. For one thing, I have endeavored to make our house a great place not to have to leave – for example, the entertainment options – including my ridiculously huge library of laserdiscs, DVDs and Blu-rays, not to mention the CDs and books – are considerable. My late pal, actor Michael Cornelison, used to say he wanted to take all of his vacations at our house (he did once, too!).
Among the frustrations of our overnight stay at the Irish Cottage Inn (where we have visited many times – not really a cottage but a three-story resort-type hotel) was the TV choices – movies available were all twenty-bucks-a-pop On Demand stuff, much of which we had free at home (or "free," i.e., were already paying for it). Previously the hotel had included HBO and other such movie channels.
We splurged on a room with a Jacuzzi and a separate bedroom (I believe you rich folks call that a "suite") and discovered, much too late, that the Irish Cottage no longer supplied amenities like shampoo, conditioner, and a soap dispenser in the shower, instead providing one small bar of soap. Two tubs, two sinks, and one sliver of soap.
I discussed this, in a non-hysterical way, on check-out with a bearded youth who politely reminded me that "one bar of bathroom soap" was provided and I could have come down to the desk for more soap if need be. I wish I had, naked and wringing wet.
The getaway managed to be pleasant and well worth taking, but it was something of a reminder that the post-Covid world is one where restaurants and hotels have seized upon the excuse to dispense with many of the extras their patrons had come to expect.
My apologies for this update dissolving like a sliver of soap into a YELP! Review. Some of this is old age, and the indignities thereof. That I am expected to have a host of Apps (a term I despise almost as much as "dropped") and endure being paged at restaurants via text (I do not text, not being a 16-year-old high school girl). Was it just last week that my wife warned me not to become Harlan Ellison? In other words, a curmudgeon?
What I am wrestling with, more than anything, is how to pace myself at this age. I wanted to complete the new Mike Hammer, Dig Two Graves, before we went on this getaway. Going on a trip with a chapter or two waiting to be written would make me nuts (nuttier). Also, the book needs to get into the hands of my editor at Titan, the great Andrew Sumner, who has been incredibly patient with me. When I see the cover on line and realize people are already ordering a book I have not yet finished writing, I get nervous.
I set myself a goal commensurate with the young me's abilities, and wrote the novel in a blistering three weeks. That, I figured, would allow me to enjoy myself unburdened on our getaway. But I did not factor in small things like mental and physical exhaustion. In Galena, where a lot of walking is required, I ran out of steam fairly quickly, which was followed by the fun and games at the hotel, described above. (I spared you the hotel-room saga of my laptop insisting I run updates and then requiring me to enter a password I did not have.)
I share this with you, in part, because some of you have in the past gone to book signings in Chicago and other distant locales, and seen Barb and me at Bouchercons and San Diego Comic Cons, fairly regularly. These trips are either over or are going to be incredibly infrequent. We are pulling in and slowing down. (Me slowing down is still faster than most.)
Please know that I hate this. Getting away is good for the soul. I enjoy spending time with readers and my fellow creative types, authors, cartoonists, and filmmakers. I am exploring ways to do more right here in this smaller world, including some fairly ambitious things, like a return to filmmaking – we are seriously considering finally shooting Blue Christmas. But doing it right here in smalltown Muscatine, where I can go home at the end of the day to my bed and my happy little domicile and my preternaturally beautiful wife.
And when I say I wrote Dig Two Graves in three weeks, I must admit I'm not really finished – ahead is re-reading the book by way of a hard-copy manuscript, seeking typos, inconsistencies and sections that need tweaking. So how long did it take me start to finish? Call it a month.
I have no opinion about how long writing a novel should take. Dig Two Graves is relatively short – 50,000 words or so. Barb takes much longer on her drafts – six months at least. There is no rule. For me, I like to stay burrowed in, living in the novel, to give it consistency of tone and vision (so does Barb, it's just a longer process for her). I like each book to have its own feel. To be a different place I visit.
So that much visiting, that much travel, I intend to keep taking.
* * *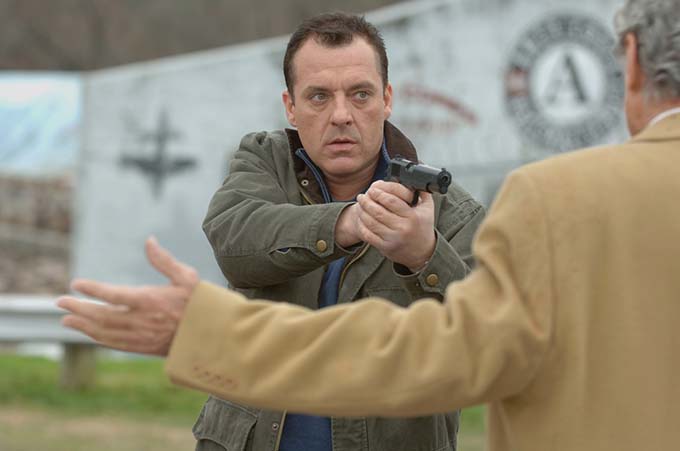 The first-rate, troubled actor Tom Sizemore has passed away. He played Quarry (re-named "Price") in The Last Lullaby, and made a terrific older version of the character. Amid the sadness, I was delighted to hear that Sizemore had considered The Last Lullaby one of his favorite projects, and Price/Quarry one of his favorite roles.
This Quarry/Price name change business had to do with my displeasure with the director, Jeffrey Goodman, having brought in a second writer on the script. I wanted to make sure no sequel could follow. My script, right when I was momentarily hot as the creator of Road to Perdition, was what was used to raise the money. My novel, The Last Quarry, was a novelization of that script and will show you what I had in mind.
The changes weren't radical and The Last Lullaby is a movie I am happy with (if disappointed it wasn't my version, of course). I could have pulled the plug on the production when my script was rewritten without my knowledge, but we negotiated and I got a better pay day out of it, plus was able to give copious notes on the rewrite (which the director mostly followed). So I feel grateful that the movie exists and that Sizemore made such a great Quarry. He really is closer to my concept than the Cinemax version, where the actor (otherwise fine) ignored the wry humor that is such a part of my Quarry.
I never met Sizemore, and was not on set for the shooting of a script co-written by me and someone else I never met. But I am saddened by his passing, and only hope his fine work on screen in The Last Lullaby and in a lot of other films overshadows in years to come his tabloid misadventures.
Here is info on where to stream The Last Lullaby.
It's available here on DVD for a mere $7.99.
* * *
I want also to note, sorrowfully, the passing of my friend Bill Mumy's musical partner, Robert Haimer, the other half of the brilliant Barnes & Barnes.
Here's what Bill had to say on Facebook:
I'm so sad to share the news that Robert Haimer, my friend since childhood and musical partner in Barnes & Barnes passed away this morning after a long illness. Robert was a one of a kind artist and person. Our relationship was based on harmony as was our music. Sometimes there was dissonance and silence and sometimes we made a mighty raucous roar together. I will miss making that unique "Barnes" music very much. Robert made many people happy with his talent and his humor. "Fish Heads," our biggest hit, came from the mind of Robert Haimer. As with a lot of our catalogue, I just helped him fill in the blanks. I'm feeling stunned and somewhat shattered right now. My love to his wife Faithe, his sons Wynn and Ian, his brother Brian and all who knew and loved him. Robert's music lives on. Enjoy it. yeah
M.A.C.
Tags: Blue Christmas, Deals, Dig Two Graves, Executive Order, Girl Can't Help It, Krista and Keith Larson, Mickey Spillane, Mike Hammer, Passings, Reeder and Rogers