Okay, so the nominations for Quarry's Blood (Edgar) and The Big Bundle (Shamus) did not result in wins. But how about this: Max Allan Collins and Jim Traylor's Spillane: King of Pulp Fiction has been nominated for BIO's Plutarch Award, given to the best biography of the year – as judged by biographers. I have no idea how this Bio nomination might play out.
Still, this feels really good, because this book is one I am particularly proud of, and I know Jim feels the same. Obviously we are hopeful for an Edgar nomination, but a win there seems unlikely as the prejudice against Mickey continues in many quarters, particularly coming from people who never read much if any of him.
On the other hand, we received several nice reviews for the current Hammer, Dig Two Graves, and Barb and I just finished listening (in the car) to the Skyboat Media audio book of it, read by the great Stefan Rudnicki, who does his usual stellar job.
The handful of copies of Dig Two Graves that I had to give away here were snapped up eagerly. I am sorry I didn't have more to offer than that. It's out today (Sept. 19) – so Happy Publication Day!
Speaking of good reviews, here's a honey by Sue O'Brien about Antiques Foe by Barbara Allan (Barb and me) from Booklist:
Antiques Foe
By Barbara Allan
Nov. 2023. 208p. Severn, $31.99 (9781448309627);
e-book (9781448309634)
Vivian Borne, co-owner with her daughter Brandy of Trash 'n' Treasures, is thrilled to be invited to be a guest on Nicole Chatterton's video podcast, Killers Caught, until Chatterton ambushes her on her murder-solving record, with Vivian threatening Chatterton and Brandy abruptly ending the interview. When Vivian goes to Chatterton's hotel room to retrieve her signed release form to prevent the interview from airing, she finds Chatterton dead on the floor and is quickly arrested as the chief suspect in her murder. When Brandy is attacked and badly hurt, Vivian decides on drastic measures to protect her family. Brandy is gutted by the shocking turn of events, but the investigation continues, led by her fiancé, Police Chief Tony Cassato, leading to a plan to trap the killer. This tale is told in first person by both the flamboyant Vivian and the long-suffering Brandy, with the two talking directly to the reader in numerous humorous asides. Framed by small-town life in Iowa, with interesting details on antiques, this fun cozy includes recipes and tips on collecting sports memorabilia.
* * *
One of the things I'll be doing here at Update Central in the coming couple of months is discuss the ongoing production of my micro-budgeted movie, Blue Christmas, which I scripted and will direct.
We had disappointing news this week when Gary Sandy decided not to do the production out of solidarity with the SAG-AFTRA strikers. He offered to do the film next year, when presumably the strike will be over, and suggested April. We are already going full-steam ahead and had to turn down this generous offer from Gary, who will very likely be in a future production of ours.
This, of course, will have to mean that directing another movie – designed to be user friendly to its aging director, and to be produced reasonably (all right, on the cheap) – is still something I enjoy doing and am able to perform to my satisfaction despite certain limitations due to health issues.
We held auditions this week and they went very well. I cast many of the local players from Encore for Murder, and two terrific pros from Cedar Rapids and the Quad Cities respectively, Rob Merrit and Tommy Ratkiewicz-stierwalt. My team includes Chad T. Bishop, producer (he edited Encore for Murder); Phil Dingeldein, Director of Photography (my longtime friend/collaborator on films); and Karen Cooney, production manager (my co-director of the stage version of Encore for Murder).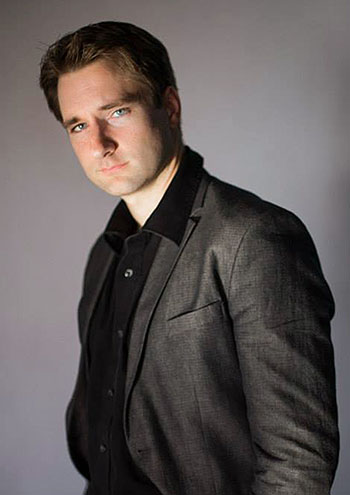 Rob Merrit playing Richard Stone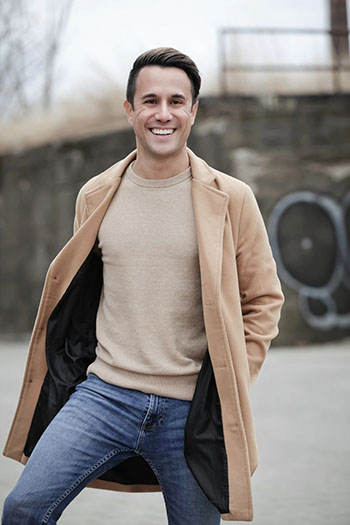 Tommy Ratkiewicz-stierwalt as Stone's partner, Joey Ernest
We have an excellent set builder tentatively on board, and Chris Christensen (my Seduction of the Innocent bandmate, and the composer of the scores for Mike Hammer's Mickey Spillane, Caveman and the award-winning Quarry short, "A Matter of Principal") has agreed to do the score. Chris also contributed to Real Time: Siege at Lucas Street Market and Encore for Murder.
Also on the indie film front, I looked at the "check discs" of the Blu-ray of the documentary Mike Hammer's Mickey Spillane with Encore for Murder as the bonus feature, a DVD of the same, and finally a stand-alone DVD of Encore designed to go out to Golden Age Radio collectors. VCI is putting all of these out, in partnership with MVD, who do some very interesting stuff, particularly in their "Rewind" line that puts '80s and '90s video store favorites on Blu-ray.
* * *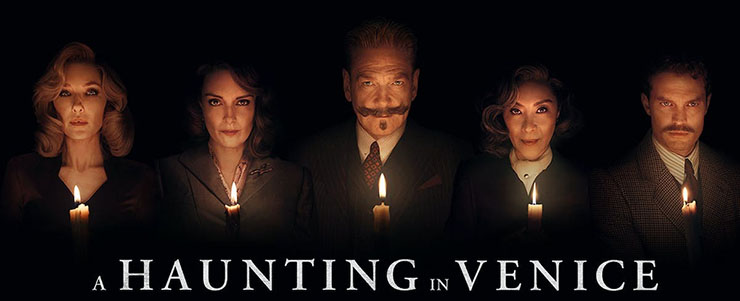 Barb and I took in A Haunting in Venice, very loosely adapted from Agatha Christie's Poirot novel, Hallowe'en Party. We had both pretty much enjoyed director/star Kenneth Branagh's first Poirot outing, Murder on the Orient Express, but it was no threat to the Sidney Lumet original. The second Branagh adaptation of Christie, Death on the Nile, was more Meh on the Vile. But this one is a stunner.
Branagh's Poirot is better etched here, and his direction is moody and immersive, creating a horror film vibe without shortchanging the very tricky murder mystery. Tina Fey as Ariadne Oliver takes some getting used to, but ultimately comes across well. The standout performer is a child actor, Jude Hill, around twelve when this was shot.
It was wise of Branagh to get away from remaking the excellent previous Poirot films (so far, at least, the great Evil Under the Sun has been spared 21st Century re-imagining) and if more of these follow, he might look at the serious, post-war Poirot novels like Taken At the Flood and Five Little Pigs.
* * *
Crime Reads zeroes in on seven novels set in Sin City (Las Vegas) and one of them is Skim Deep. Oddly, my CSI novel called Sin City (co-written by Matthew Clemens) isn't among them!
Jeff Pierce's indispensable Rap Sheet shares some things from a recent update of ours right here. Nice write-up, and the lead item!
Screen Rant discusses my version of Robin in (where else?) Batman. My work on that feature seems to be getting a little more respect these days.
Finally, Den of Geek names Road to You-know-where one of the best crime-and-mob movies. Gratifying that this film is holding on so very well as decades pass.
M.A.C.
Tags: Antiques Foe, Awards, Barbara Allan, Batman, Blue Christmas, Dig Two Graves, Encore for Murder, Mickey Spillane, Mike Hammer, Mike Hammer's Mickey Spillane, Movie Reviews, Nate Heller, Nolan, Quarry, Quarry's Blood, Reviews, Road to Perdition, Skim Deep, Spillane: King of Pulp Fiction, The Big Bundle, Trash 'n' Treasures