We had an official Christmas at the Collins household this year. My definition of an Official Christmas includes the following:
1. Receiving a Pee Wee Herman Christmas card from Paul Reubens.
2. My wife's Christmas cookies (her late Grandmother Mull's recipe).
3. Spending Christmas Eve and Christmas morning with Mr. and Mrs. Nathan Collins and our grandchildren, Sam, 7, and Lucy, 4.
4. Watching the Alastair Sim version of Scrooge
5. Watching the original Miracle on 34th Street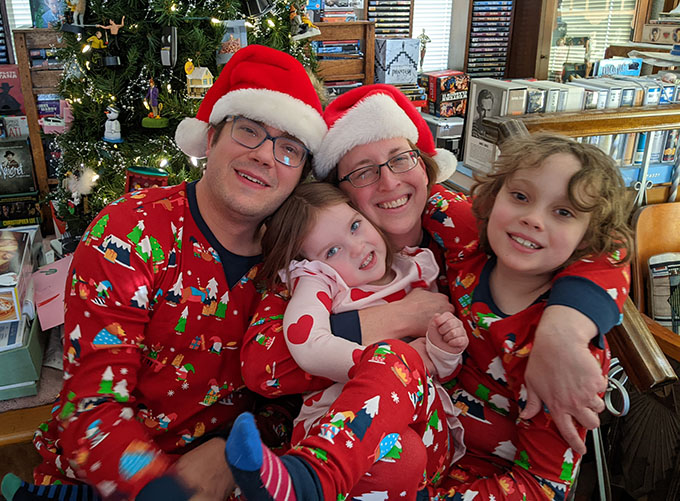 * * *
As was the case with so many of you, we here in Iowa were gifted with weather that looked like Christmas and felt like Hell. It did not get in the way of our excessive exchange of gifts and consumption of food, all of which went off as planned. That Nate, Abby, Sam and Lucy live just seven houses up the street from us made Christmas almost as joyful as Covid lockdown.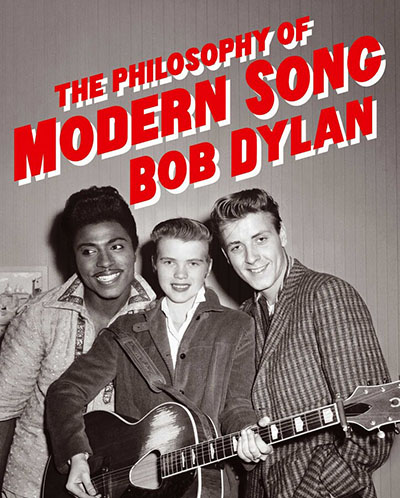 Among the many gifts I received – physical media like books and CDs (remember those?) – was a tome entitled The Philosophy of Modern Song by Bob Dylan. To discuss that volume properly, I need to back up over almost sixty years ago to share with you my relationship with Bob Dylan.
No, I never met him. But he was a major part of the regular poker sessions I attended with my high school buddies, including such names meaningless to you as Jan McRoberts, Jim Hoffmann, Mike Bloom, Ron Parker, Jon McRae and John Leuck. Others came and went, but those were the regulars. Jan, Jim and Jon are gone, but I am happy to say Mike, Ron and John are still with us.
John was a latecomer to the poker group. He had attended Catholic schools until junior or senior high school sometime; around then he moved in next door to Mike Bloom and they became fast friends – they were both swimming champs. A strikingly handsome young man, John was hipper than the rest of us. More sophisticated.
We always listened to the Beatles, the Turtles and Sonny & Cher while we played cards…except when we played at John's. He put on James Brown records, which just sounded like ridiculous noise to me at the time. He also played Bob Dylan records. These albums included the pre-electric ones, and I had never heard anything worse in my life. The singing was nasal and off-key and the lyrics to the self-composed songs were gibberish.
My dislike, nay, my contempt was such that on the rare occasions when I was winning at poker, John would smile to himself and put some Bob Dylan on and I would begin to lose. Actually, not "begin" – I would immediately tumble into the abyss of defeat, leaving behind money earned at my bus boy job, money I could ill afford to lose.
Playing in a rock combo as I did, my opinion of Dylan (and James Brown) changed over the coming years, particularly as pertained to songwriting. Some of the latter seemed laughably pretentious (actually, kinda still does), but undeniably a lot of wonderful songs were in there – the Turtles doing "It Ain't Me Babe," the Association "One Too Many Mornings," the Byrds any number of things, all and more were favorites of mine then and now.
John Lennon (among many others) started imitating Dylan's singing style, only largely minus the nasal aspect and on key. With our comics-professionals band Seduction of the Innocent at San Diego Comic Con, we played the heart-breaking "Knockin' On Heaven's Door" (miss you, Miguel) and the audience was properly swept up in it. This continued for…forever, with Tom Petty essentially becoming the Bob Dylan Who Sang in Tune.
Now and then I have actually warmed to a Dylan-sung song, though my hand still goes at once to the radio to get rid of "Like a Rolling Stone" or "Lay Lady Lay." And, years after the fact, I learned that my musical idol, Bobby Darin, was an early proponent of Dylan's work (so early on that BD pronounced it "die-linn" in interviews). Now I know that Bob Dylan was (and is) a proponent of Darin's.
I found this out reading perhaps the best book I received this Christmas (among a number of wonderful additions to my library), The Philosophy of Modern Song by…wait for it…Bob Dylan.
My God, it's a wonderful read. It is, not surprisingly, an idiosyncratic ride that is at once random and rigidly organized, festooned with fun and apt and sometimes heartbreaking pictures (news photos, movie stills, comic book pages, pulp covers) that illustrate a collection of Dylan's reactions to various songs and artists. A fun fifties fan magazine-portrait of Miguel's mom Rosemary Clooney beaming in her front doorway is across from the "Come On-A My House" essay, which terms that jaunty number as "The song of the guy who's got thirty corpses under his basement and human skulls in the refrigerator."
Though arranged like chapters, no exact format reveals itself. An essay may be seven pages long ("Black Magic Woman" by Santana) or one paragraph ("Long Tall Sally"). Often the song is discussed by way of Dylan's personal transformation of that song into a story. Sometimes, not always, such a mini-essay is followed by a knowing, compassionate appraisal of the artist.
This is not a book I consumed cover to cover. I am still reading it – gradually. It's what I'd call a "bedroom book," from which I assign myself a few chapters before my mind moves itself away from my problems and concerns into whatever I'm reading – in this case, a talented man's response to songs that touched him. (It is definitely not a "bathroom book.") I have gravitated to the subjects that interest me most – his essays on Johnnie Ray, Dean Martin, Rick Nelson and Little Richard were among those I was first drawn to, and impressed by. Some of the songs discussed (and artists) are obscure, and I'll get around to them in this 300-plus-page book. Entries focused more on song than artist include "Volare" and especially "Where Or When," though Dion gets some nice attention there. Some essays are a bit befuddling, like the fairly lengthy look at "Don't Let Me Be Misunderstood" that doesn't mention Eric Burden and the Animals and barely references Nina Simone.
The biggest surprise to me, however, is the prose style itself. This guy Bob Dylan could have been a great crime writer, a private eye chronicler par excellence. Listen to him riffing on Rick Nelson's "Poor Little Fool":
You went on a spree and left a trail of sensitive violated hearts, but that came to an end when you ran up against someone who buckled you, one on one, who made you fall to pieces and eat the dirt. You were brainless, no doubt about that. She played with you and teased you with her happy-go-lucky ways, she was easygoing and cheerful, unbothered. She fondled and stroked you, and with her baby blue peepers she enchanted you, she was a real knockout. She sized you up, she was captivating and shrewd and lousy with lies. Oh yeah, you were an absolute blockhead beyond a doubt.

…Now you're obsolete and out of date, and you're walking in the night down by the river, but the water's dead. You're moving one leg at a time. Another girl has got her hand on your shoulder….
The Philosophy of Modern Song is filled with prose like this, stuff Chandler or Spillane (not Hammett) might have written. It hits me in a personal place. I am not a reader of poetry. Generally, outside of songwriting, I don't like it. It makes me think of what Kurt Vonnegut told us, typically deadpan wry, when he visited the Writers Workshop (where a year before he'd been teaching): "Fiction writers resent poets because poets are always between works."
What I like is poetic prose, if it's not overdone. Several of my contemporaries in the private eye field (whose names I will not mention) are lauded by fans for wonderful prose…writing that curdles my stomach. Chandler and Spillane could do this poetic prose and hardly anybody since, profundity tumbling out of a mouth with a Lucky Strike dangling out of it. Some writers in crime fiction are smart enough not to try – Don Westlake always said, "Good writing is invisible."
But, damn, I wish Bob Dylan had just written songs and the occasional private eye novel, or that I had learned to look past the nasal tones and off-key singing and let his personal poetry get through to me, unfiltered.
By the way, Bobby Darin gets two chapters in Dylan's book, the only artist who does. Check this out for proof.
* * *
This essay says Daniel Craig's best movie is…wait for it….
M.A.C.