Let's talk movies a bit, and physical media as well.
Barbenheimer as a phenomenon is interesting but will probably cause a lot of trouble for us as Hollywood decides to contrive future "double features" like this. Apparently Barbenheimer was a meme that went viral (as they say) and grew like Topsy or maybe cancer cells. But overall it continues to get people back into theaters in a summer where movies bringing in hundreds of millions at the worldwide box-office are deemed flops (Indiana Jones and the Dial of Destiny) or disappointments (Mission Impossible: Dead Reckoning Part One).
Barbenheimer worked for two reasons: first, it was organic; second, the two movies were good. (I saw this without having yet seen Barbie, but it's apparent the movie is well-liked.) Had either movie stunk up the place, we'd be viewing the Barbenheimer thing a whole different way. Movies can't be good, apparently, unless they do big box-office.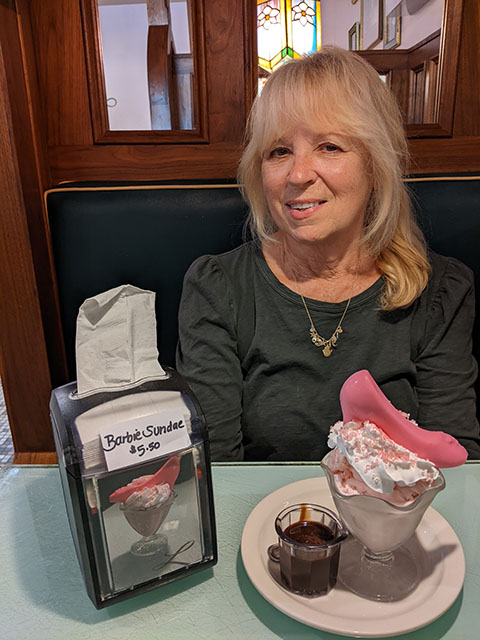 Barb Collins celebrates Barbenheimer with a Barbie sundae at Lagomarcino's in the Village of East Davenport
Oppenheimer has received a lot of well-deserved praise, but this you-must-see-it-in-70mm-IMAX thing is either hype got out of hand or movie buffs being snooty (or both). Only nineteen theaters in America (tickets being scalped at $100 up) are showing it in IMAX, but the more standard 2:40:1 aspect ratio presentation is available all over the place. Nolan's film, well-acted particularly by Cillian Murphy and Robert Downey, Jr., is in many ways a standard bio-pic. It is talky in the best sense, skewing away from the science and concentrating on the politics, and a film that is mostly dialogue in rooms. Yes, the atomic bomb test probably benefits from IMAX; but most of the three hours does not. Not at all.
I continue to believe that Indiana Jones and the Dial of Destiny, despite its genuinely shitty title, will be reevaluated in years to come. Mission Impossible, too, though this great action-fest is hampered by a shallow, trendy use of A.I. as the nebulous bad guy.
So watch for Hollywood to misjudge this phenomenon and try to turn it into a trend. I can see it now – the next James Bond movie and a Christopher Nolan movie about Ike sold as Bondenhower. A Power Pups movie opening with a Tarrantino film becomes Pupantino. Maybe Star Wars and a new Leprechaun movie can be Star Warrick.
Yes, pathetic madness lies ahead.
Where does physical media fit into this? Well, even as they promise us more, streamers deliver less – yanking new films after a few weeks when not enough eyes have been attracted, disappearing short-run series, dropping (in the old sense) episodes from classic TV. Perry Mason seasons have vanished before my very eyes, individual episodes of that great series also.
So people like me – longtime movie fanatics, already addicted to buying Blu-rays and 4K discs (having traveled the road to Perdition by way of Beta prerecords, VHS tapes, laserdiscs, and the forgotten HDTV format that was Blu-ray's competition) – are tempted to buy even more physical media. An over-reaction? Of course, because all I know how to do is over-react.
But am I? Disney – a corporation seemingly devoted to making a schlemiel like Ron DeSantis look good – has announced they will soon be dropping (in the old sense!) physical media in Australia with plans for world-wide domination, no, I mean capitulation. After all, they are only projected to make around four-hundred million on DVDs and Blu-rays this year, when last year it was close to six million. So Disney has decided to drop (in the old sense) the trap door under their customers who like to buy the stuff.
The positive aspect of this is that boutique distributors/packagers of movies and TV are popping up all around the world. More releases are projected this year than ever before; but they are primarily targeted to hardcore collectors. These are companies like Arrow, Severin, Vinegar Syndrome, Kino Lorber, Shout!, Eureka (UK), Indicator, 88 Films, Imprint (from the beleaguered Australia) and two longtime labels, Warner Archive and of course Criterion. These are not the only ones and more are coming. The one-stop shopping site, Diabolik, has about thirty such labels, including MVD who distribute some of my stuff, produced by VCI (this is where the Spillane documentary/Encore for Murder combo will likely be available on Blu-ray before year's end). Third Window Films is my son Nate's distributor of choice for oddball Asian fare, although just about all of the labels Diabolik carries are snapping up Chinese and Japanese film licenses right and left, too.
Good news, right?
For everything but the pocketbook. Arrow, Indicator and Imprint (among others) specialize in rather fabulous boxed sets – Blu-rays and 4Ks plus bells and whistles like books, lobby card reproductions, bonus features (like the commentaries I've done for the two Spillane titles at Classic Flix), on-camera interviews…heaven.
And hell when you try to decide what to buy and deal with what you can afford. How pricey is this stuff? How about an Emanuelle box set for four 4K discs for over a hundred bucks? Imprint has wonderful boxes of directors Walter Hill (around $170!) and Sidney J. Furie (I bought the latter to finally get The Lawyer with Barry Newman on Blu-ray – over a hundred bucks), and actor Gene Hackman (around $90). These tend to be runs of 2000 or even less, so they sell out, and on e-bay you might as well bid on a new car.
These boxed sets are designed to make the thirteen year-old collector in you go slightly mad. Strike "slightly." The only ways around this problem are shrugging and saying you can't afford it, or starting to rob liquor stores. Is there no help in sight?
Actually, there are some excellent programs on You Tube "channels" (whatever those are) that review and showcase the new and upcoming releases, particularly boxed set stuff and oddities and cultish material.
Among the very best is Robert Meyer Burnett's Let's Get Physical Media (with a German buff named Dieter). Here's the latest episode.
Also first-rate is Cereal at Midnight with the very knowledgeable Heath Holland. Like Burnett, Heath is very much ready for prime time, whereas many of these home video experts on You Tube are barely ready for prime chuck. You can try Heath out here.
I also really enjoy Brandon Chowen and his Cinefessions posts. Brandon's approach to the hobby is closer to my level. He is a bottom feeder who checks out Dollar Tree and pawnshops, and who does "unboxing" episodes (opening blind-buy boxes, where he's purchased fifty DVDS and Blu-rays in a surprise package and opens it up and makes discoveries). He is knowledgeable (though he didn't know who Bobby Darin was when he got a copy of Beyond the Sea in a blind box!) and has a theater background, and his manner is friendly and unpretentious.
Still, keep in mind all of these reviewers – at least the ones like those above, who have substantial followings – are getting a good share of what they're showcasing free. They get review copies, and you pay hard cash. Thus has it always been. When was the last time my pal Leonard Maltin paid to see a movie, do you suppose?
What's the answer? For me, it's controlling my worst impulses. I have to be able to look at that incredible Bruce Lee box from Arrow and remember that I already have the Criterion box, and those movies made in Hong Kong were ragged productions in the first place. How much better do I need to see them? Do I really need to flip through lobby card reproductions like a losing poker hand?
I am at stage in my life where I need to be selling stuff to Half-Price Books (home of getting raped without a cigarette offer after) and not buying anything there. But I am weak. And even in the biggest year for home video EVER, all of these YouTube experts are convinced that Physical Media is dying. The sky really is falling and that's a Blu-ray you're about to be clunked by.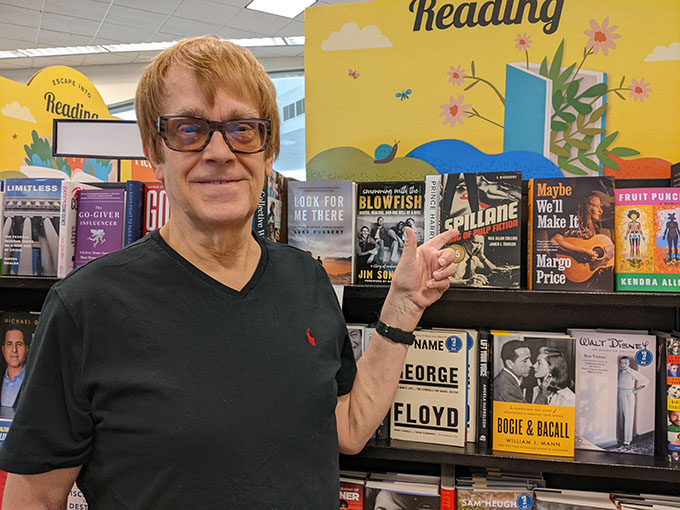 The Davenport Barnes & Noble shows some M.A.C. support.
* * *
Here is something very strange – a book supposedly written by me (and my name is mentioned several times in the review) has popped up.
But I did not write it. Hell, I have not even read it.
This may be some A.I. stunt or just a mistake, but it does seem like we have to be wary these days on every front.
In a world where overpopulation has reached critical levels, governments are forced to implement drastic measures to control the population. In the midst of this chaos, a gripping novel titled "What Happened to Monday" by Max Allan Collins takes readers on a thrilling journey through a dystopian future.
The story is set in the year 2073, where families are only allowed to have one child due to limited resources. Any additional children are taken away by the Child Allocation Bureau (CAB) and put into cryosleep until the world can sustain them. The protagonist, Karen Settman, gives birth to identical septuplets and decides to keep them hidden from the authorities.
To ensure their survival, Karen names each child after a day of the week and teaches them to impersonate a single person named Karen Settman. Each sibling is allowed to go outside only on their designated day, assuming the identity of Karen. They must follow strict rules to maintain their secret, including sharing information about their daily experiences with each other.
[…]
The novel also raises important questions about the role of government in controlling population growth. While the concept of limiting family size may seem extreme, it serves as a cautionary tale about the potential consequences of unchecked population growth. The story forces readers to consider the ethical implications of such measures and the impact they have on individual freedoms.
Collins' writing style is fast-paced and engaging, keeping readers on the edge of their seats throughout the book. The narrative is filled with suspenseful twists and turns, making it difficult to put down. The author expertly balances action-packed scenes with moments of introspection, allowing readers to connect with the characters on a deeper level.
The character development in "What Happened to Monday" is exceptional. Each sister is distinct and well-rounded, with their own strengths and weaknesses. The bond between the siblings is palpable, and readers can't help but root for their survival. The author also explores the complexities of their relationships with each other, adding depth to the story.
The novel's setting is vividly described, painting a bleak picture of a future world grappling with overpopulation. The author's attention to detail creates a sense of realism, making it easy for readers to immerse themselves in the story. From the cramped apartment where the sisters live to the bustling streets of the city, every aspect of the world feels authentic.
"What Happened to Monday" is a thought-provoking and thrilling read that will leave readers questioning the limits of government control and the lengths one would go to protect their family. Collins' masterful storytelling and well-developed characters make this novel a must-read for fans of dystopian fiction. As the sisters fight for their survival and search for the truth, readers will be captivated by their journey and left eagerly awaiting the next twist in the plot.
In conclusion, "What Happened to Monday" is a gripping dystopian novel that explores themes of identity, sacrifice, and the consequences of government control. With its fast-paced narrative, well-developed characters, and thought-provoking storyline, this book is a must-read for fans of the genre. Max Allan Collins has crafted a compelling tale that will keep readers hooked from beginning to end.
[The article is indeed not written by a human being, and mostly plagiarizes summaries of a movie by a similar name ("Whatever Happened to Monday"). I copied this excerpt here rather than linking directly to the site, which generates a deluge of dubiously-accurate computer-generated pages designed to enshittify everyone's Google results. –Nate]
* * *
Here is an interesting site that gives you the opportunity to vote if you think the book (usually a novelization) is better than the movie. The movie almost always wins. I invite you vote otherwise (when you agree that my book is better than the movie).
This individual seems (wisely) to think my BATMAN run is better than it's cracked up to be.
Denny O'Neil himself seems to agree.
Finally, this is an interesting piece on Saving Private Ryan, with a reference to my novel of the screenplay.
M.A.C.