I haven't heard much of it yet, but my appearance with Dave Thomas on Gilbert Gottfried's Amazing Colossal Podcast with Frank Santopadre – in support of The Many Lives of Jimmy Leighton – is available now. Check out the podcast web site here.
* * *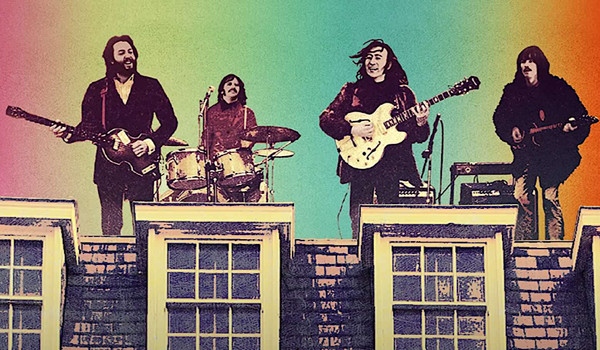 The Beatles: Get Back, the new three-part documentary streaming on Disney Plus, may be destined for as much controversy as the original Let It Be (1970), which at the time Ringo Starr described (rightly) as "joyless." The director of that previous documentary, Michael Lindsay-Hogg, is revealed as a vapid, unimaginative baby who substitutes a cigar for a rattle.
Already reviews have called the nearly eight-hour documentary both "aimless" and "riveting," and it is admittedly as exhausting as it is exhaustive. But only the most casual of Beatles fans would not be engaged and moved by spending unfiltered time with these four young musicians who were – and are – so pivotal to worldwide popular culture.
Peter Jackson is a master filmmaker – this is the guy who made the great Meet the Feebles and Dead Alive, after all – and his storytelling via cutting and choice of image is as purposeful as it might seem random. He uses reaction shots – culled not necessarily from what is happening at the moment – for glue and to underline character, a technique that might seem dishonest but is vital to making something like this flow and achieve coherence.
The most basic aspect of Get Back is its immediacy – John Lennon and George Harrison are alive, Paul McCartney and Ringo Starr are young men, and the right-now-of-it is startling. It doesn't take long to realize these are real people, interacting in flawed, personal ways, and anyone who has been in a band will recognize at once the conflicts and alliances within this world of four humans.
These aren't just any four humans, of course, although their Liverpool-lad humanity comes through – these are consequential humans. Laugh if you will, but this is something like having behind-the-scenes footage of the making of the Constitution, with Jefferson and Franklin on camera.
Perhaps the most fascinating and startling aspect is watching songs that have become a familiar part of our lives created before our eyes and ears. McCartney and Lennon struggle to find the right lyrics, Paul looking for something natural, Lennon something surrealistic – Ringo at a piano playing just the opening of "Octopus's Garden" and Harrison leaning in and helping him take it further…all very casual.
Primarily it's a character study although it's in the context of ticking-clock suspense – Ringo has a film start coming up and the band has only a few weeks to write the new album and perform it live for a TV special. A lot of compromises and rescheduling accompanies the band's apparent inability to do much more than screw around in the enormous movie studio they've been burdened with. But they get down to work (although a lot of warming up and goofing off follows) with the goal shifting but staying essentially similar. The documentary aspect of the TV special evolves into a feature film, but the pay-off – where to hold their first live performance in three years – remains elusive. Lindsay-Hogg has spectacularly bad ideas about where that might be shot – he is a one-man reminder of how dead-on This Is Spinal Tap was.
The doc shows a band in free fall. They have reached a point where all of them – even Ringo – need to go off on their own. The real, largely unspoken question is whether or not breaking off for solo albums and individual projects can stay in the context of the Beatles – can they be individuals and group members at the same time. This is the issue they haven't faced.
In Part Three, Harrison – who quits the band in Part One, which becomes a major dramatic turning point – rather timidly suggests that maybe since he only gets a couple of songs per album he might want to do a whole album of his own. Lennon reacts favorably, but with a bit of surprise, as if that possibility had never occurred to him.
In Part One, McCartney tries hard to be the leader, to get things organized, and throughout he's focused – really, obsessed – with having a goal, expressed as the documentary paying off in some way (likely a live concert). Lennon seems rather passive-aggressive – he's not a problem, just less than enthusiastic and showing up late, with Yoko Ono sitting close beside him. While she is not disruptive, her presence changes the dynamic. Harrison quitting brings McCartney and Lennon together, in an effort to coax George back into the band, which (obviously) they do. By Part Three, McCartney swaps roles with Lennon, becoming vaguely passive-aggressive, often off by himself developing melodies and lyrics – his own engine now, not the band's.
Still, Lennon and McCartney are working together, smiling, laughing, creating. You see, right before you, their spark. Their magic. And you understand why Harrison feels left out. Strangely, they are always accepting of each other's music but rarely offer a compliment. Harrison comes in with several now-familiar songs, wonderful things, that receive nods and little smiles, but not much else.
Ringo, perhaps realizing the trouble he's caused with his looming film start, says very little – he just does his job. Now and then that wonderful smile flashes, but mostly he seems melancholy, as if he alone knows the Magical Mystery Tour is nearly over.
And it's almost frustrating, if fascinating, to hear such now-familiar songs as "Get Back," "I Dig a Pony," "The Long and Winding Road," and "Two of Us," refusing to come together. Even when an actual song emerges, they rarely get a take that satisfies them or longtime producer George Martin, a quietly looming presence. When the idea of a rooftop performance as the pay-off comes up, the shaggy shape these songs are in is almost frightening.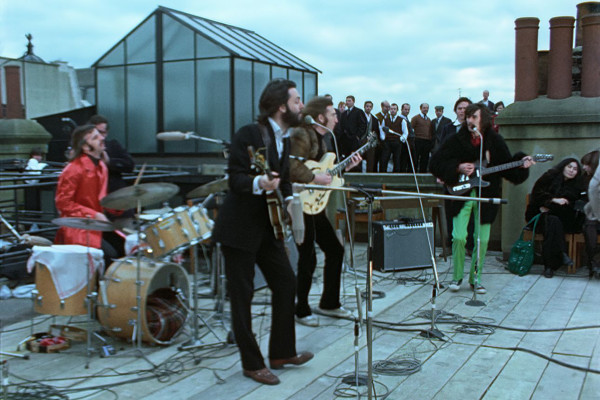 And then the Beatles are on that rooftop and their performance is tight, dazzling, classic – definitive versions that made it onto the Let It Be album. And Lennon and McCartney are smiling at each other, grinning. Ringo smiles, too; even the reluctant, remote, jealous Harrison, is having fun. When they play "One After 909" – a formative Lennon/McCartney composition dating back as early as 1957 – their sense of the journey they've been on is palpable.
And joyous.
But it's also the very definition of bittersweet – there they are, alive and well and playing their hearts out. We try not to linger on what we know that they don't – death by gunfire, lung (and breast) cancer – and revel in their living presence.
Their undying presence.
* * *
When someone dies at 91, I suppose you can't call it a tragedy. But losing Stephen Sondheim is a loss nonetheless. For many years he was somewhat off my radar – Company, A Little Night Music and Sunday in the Park With George seemed (from a distance) arty, the kind of thing New Yorkers get excited about…and I admit I am still not a fan of Sunday in the Park with George, which has an unsympathetic protagonist and a weak second act.
I got on board the Sondheim train by way of Sweeney Todd, thanks to a laserdisc of the Broadway production. I was (as the British say) gobsmacked, the tuneful darkness of it hitting me in the same spot that had turned me into a Bobby Darin fan at age 10, thanks to "Mack the Knife." I found a laserdisc of Into the Woods and loved it, too – fairy tale fun in the first act, something Grimm in the second.
In 2001, with son Nate along, we witnessed a wonderful, intimate production of Pacific Overtures at the Chicago Shakespeare Theater. This was the first time we'd seen a live, professional performance of a Sondheim musical, one of his best shows. At the same theater in 2007, we took in Passion with SNL's Ana Gasteyer (so wonderful in the film version of the musical of Reefer Madness); a much undervalued show with a James M. Cain feel.
In 2003, Barb and I saw Bounce, Sondheim's last produced musical, in Chicago (it was also known as Wise Guys, Gold!, and Road Show). It was a troubled show that never quite came together despite seemingly endless rewrites; but it was an opportunity to see a new Sondheim musical. The hilarious Richard Kind starred.
The only time we saw a Sondheim show on Broadway was a revival of Into the Woods in 2002 starring Vanessa Williams that was unfortunately dumbed down for tourists (like us?). The film version is good, but not a patch on the Broadway production (available on DVD and Blu-ray); same is true of Sweeney Todd – an interesting Tim Burton take on the material, but the original with Angela Lansbury can't be beat (also on DVD and Blu-ray).
I came to realize I'd been a Sondheim fan long before Sweeney Todd – I just didn't know it. But he was the co-lyricist of two musicals I liked very much – West Side Story and Gypsy – and he had written the music and lyrics for A Funny Thing Happened on the Way to the Forum.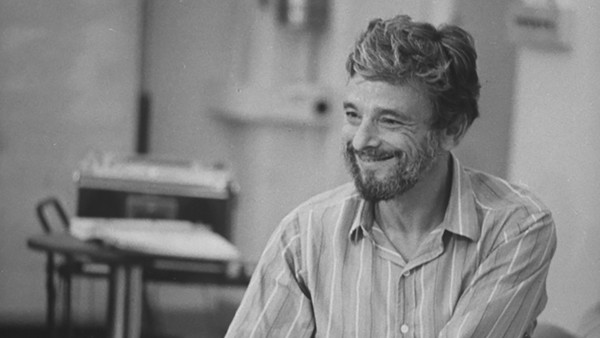 Sondheim appeals to the writer in me for his attention to language and character; the musician in me admires the way he does so while still coming up with memorable melodies. Some say he wasn't a good man with a melody, but I've had too many Sondheim ear-worms for that to be true.
No question he's on my short list of Broadway musical composers with Richard Rodgers, Lorenz Hart, Oscar Hammerstein, Lerner & Lowe, Frank Loesser, and Newley & Briccuse (Briccuse recently passed as well).
* * *
We also saw an excellent TCM bio: Dean Martin: King of Cool directed by Tom Donahue. A star-studded (if somewhat alarmingly elderly) group of celebrities reminisce about Martin, who seems to have been something of an enigma even to those closest to him.
It's a lovely piece, a little hard on Jerry Lewis, though Jerry probably has it coming – still, I loved seeing him and Dean together. Martin was an extremely shrewd, instinctive performer who knew his weaknesses and his strengths and could play off both. He was a singer in the Sinatra/Crosby mold until Jerry Lewis turned him into a straight man, and Martin was instantly one of the best. When he and Lewis broke off, he became a movie star, landing a straight role in The Young Lions – astonishing everyone with his ease in front of the camera…as if he hadn't just starred in a blockbuster sixteen Martin & Lewis films.
When he needed a new nightclub persona, he crafted the well-known slightly inebriated version of himself, using Joe E. Lewis as a model. Reportedly his on-stage glass was filled with apple juice.
He resisted Sinatra's insistent carousing, preferring to watch westerns in his hotel room. He relished his family life (though remained somewhat distant) and probably avoided extended social interaction with Hollywood royalty knowing his uneducated Steubenville, Ohio, background wasn't up to it. He played a lot of golf and made his TV series accommodate his schedule and whims.
It's sad to have to watch his decline, leavened by his truce with Lewis, but scarred by the loss of his son. The filmmakers, interviewed after the doc by TCM's Ben Mankiewicz, make an interesting observation. Figures in popular culture like Martin – and the Beatles and Stephen Sondheim – are human beings who decline and eventually die like the rest of us. But once they are gone, they snap back into place at their peak – their best – and John Wayne becomes the star of Rio Bravo and The Searchers and not a frail shell of himself, dying of cancer as he receives an honor. In their prime again.
They live on in the way we want them to. The Beatles' music has already lasted over half a decade. Sondheim's musicals will be presented as long as there are stages. Dean Martin will charm and serenade us, just as he and Jerry are still able to crack us up.
But I am at an age when I find myself tearing up at the damnedest things.
Like four lads from Liverpool playing "One After 909″ on a rooftop while clueless bobbies try to shut the music down.
* * *
Titan Books celebrates 40 years, and my Mike Hammer editor Andrew Sumner says nice things! You'll have to scroll down, but on the trip pause when you see an interesting book, even if I didn't write it.
Finally, there's a good review of Quarry's Vote here, if you scroll down; too bad the reviewer expected Quarry and me to be "woke" thirty-six years ago (I got knocked down a "star" for that!).
M.A.C.