For the first time in four or five months, my band Crusin' played a gig. Generally we haven't played during the winter months for the past several years, but this was a private party for a 60th wedding anniversary for a couple who had employed us for their 50th (back when Andy Landers and Jim Van Winkle were in the band). Also, they are clients of our drummer, Steve Kundel, who is an attorney (when I introduce the band members on a gig, I usually mention Steve being a lawyer, saying we find it wise to travel with in-house counsel).
Anyway, like Steve McQueen said in The Magnificent Seven, it seemed like a good idea at the time (it was not yet winter when I booked the gig). Now as the job approached, it was clear Covid was kicking back in, and the job was in Iowa City (forty miles away) and a snow storm was predicted. We did not, however, cancel.
The snow arrived but was not such that we couldn't make the trip with relative safety. We arrived at the Iowa City Eagles and were pleased to find it a very nice venue. None of us were crazy about playing a job in a college town, particularly so soon after the holidays, with Omicron (which sounds like a bad science-fiction movie) running rampant. But we wore masks loading in. Barb accompanied me and helped a great deal, both in setting up and making several key suggestions about what songs to perform (for example, advising me to open with a slow song and have the celebrating couple start the festivities alone, then asking the rest of the guests to join in).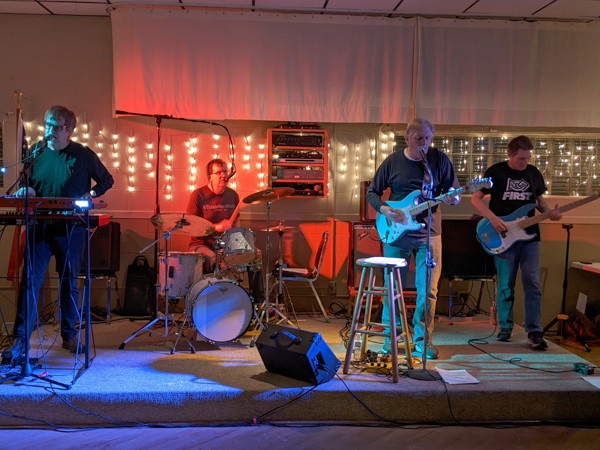 The people were as warm as the night was not and there was dancing and a nice receptive response to our foolishness. A wonderful time was had by all. We'd only had two rehearsals to go back over the list and, surprisingly, we were pretty darn good. My bandmates, drummer Steve and guitarist Bill Anson and his son Scott Anson, who took over on bass when Brian Van Winkle passed, are fun to be around – very good company. At the rehearsals the absence of Brian's sunny personality was keenly felt. Over the years the loss of bandmates – I've been playing rock 'n' roll since 1965 – is a wound that never really heals. Not a week goes by that I don't think about my musical collaborator Paul Thomas.
I've had enough health problems that Barb has really been pitching in to help me set my stuff up and tear it down. I've talked here before about how the performances themselves are not any way burdensome, but loading up, setting up, tearing down, and loading back in will probably determine when I stop doing this. Musician friends have written me insisting that I should employ roadies, and these are mostly musicians who are getting paid the kind of money that allows that.
It occurred to both Barb and me, as we were driving up and back to the gig, that this might be my last performance with the band. Certainly it's doubtful I would do more than one more summer season – last year, just four gigs. I would like to do a farewell appearance, and I've hoped to do one last CD – we were already working up originals and even playing them on the job when Covid hit and we lost over a year.
By the way, as you may have already noted if you follow these update/blogs, Barb is the best wife anybody ever had. She is smart, funny, thoughtful and beautiful. She does not, however, cut me undue slack – she knows just when I need to be cut down to size and reminded of reality. Which is of course frequent. But my God I am a lucky man.
My 74th birthday is approaching soon – March 3rd – and I find myself reassessing priorities. Last year I was crazily prolific, in part because I was doing my own fiction writing as well as putting the Mike Hammer 75th anniversary into motion. Adding in a 100,000-word biography to an already busy writing schedule took it out of me.
So while you may look to me to keep working as long as my noodle is functioning and I am above-ground, the pace is going to slow. I had to ask for an extension on the deadline for the new Nate Heller, The Big Bundle, after the unanticipated and most unwelcome return of kidney stones, which hadn't reared their nasty, spiky little heads since 1998.
I have now begun The Big Bundle – one whole chapter is written (but also the research completed and the book worked up in chapter outline) – which is the first of a two-book RFK/Hoffa cycle (overall completing the Kennedy cycle begun by Bye Bye, Baby). Will these be the last Heller novels? Maybe. Right now my job is to complete these two. The Big Bundle will appear late this year, if all goes well.
* * *
A benefit of the Iowa City band job was that Barb and I were able to finish listening to the audio book of Fancy Anders Goes to War from Skyboat Media. (You can read about it here)
I've been blessed by having mostly really good readers of my books on audio. The head honcho at Skyboat, Stefan Rudnicki, has been doing both Quarry and Mike Hammer and knocking the ball out of the park; recently he's embarked on Nolan, in his usual stellar manner. When we submitted Fancy Anders to Stefan, however, I requested that he use a female narrator, specifically Gabrielle de Cuir. He and she came through for me, and how.
If you haven't read Fancy Anders Goes to War yet, this is an excellent way to do so. If you have read it, it's still well worth the ride (and the price of admission), because Skyboat has done a fantastic job. They've used music and sound effects to really create Fancy's world. Gabrielle does a lovely job, superbly differentiating the characters and (unlike some male narrators with female characters) nails the men, as well.
Skyboat will be doing the next two Fancy Anders books, as well – Fancy Anders For the Boys and Fancy Anders Goes Hollywood. Both are written (Fay Dalton is almost finished with the second book's illustrations) and should be out next year as e-books, book-books, and audios.
* * *
Speaking of Fancy Anders Goes to War, here's a great review of it at the Mostly Old Books and Rust review blog.
And the great James Reasoner likes Fancy, too – check this out!
Quarry's Blood, not quite out yet, is already getting some swell reviews at Goodreads.
Finally, here's a great look at the Nolan series.
M.A.C.
Tags: Crusin', Fancy Anders, Fancy Anders Goes to War, Jimmy Hoffa, Mickey Spillane, Nate Heller, Nolan, Quarry, Quarry's Blood, Reviews, RFK, The Big Bundle