I'm pleased to say that my Caleb York novel – Shoot-out at Sugar Creek – has been nominated for a Scribe award.
Original Novel — General
Patient Zero, Amanda Bridgeman (Aconyte)
Shoot-out at Sugar Creek, Mickey Spillane & Max Allan Collins (Kensington)
Debonair in Death, Terrie Farley Moran (Berkley)
Winners will be announced at San Diego Comic-Con July 22, 2022. A full list of nominees in all categories is at the IAMTW.
This is a bittersweet but much appreciated honor. For whatever reason, neither the Spur nor Peacemaker Awards from the Western Writers of America and the Western Fictioneers respectively have ever honored the Caleb York novels. (I should say we did get a Best Novel nomination for The Legend of Caleb York from the Fictioneers, but nothing since.)
I would imagine I'm viewed as an interloper, a mystery/crime novelist moving in on their territory. It's been a fun ride nonetheless. Kensington has not asked for more Caleb York novels, and I am making no approaches to other publishers, though the York sales have been strong enough to make that possible. It's just that my goal for Caleb York was to fashion a novel from Mickey's unproduced screenplay, The Saga of Cali York, written for John Wayne. I only did more novels because Kensington requested them, and, hey, who am I to turn down work?
But at this stage of the game, I'm starting to question that question. I am embarking on what may be the final Nate Heller novel, the potentially massive Too Many Bullets, and will likely be spending most of the rest of this year on it. My health is fine, considering the underlying factors, but I am particular about what projects I take on at this point.
It's hard for me to walk away from a series. I really loved writing Caleb York, as I've been a fan of movie and TV westerns since early childhood – admittedly less so of western fiction. But those six novels satisfied a creative itch and I'm pleased to go out on a Scribe nomination. The paperback of it is coming in October.
The Scribes honor writers of movie novelizations and TV tie-ins, as well as authors continuing characters begun by famous writers like Robert B. Parker, Edgar Rice Burroughs and, yup, Mickey Spillane. This is the first time I've submitted a Caleb York novel to the Scribes, as members are limited to one submission in a category, and previously I submitted Mike Hammer novels to the General Fiction category (winning several times, I'm pleased to say).
Those keeping score may recall that Lee Goldberg and I founded the International Association of Media and Tie-in Writers (IAMTW) a decade and a half ago. Lee, having more class than me, never submitted his work to the awards given by an organization he co-founded. I, of course, having no shame, have been a frequent nominee and occasional winner.
The reason why I have no shame is that the real shame goes to the writing organizations (you know who you are) that have ignored tie-in writing throughout their existence, as if the talented writers creating novels and short stories in their respective fields (science fiction, mystery fiction, horror, western) didn't exist at all.
I know from the mail I've received over the years (snail and e-) that most readers don't make that distinction. The role that Star Trek and Star Wars novels played in keeping those franchises alive during periods when Hollywood's versions lay fallow cannot be overestimated. My publishers frequently mention that I am the author of Saving Private Ryan and Air Force One (among others) without bothering to mention they are novelizations. Until the recent Reeder & Rogers political trilogy came along, my CSI novels (written, like that trilogy, with my gifted co-writer Matthew Clemens) were my bestselling mystery/crime novels…and introduced hundreds of thousands of readers to my work.
So I am proud to be co-founder of the IAMTW, and will bear up under the shame of participating in their awards.
* * *
Speaking of westerns, among the streaming series Barb and I have been watching is 1883, which is supposedly a prequel to the very popular Yellowstone. We tried the latter and somewhere in the second season got irritated with it, so we avoided the prequel for a while. We shouldn't have.
My love for Sam Elliot as perhaps our last great western icon in the Hollywood sense finally prompted us to watch, and it's a fine show – tough, heart-felt, and more historically accurate than most. (Really it should be set at least ten years earlier, but apparently that would screw up its prequel-to-Yellowstone timeline.) Everyone on this series is good, but Elliot seems to sense this is a career-capper and his rock-hard surface hiding tender humanity – he is sort of the ultimate "tough love" advocate – sums up everything we admire about his work.
1883 is on Paramount-Plus, and I'm finding it the best of the handful of streaming services of which I partake. Star Trek: Strange New Worlds continues to honor the memory and approach of Roddenberry while updating it. Barb and I glance at each other every episode and at some point one of us says, "Can you believe it's 2022 and we're watching new Star Trek?"
And real Star Trek at that.
The Offer wrapped up very well. Having read a bit about the actual filming of The Godfather, I am aware a certain amount of sugarcoating, not to mention artistic license, is afoot here. But I was shocked by the swells of emotion I felt in the knowledge that the characters have achieved their goals and were about to go on with their lives without me. For me, Miles Teller is the standout in a cast that I would have to say is flawless (well, the Sinatra guy could have been better).
Also viewed streaming (it's available a couple of places) is a three-and-a-half-hour Bollywood movie my son badgered me to watch – RRR. It is an absolutely bonkers action spectacle that makes Raiders of the Lost Arc look like a documentary about archeology. They fight, they sing, they dance, they romance, they make sure we know the Brits were stinkers. It's absurd and childish and sophisticated and three hours and a half just blow by. I cannot do RRR justice, other than to say – don't leave the planet before you've experienced it. (My favorite scene had to do with the massive cages of wild beasts being unleashed on a British nighttime garden party.)
You're welcome.
* * *
One of the things about writing a weekly blog, with a specific deadline, is that everything else can get in the way.
Today I have to prep for the commentary I'm doing tomorrow morning (at Phil Dingeldein's studio in Rock Island) for the ClassicFlix 4K Blu-ray (and 3-D) release of the 1953 I, the Jury, something I had only dreamed might one day happen. But the prep will not be easy, as there is much to discuss.
Last week I was in a foul mood and did not feel well, and dragged myself through this bloggy process. And if it showed, well, you're not paying anything for this. Don't bitch.
However. I performed the kind of screw-up I am well-known among my friends and associates (not mutually exclusive groups) for performing: I posted the four gigs of my band Crusin' this summer and managed to leave out one of those dates, while thoughtfully including the times and places. You can't have everything.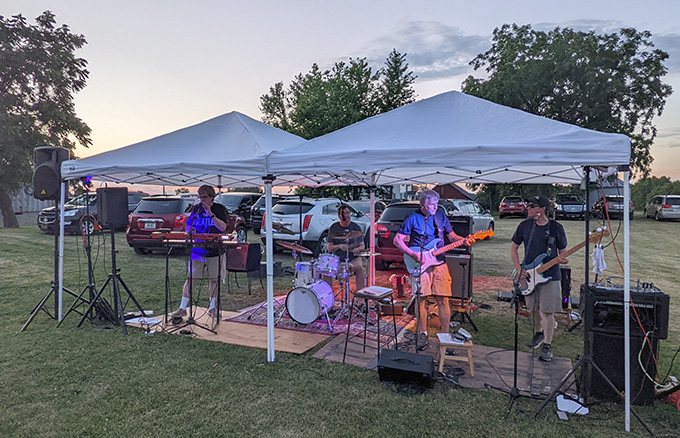 Before I present the revised schedule, I'll mention that Crusin' appeared last Friday night (June 24) at Ardon Creek Winery. It's a lovely outdoor venue, and we were pretty good. The crowd was even better, numbering in the hundreds. A taco truck fed their tummies, and we fed their souls. It was fun, and I felt good throughout, relieved that my age had not dulled my rock 'n' roll skills appreciably since last year.
We had not appeared at Ardon Creek, one of our favorite venues, since pre-Covid, so it felt like a reunion. Barb was there – she helps me set up and tear down – and my son Nate, his wife Abby and their two kids Sam and Lucy came and capered on the surrounding green landscape that makes this particular venue so special.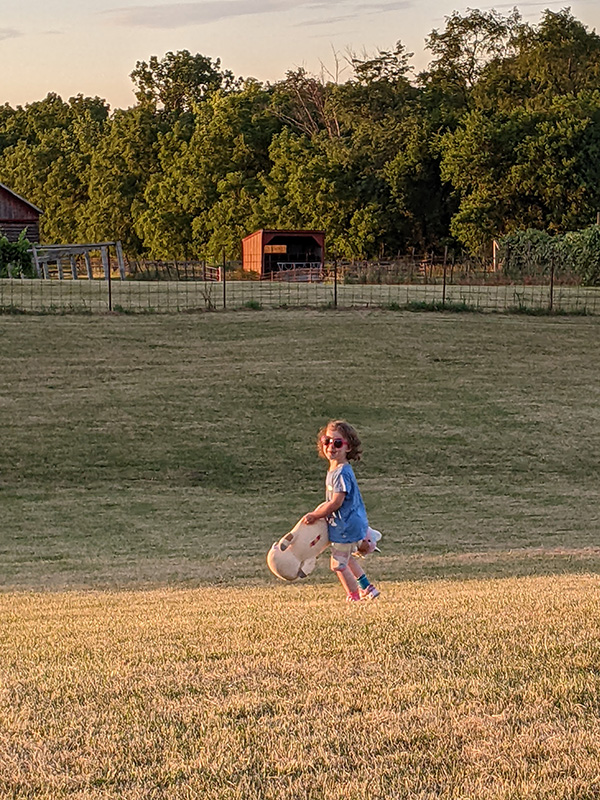 I know these updates go out to readers, fans and friends all over the country, all over the world really, and what follows is strictly for Eastern Iowa and thereabouts. But here's the rest of Crusin's season:
Saturday July 2 we're at Proof Social in Muscatine, from 5 to 8 p.m. On the patio, inside in case of rain.
Sunday August 14 it's the Second Sunday Concert Series at Musser Public Library, 408 E. 2nd Street in Muscatine, IA. Sometimes it's indoors, weather allowing outside in the parking lot. 6 to 8 p.m.
Sunday Aug 21 2022 – the Muscatine Art Center's yearly Ice Cream Social, 1 till 4 p.m. 1314 Mulberry Ave, Muscatine.
* * *
Here's a nice John Sand review.
This piece looks at Road to Perdition on Netflix.
You have to scroll down a ways, but this is an in depth look at several of the Nolan novels, including the recent Skim Deep. [Note: the link is a PDF-format Internet magazine. The homepage is here.—Nate] The writer is very self-confident, smart and talky, but careless (my middle name is "Allen" in the first piece, and Richard Stark, it seems, writes about "Porter"). But it's a deeper dive (a current term I despise) than Nolan is usually given.
Here's a Spillane WW 2-era comic book story I didn't know about!
M.A.C.