The poster pictured here will give notice to anyone within driving distance of Muscatine, Iowa, the information needed to attend the theatrical premiere of the filmed version of Mickey Spillane's Encore for Murder starring Gary Sandy as Mike Hammer.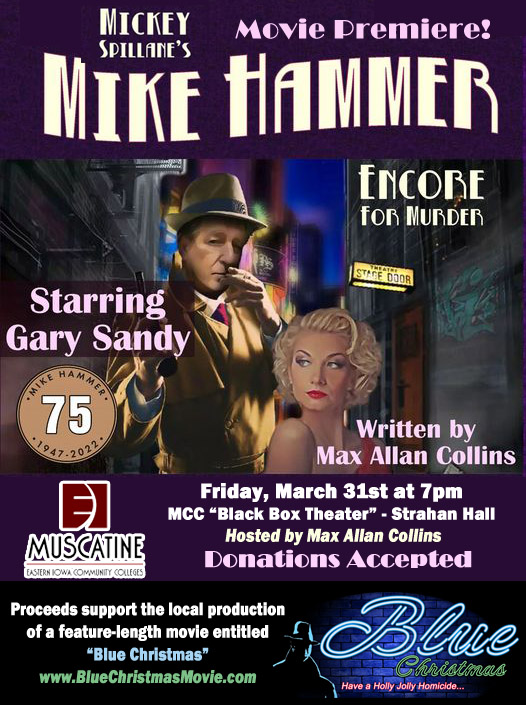 It's a Golden Age Radio presentation, the actors with scripts (sometimes) in hand, the costuming limited, the sound effects produced on stage (often to comic effect) with a foley table manned by the editor of the feature, Chad Bishop. The cast, other than Mr. Sandy, is local, though these are experienced theatrical veterans, many of whom have appeared in independent films. This production of Encore was presented only once, last September, as a benefit for the Muscatine Art Center.
We did record two dress rehearsals, and some footage from those was edited in (sometimes just the audio used), and what was a two-act play was edited into one continuous 90-minute production.
My goal was to produce a substantial bonus feature for a home video release (Blu-ray for sure and possibly DVD) of the expanded Mike Hammer's Mickey Spillane documentary from 1999. My collaborator Phil Dingeldein shot and edited (and I wrote) enough new material to bring Mickey's story up to the present, and expand the running time from 47 minutes to about an hour. (The Criterion special edit, for their disc of Kiss Me Deadly, runs about half an hour.) Though taking the doc up to 61 minutes made releasing it on its own a possibility, I felt adding Encore for Murder as an Added Value bonus would enhance the package. I also was proud of what we accomplished on what was essentially no budget (and some free help from Phil and dphilms, and Chad Bishop and Muscatine Community College). Even Gary Sandy donated his considerable services.
Gary, as you may know, played Hammer in Golden Age of Radio-style productions of Encore for Murder in Owensboro, Kentucky, and Clearwater, Florida. Encore was nominated in its original, somewhat longer incarnation for an Audie (Best Original Work) in 2011 with Stacy Keach and a full cast doing it for Blackstone Audio. We won Best Script in 2012 at the International Mystery Writers' Festival in Owensboro, and in 2018 did a rather more elaborate production at the Ruth Eckard Hall's Murray Theater in Clearwater, Florida.
The Muscatine production held its own in comparison, utilizing the approach of the Clearwater show, which included a large screen with scene-setting slides, costumes and music. The music we used came from Chris Christensen's score for Mike Hammer's Mickey Spillane and Stan Purdy's 1954 music for Mickey Spillane's Mike Hammer Story.
The big news is that VCI Entertainment – who brought the Mommy double feature out on Blu-ray not long ago – will be distributing both the new version of the documentary and Encore for Murder (on one Blu-ray) and taking them out individually to the streaming services.
If you are considering coming to Muscatine for this event, we would recommend the Merrill Hotel, a lovely new facility right on the Mississippi.
* * *
The Max Allan Collins Film Festival that is screening my home (no guests invited) continues throughout my birthday month of March.
5. Murder He Says. This 1945 hillbilly take on The Old Dark House sub-genre is the best comedy Bob Hope never made…but Fred MacMurray did. Helen Walker (of the original and superior version of Nightmare Alley) is wonderful here as is Marjorie Main, very much a sociopathic Ma Kettle. In town police is.
6. Waiting for Guffman. The funniest of Chris Guest's semi-improvised mockumentaries showcases SCTV superstars Eugene Levy and Catherine O'Hara, although everyone here is great….Christopher Guest, Parker Posey and Fred Willard tying for MVP. The Blu-ray has much more of local musical Red, White and Blaine, with numbers apparently cut not just for timing purposes but because they are too good.
7. Harvey. One of James Stewart's three greatest performances (It's a Wonderful Life and Vertigo being the others). He's often been called a little too young for the role of Elwood P. Dowd but it works to the advantage of the film, as he comes across less a drunk (much less) and more a sweet person who stepped away from harsh reality into pleasant fantasy. On the other hand, the movie does not shy away from indicating that Harvey really exists and and how are you, Mr. Wilson?
8. Game Night. This 2018 film is the newest in my film festival so far, but it's a gem. Hilarious with every performance spot on, and Jason Bateman at his very best. Jesse Plemons as the cop next door almost steals the picture anyway.
9. Leprechaun. Everything else this time around is a comedy, right? But then so is Leprechaun, and the special features documentary reveals that a second director/writer came in and did the really bloody gore stuff, which doesn't harm this vastly underrated film much at all, because its absurdity fits right in. Did you expect us to watch anything else on St. Patrick's Day? I just wish the sequels had stayed consistent with the original. We met Warrick Davis and he's a great, great guy.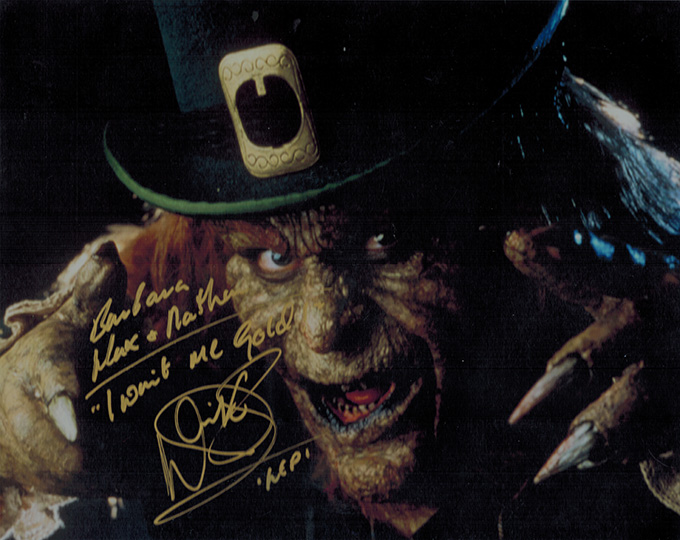 * * *
This terrific review of Spillane – King of Pulp Fiction includes an interview with me. A follow-up will soon cover Jim Traylor's interview on our well-received book.
Wolfpack has the Eliot Ness "Cleveland quartet" at a reasonable price.
An interesting review of the Yoe Books Johnny Dynamite collection, edited and with contributions by Terry Beatty and me, is here.
If you missed it, here's the info on the Muscatine Community College "Legends" tribute to, yeah, well, me. It takes place on March 30 (a Thursday evening) and the Encore for Murder screening is March 31.
Tickets here. They're expensive but go to the college.
Trailers from Hell takes a long look at the current Blu-ray release of Mickey Spillane's The Long Wait, with a commentary by me.
The Trailers from Hell essay is interesting if pretty patronizing, but trust me – The Long Wait is a terrific Spillane noir. Read about it (and order it) here.
For a look at a Long Wait clip, take a gander at this.
And yes, this time it's Collider telling us about ten movies from comic books that you didn't know yada yada yada. But, hey – we're in fourth position.
M.A.C.
Tags: Appearances, Deals, Encore for Murder, Interviews, Johnny Dynamite, Mickey Spillane, Mike Hammer, Reviews, Spillane: King of Pulp Fiction