It was a big weekend for the movie version of our Golden Age Radio-style play, Mickey Spillane's Encore for Murder.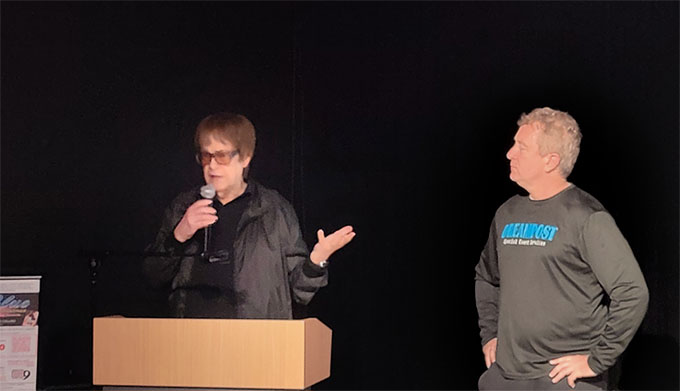 M.A.C. and Editor/Producer Chad Bishop introduce
Encore for Murder
Friday evening at Muscatine Community College, with much of the cast in attendance, Encore received its first public screening at the college's "Black Box" theater. The turnout was fine – around 75 humans, some of whom came a considerable distance.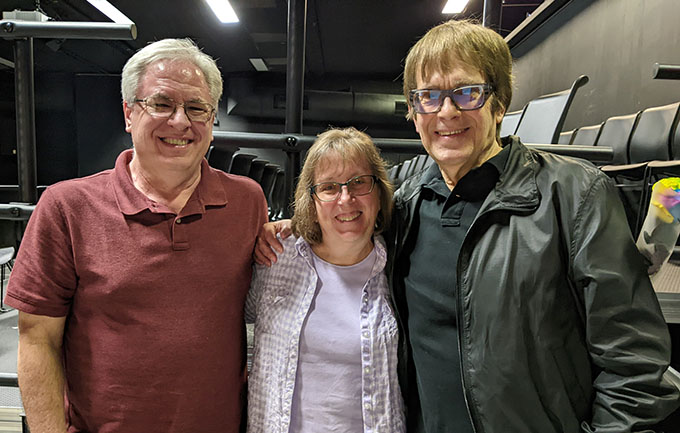 Uber-fans Mike and Jackie White from Bloomington, Illinois — they attended the live performance back in September, too!
My son Nate came from up the street, but that was a trip much appreciated by his pop. Others, like my old bandmate Charlie Koenigsaecker and his sister Karlyn (and a friend), came from Iowa City.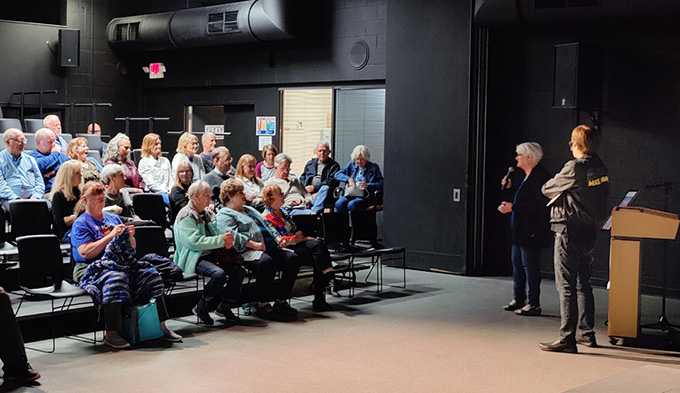 M.A.C. and Karen Cooney, co-director of the stage play, answer questions from the audience at the Muscatine Community College 'Black Box' theater.
I had not seen our little movie in a theatrical setting – or on a big screen at all – and didn't know what to expect or how I'd react. The intention of editing our considerable amount of footage – four HD cameras shooting two dress rehearsals and the one-time-only performance – was to create (a) a record of what we accomplished, and (b) a video presentation that could be enjoyed at home.
The latter is how Encore will likely be experienced almost exclusively, as we have not entered it in further film festivals (more about that below) much less plan to offer it for theatrical exhibition. The most significant aspect of our little flick's big weekend was that Friday afternoon I signed a contract with VCI Home Entertainment for them to bring out Encore as a sort of double-feature with our recently expanded (from 47 minutes to 61 minutes) documentary, Mike Hammer's Mickey Spillane, which we shot and assembled back in 1998. Encore is essentially a bonus feature, although it is actually half an hour longer than the film it supports.
It's possible Encore will be issued separately and may be offered to streaming services as well. Seeing how well it played to the audience at MCC's Black Box theater on Friday night is certainly encouraging. From the start, I wasn't sure what we had.
The VCI release may happen as early as next October, by the way. Stay, as they say, tuned.
As some of you know, Encore began as one-page synopsis Mickey wrote for a book that he never wrote (it may have been intended to be a Stacy Keach TV movie). In 2009 I was approached to write two Mike Hammer audio novels, each of which would be around three hours long, with Keach as Hammer supported by full casts drawing upon Chicago talent, including the likes of Saturday Night Live's Tim Kazurinsky, and with my pal Mike Cornelison as Pat Chambers. The first, The Little Death, came out in 2010 and won the Audie for Best Original work. The second, Encore for Murder, came out in 2011, and was nominated for the same award.
In 2010, I was asked to stage Encore, in Golden Age Radio style, at a mystery festival in Owensboro, Kentucky. Gary Sandy, an area resident there in Kentucky, would play Mike Hammer – Gary had been one of the leads in my movie Mommy's Day (1996) and we were old pals. The director and several cast members were veterans of the great comedy group Firesign Theater, so I would be in good hands.
Encore was well-received at Owensboro, although the production was strictly Golden Age Radio-style – actors with scripts at microphones, a Foley artist in the pit.
In 2018, Encore for Murder, again with Gary Sandy as Mike Hammer, was staged in the Murray Theater at Ruth Eckerd Hall by legendary Broadway producer, Zev Buffman. Zev presented it as a hybrid of a Golden Age Radio-style production (i.e., actors using scripts at microphones) but mixed in theatrical elements, including costuming, and a musical score, with the Foley table on stage and utilizing a big projection screen for scene-setting slides. I had been skeptical of this approach, but I was wrong.
Last year, when I was approached by local theater maven Karen Cooney about doing a Golden Age Radio Show-style play as a fund-raiser for the local Art Center, I offered Encore for that purpose. Karen pushed me to approach Gary to reprise Hammer, but I was reluctant, as we had zero budget. But I gently broached the subject with him…and he was immediately on board. And he had no intention of asking for a fee for a fund-raiser.
The cast rehearsed without him for several weeks – I sat in as Hammer. We had two Iowa-to-Kentucky phone calls with Gary and ran the script in our first run-throughs with our star. Privately, he gave me notes for the cast, but was overwhelmingly positive and, like me, was surprised by how on target they were. I had already dragged Barb to the second rehearsal to see if my judgment was correct – were these people good, or did I just want them to be? Barb, a tough critic, said they were indeed very good.
Gary showed up a day early for the two days and one performance he'd agreed to, and I got in touch with my longtime movie collaborator Phil Dingeldein. I convinced Phil to shoot the performance and encouraged him to grab the two dress rehearsals. I was starting to think we had something.
So the shooting was both spur-of-the-moment and fly-by-the-seat-of-your-pants. Fortunately Chad Bishop – our contact with the college, where we'd been rehearsing, and the very funny, skillful Foley artist who would be on stage throughout – was adept with camera himself, and collaborated with Phil in camera placement. We would have a surprising number of angles to choose from, since we were shooting two rehearsals.
The audience at the live performance was pretty much standing room only, and the whole cast was good, but Gary – a very skilled stage performer – owned the place. His Hammer struck me as just right – tongue-in-cheek when he needed to be, gently kidding the material (much as Darren McGavin and Stacy Keach both had) but tough as nails when necessary. The audience got on board quickly with the potentially off-putting format of actors using scripts in what split the difference between a performed play and a staged reading.
It's a bit of blur how we edited it together, Chad and I. But we did and I enjoyed working with this imaginative and very skillful editor. And I loved being back in an editing suite again, which is where a movie is made. I shake my head when I hear about bigtime directors walking away while an editor does a "first assemblage."
When we finished, I was well aware we had something that was neither fish nor fowl. Encore really required an audience to get on board with the Golden Age Radio format to enjoy it. Live, Gary's infectiously enthusiastic performance swept up the crowd. I didn't know whether that would be conveyed in a recorded version, and was too close to the material to tell.
One of the first things I did, when we completed the edit, was enter Encore in the Cedar Rapids Independent Film Festival and the Iowa Motion Picture Awards, competitions where I have done very well in the past. Cedar Rapids did not nominate us and that was a blow. But the four categories we entered in the Iowa Motion Picture Awards resulted in three nominations. Ironically, the one category in which we were not nominated was Editing, and I knew that if Encore was anything, it was a triumph of editing over material that had not been intended for the purpose we were putting it to.
For example. We had four cameras going on performance night, and only two camera persons on them – Phil and Chad's assistant Jeremy Ferguson. One of those cameras shut itself off – the crucial angle – and did not record the last fifteen minutes of the performance. So we had to create a new last fifteen minutes from the recordings of the two dress rehearsals and the remaining three camera angles from the performance.
Other times, where a line was flubbed on performance night, we had to loop in dialogue from a dress rehearsal. All the sound mixing (music included) was done live, on stage, by Foley artist Chad. We turned the two-act play into one continuous narrative, cutting about five minutes.
Really, we shouldn't have been able to come up with anything at all…and maybe Cedar Rapids was right.
Saturday night, in Forest City, Iowa, at an event I could not attend (more later), I won the Award of Excellence for Direction and the feature itself won an Award of Achievement (essentially, second place in the feature film category).
In defense of any judge looking at Encore, they would be quite within their rights to squint at what we did and shake their heads and say, "What is that, anyway?" Because Encore is something of a unique animal.
It has a strong, even charismatic performance by an actor with a classic TV sitcom and Broadway starring roles on his CV. But the rest of the cast is unknown – semi-pros and amateurs, all from a little town in Iowa. The actors hold scripts. Mike Hammer's gun is a pointing forefinger. Actors play several roles. It's radio. But you can see it.
I will not likely enter Encore in any festivals because what happened at Cedar Rapids is likely to happen again. The judges either won't know what it is they're supposed to judge, or they will only sample the piece – watch the first five minutes or so – and dismiss it…when you have to take the ride to get anywhere. If you experience Gary's performance, and my snappy, pretty funny script, which progressively builds, you will have a good time.
I am told some excellent films were shown at Cedar Rapids, and I don't doubt that. It's a fun festival and I wish we'd been in it, and I think their walk-in audience – the theater is on Collins Road, after all – would have got a kick out of Encore. But we will settle for our two IMPA awards, and a signed contract for home video and streaming release.
Iowa Motion Picture Association President Jim Brockholn accepts two awards for the absent M.A.C. for Encore for Murder.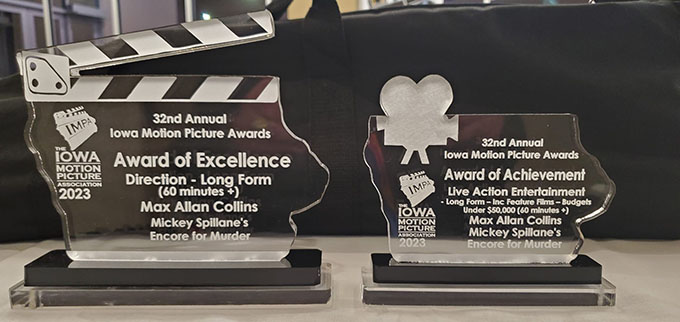 * * *
I mentioned in passing that Barb and I weren't able to drive to Forest City, Iowa, to attend the Iowa Motion Picture Awards. Though it's a long drive (four hours one way), we were looking forward to it. Hotel booked and everything. But then last Sunday I had another episode with a-fib and wound up at the hospital on Tuesday.
I wasn't in over night, but I had what I think is my fifth cardioversion procedure, and this one has been a bitch from which to recuperate. Today (Sunday again) I am finally feeling like me. I was fearful I wouldn't be up for attending my own movie premiere Friday night (!), but I did fine. Nothing like laughter and applause to make an old ham's aches and pains go away.
My future likely holds another procedure – ablation – and I must assure my friends and readers that considering the laundry list of things wrong with me, I feel fine and am doing fine. But this has finally slowed me down.
On the other hand, I am at my best when I'm working, so I think you'll see more stuff flying out of my printer in the days, months and maybe even years ahead. Maybe not as much, but more than most.
* * *
At the Encore premiere, we did something of a pitch for support (financial and otherwise) for our next planned production, Blue Christmas. We should know this month if we get a piece of that Greenlight grant. If not, we'll find a way to make it just the same.
But I continue to offer perks here that are not on the Indiegogo site. Depending on how much you pitch in, I will work with you to come up with things from your M.A.C. want list that I can fill. Write me at macphilms@hotmail.com. Make your donation at the Indiegogo site and then e-mail and let me know how much you've kicked in.
In the Q and A after Encore, Barb called out that she had paid $500 to be an Associate Producer. I responded, "Young lady, if you sleep with the director, you can be an Executive Producer." Got a huge laugh, including from her.
We are past the half-way mark money-wise with about twenty days to go. Your name will be on screen and NOT in tiny letters, I promise.
M.A.C.
Tags: Blue Christmas, Crowdfunding, Encore for Murder, Mickey Spillane, Mike Hammer