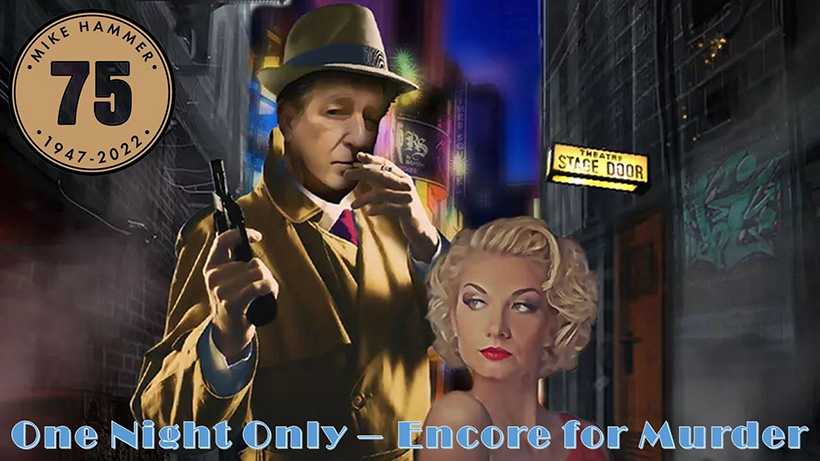 Purchase tickets here:
https://macfriends.booktix.com/
Saturday, September 17, will be the one-time only performance of Mickey Spillane's Encore for Murder starring Gary Sandy of WKRP in Cincinnati fame as Mike Hammer. The radio-style play will be presented at the Muscatine High School Theater, 2705 Cedar Street in Muscatine, Iowa. General admissions tickets are $15 apiece, plus a $3 processing fee for online ordering (tickets will also be available at the door).
Co-director Karen Cooney and I have been working with the cast for over a month, and now we go into a full week of rehearsals, with Gary joining us this Wednesday. By "radio-style" what I mean is a presentation in the manner of a Golden Age radio program with a studio audience. That means the actors, though in costume, will use scripts at microphones. A big-screen slide show presentation (40 images) will set the scenes.
A major highlight is the sound effects table, manned by filmmaker Chad Bishop, who also handles the music cues (and selected the slides). Chad brings humor and imagination to the on-stage creation of sound effects (a "foley artist," in movie terms).
Speaking of movies, my longtime collaborator on film and video projects, Phil Dingeldein of Rock Island's dphilms, will be shooting the Saturday evening performance (and two dress rehearsals). We will be using footage – both performance and behind-the-scenes – in the coming expansion of my 1999 documentary about Mickey Spillane. We may be doing a shorter documentary on the production itself, and there's a long shot chance we might be able to put the entire production together as a video program.
As Phil says, "We'll see what we get."
The talented cast is entirely local, with several actors veterans of Bishop's indie film The Man in Purple (it's on You Tube), about Norman Baker, the Muscatine Depression-era cancer quack who I fictionalized in the Mallory novel, No Cure for Death (1983).
Gary's tough, wry take on Hammer was first presented in productions of Encore for Murder in Owensboro, Kentucky, and Clearwater, Florida.
Everyone involved has worked hard to make this a special production. My weekly update goes out all across the country (and beyond), so this local production may seem a little esoteric for those of you too far away to consider going. But it's a fun part of the 75th anniversary of Mike Hammer and, with luck, will play nicely into the expanded Spillane documentary (and possibly other forms).
Short update this week! Lots to do getting ready for Mike Hammer and Gary Sandy coming to town.

M.A.C. and co-director Karen Cooney on Muscatine in Focus
M.A.C.
Tags: Appearances, Encore for Murder, Mickey Spillane, Mike Hammer, Spillane 75