No Time to Spy – the collection of the three John Sand novels by Matt Clemens and me – is going on sale for an astonishing 99-cents (for the e-book) at Amazon starting today (May 31 at 12 a.m.) and ending June 6 (at 11 p.m.). Those are Pacific times.
For those of you who haven't tried these books, this is an excellent low-cost opportunity. The response has generally been very good to the Sand novels, but a couple of supposed "big fans" of mine have attacked them for various reasons that seem specious to me. For one thing, they apparently don't understand that the John Le Carre school of spy fiction (which I admire) is different from the Ian Fleming school (which I adore).
The premise of the trilogy, as you may know from previous updates here, is that John Sand is the real-life spy that James Bond was based on, and that Ian Fleming was a colleague who used Sand's experiences as a basis for his fiction. The publicity that Sand receives as the basis of Bond forces him out of the spy game; also, he marries a very wealthy young woman – a Texas oil heiress – in an echo of what occurs in both the book and film of On Her Majesty's Secret Service, minus the tragedy.
Matt and I never mention Bond and Fleming by name, but it's obviously an open secret. The books are larger than life, in the fashion of the Bond novels and films, but are at the same time quite tough and the frequent action can be violent, even shocking. The sexual content is largely limited to the married couple's couplings.
The novels are, in order: Come Spy With Me; Live Fast, Spy Hard; and To Live and Spy in Berlin.
Matt and I had hoped to do at least one more Sand novel, but despite general positive reader response, sales have not encouraged us to do so. If this 99-cent sale pushes us onto Amazon bestseller lists, even briefly, that could change.
The ignorance of the handful of readers who have denigrated the books for being spoofs are the kind who can't see the difference between Harry Palmer and Austin Powers.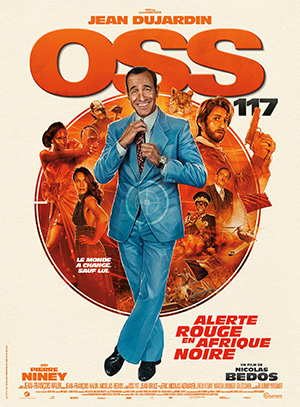 This is not to say I don't like a good Bond spoof, and a third in the film series of what is (in my opinion) the greatest satiric response to Bond is now available – OSS 117:
From Africa With Love, again starring Jean Dujardin (of The Artist fame) as secret agent Hubert Bonisseur de La Bath. The third film does not seem to be on any of the streaming services, but can be purchased on Blu-ray and DVD at Amazon.
The first two films, OSS 117: Cairo, Nest of Spies (2006) and OSS 117: Lost in Rio (2009), are also available from Amazon in French with English subtitles on both Blu-ray and DVD. E-bay has both of these from various sources. E-bay also has From Africa With Love, but I ordered editions listed as having English subtitles and it wasn't till my third try that I landed on a version that had that essential option. I would stick with ordering from Amazon.
What's great about these films – they are strictly parodies of the Connery era, the star physically resembling the "real" James Bond – is that they work as Fleming-style spy stories with the hilarious inclusion of a Bond clone who is bone-headedly politically incorrect and in some ways a dope…and yet he's a credible action hero. None of the other parodies of Bond accomplish that.
This new film finds OSS 117 actually growing and changing by the final scene…perhaps not dramatically, as it would appear his growth is largely limited to not patting the asses of the pretty females at the spy office as a greeting.
And you will adore the opening credits with the fake Bond theme song and faux Maurice Binder visuals.
I love these movies and wish they were more readily available. But if you're a Bond fan, you need to see them. Also worthwhile is the boxed set of the original French OSS 117 films, which are among the better Bond imitations of the '60s.
* * *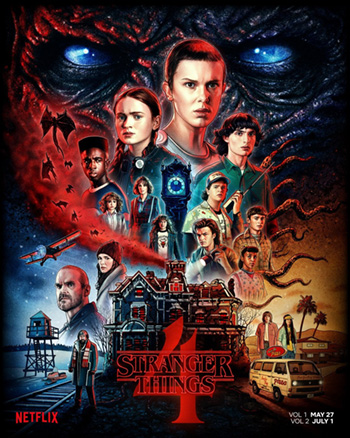 I wrote at some length last week about the assorted streaming mini-series we have been watching. We picked up on season four of Stranger Things, which Netflix has just "dropped" as they say (an expression I could do without). I will tell you right now that Barb bailed before the end of the first episode, and I don't blame her.
Having really liked the preceding seasons, I hung in there and watched the first two episodes – which were long, around an hour and twenty minutes each, far too long for a premise as wispy as that of Stranger Things. I have continued on and will stick it out to the end.
But the opening two episodes are a tough go. They present a version of high school that is simplistic and ridiculous – for example, El (who has lost her powers and apparently also her spine) is picked on by…everybody, at a school filled only with bullies. Several new annoying characters are introduced right when we're trying to remember who the recurring characters are, some of whom are hard to recognize at first. After all, it's been three years, real time, since the previous season. The kid actors all look much too old for the six months, story time, that have elapsed. Those annoying new characters include a rebel who looks to be about 35 and a pizza delivery hippie whose sub-Cheech-and-Chong comedy relief is painful to endure.
When the high school stuff fades and the sci-fi/horror stuff kicks in, Stranger Things gets back on recognizable track, uneven but rewarding. The biggest problem is the shifting tone, with the Winona Ryder storyline comic (despite tragic circumstances) and her sidekick conspiracy theorist, bearded Brett Gelman, often uncomfortably hammy.
The first two very long episodes are written and directed by the creators, the Duffer Brothers. Surprisingly, it's the subsequent episodes by other hands that are what bring the season around. The creators seem to let their actors go over the top, unbridled, with Gelman (much better in non-Duffer-directed episodes) and newcomer Joseph Munson (the rebel Eddie Munson…get it, Munster?) their chief victims. These first two episodes are weak on Direction 101 items like matching action and, well, pacing.
The pop culture references get laid on a little thick, too. We have Robert Englund repeatedly scratching his insane asylum-cell table with his fingernails (Freddie Krueger, get it?) and the kids entering a haunted house right out of (the much better) It. Krueger is playing Victor Kreel (Victor Crawley horror franchise, check) as he subs for Hannibal Lecter offering convicted-serial-killer advice from his cell.
Why watch?
Well, once you get past the first two ill-judged episodes, the Eleven story kicks in, in a satisfying way. Most of the young actors are terrific, especially Sadie Sink (and her character is into Kate Bush, which reveals good taste on somebody's part, probably the Duffers, giving credit where it's due). Really, all of the recurring characters are fine, with Millie Bobby Brown a standout, once she ditches the suddenly-El-is-a-five-year-old bit. Of the original group Gaten Matarazzo remains winning – the heart of the ensemble.
It's not the Duffer Brothers' fault that Covid happened and three years passed, damaging the believability of cast members as kids younger than they're playing. That a number of new actors were cast as teenagers and look at least thirty is the creators' fault.
What I think happened is this: the brothers were in the right place with the right idea at the right time to be one of the first binge-worthy shows, really jump-starting Netflix. But in the meantime some other gifted creators have taken advantage of the limited-season, limited-series approach, and upped the ante. This season of Stranger Things does not compare to Gaslit, The Offer, The Staircase, or Better Call Saul.
Not even close.
* * *
Road to Perdition is on this list of the best noirs to date of the 21st Century.
M.A.C.